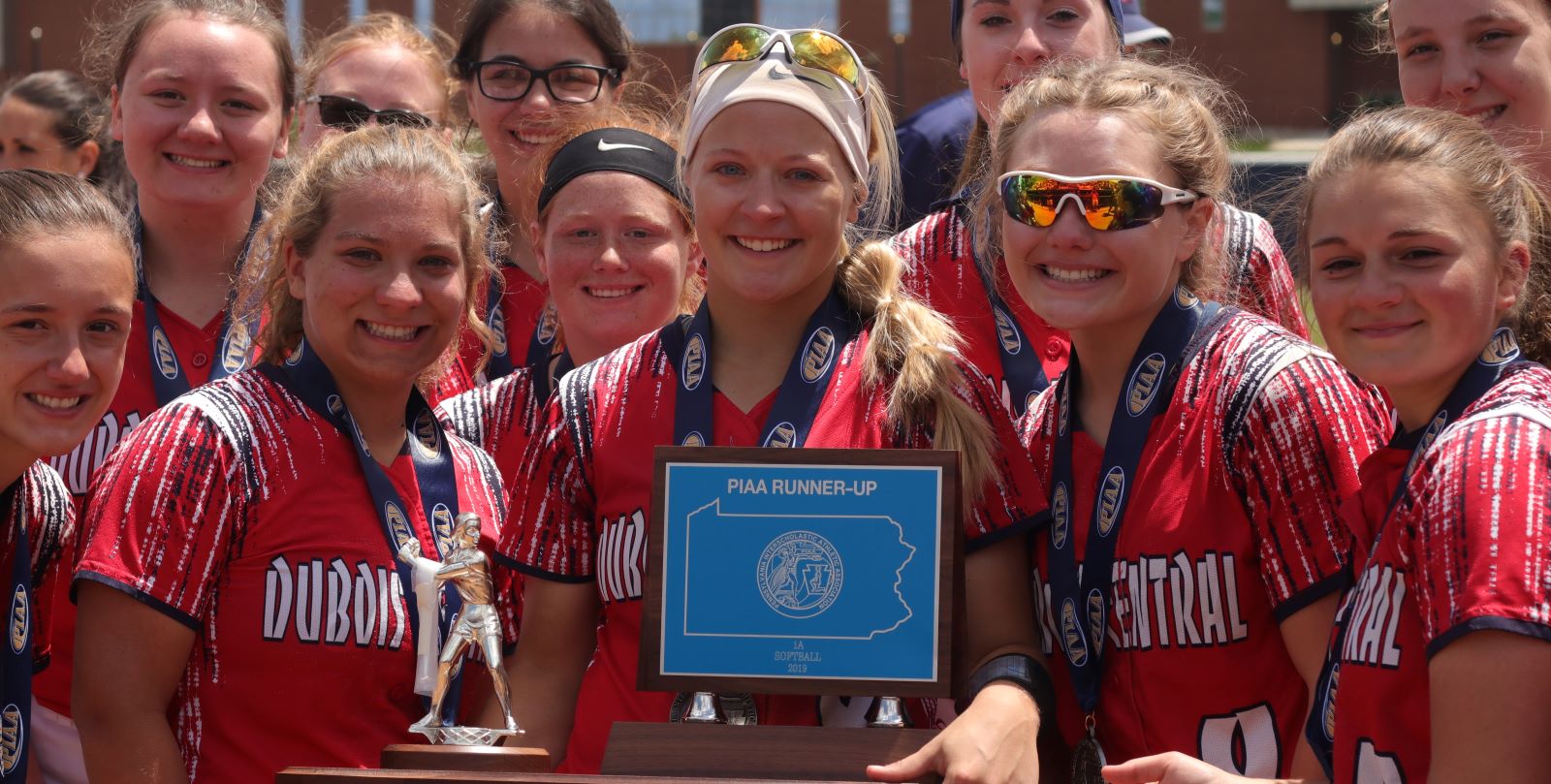 UNIVERSITY PARK, Pa. – Emma Crisswell did what few pitchers have been able to do this season, shut down the vaunted DuBois Central Catholic offense.
(Photo by Jared Bakaysa of JB Graphics. See more of Bakaysa's work here)
Relisten to the game:
DCC Should Be Proud of Its Season • Photo Gallery from the Game
And the result was a 5-0 win for Williams Valley in the PIAA Class 1A softball championship game at Beard Field on the campus of Penn State University Friday morning.
"She was hitting the inside part of the plate, and we just couldn't get around on it," DCC's Jordy Kosko said.
Crisswell went seven inning scattering four hits while not walking a batter and striking out three.
"I just think the last three games our bats were silent," DCC manager George Heigel said. "I don't know what the heck happened there. We didn't seem to be smacking the ball and cutting it in half like we had been."
DCC had trouble squaring Criswell up and the result was 20 of the 21 outs were recorded in the air, mostly on weakly hit popups.
"The girls were telling me she was spinning the ball," Heigel said. "I couldn't see it, but I am certain she was spinning the ball well. The bat was hitting the ball on the bottom half of the ball."
While Criswell was keeping the Lady Cardinals off balance, DCC had an early pitching issue when starter Ashley Wruble was called for four illegal pitches in her first eight tosses walking the first two batters in the bottom of the first as a result.
"It was the same issue we had in one of our district playoff games," Heigel said. "That was annyong, and I pretty mich expressed that to (the umpire). We go through the entire year and we had one umpire call that, and then we get to the state championship game and you have another one."
Heigel said Wruble was being called for "leaping."
"She does leap a little bit," Heigel said. "She comes off when she pushes off, she does. She comes off the mound a little bit with her back foot. But, I think most pitches do that. She does it on specific pitches when is is trying to spin the ball. Yeah, it's frustrating."
With Wruble struggling with the umpire calling her for the illegal pitch, Heigel quickly changed his strategy and brought in freshman Morgan Tyler, who threw well giving up four runs, two eared, on eight hits while not walking a batter.
"Once Ashley gets that called on her, you have to do something," Heigel said. "I give my pitcher, Morgan Tyler, a lot of credit. She came in, and we had her warm. She was spotting her curve. We were working the inside and outside part of the plate with her screwball and curveball. She did a good job today."
While Tyler pitched well the combination of DCC's bats not coming alive and some uncharacteristic defensive mistakes by the Lady Cardinals, who committed three errors, was a bit too much to overcome.
"You would like to think that nerves won't impact how the girls play, but it clearly did," Heigel said. "We didn't execute defensively, and I think it impacted our offense too."
Williams Valley (27-2) got the only run it needed in the top of the first despite a great job by Tyler, who came in with runners on first and second and no outs.
She got Stevie Unger to fly out to center with Kenna Ferron going to third on the play, and then got Maddy Borner to ground out to Wruble, now playings second, with Ferron scoring on the play.
Williams Valley added to unearned runs in the third striking after the first two batters ha been retired.
Unger started the rally with a single to right, and then Bordner hit a ground ball to shortstop that Shay Gulvas threw away putting runners on second and third. Crisswell then got new life when she popped a ball into foul territory just to the first-base side of home plate. But catcher Mia Meholick turned towards the third-base side at first and by the time she recovered the ball landed safely in foul territory. Given new life, Criswell single to right just over the head of first baseman Alyssa Bittner scoring two runs and making it 3-0.
"Obviously, the physical errors were part of the first three runs they scored," Heigel said. "Also, it was the mental things that we normally execute really well defensively."
The Lady Vikings picked up additional runs in the fifth and sixth on singles by Borner and Ferron.
DCC's best chances to score came in the third and the fourth.
In the third, Kosko led off with grounder to Ferron at short, but Ferron threw the ball away and Kosko went to second. However, Kosko took the turn at second too wide and was thrown out in a rundown.
The fourth inning saw Carly Semancick end up at second after a two-out single and an error, but Bittner flew out to second to end the only real threat of the day for DCC.
"The experience was great," a disappointed Kosko said. "We have never been this far before. We made history, and I think we are going to work even harder."
Heigel, while disappointed in Friday's outcome, also praised his team's season.
"I am surely not disappointed about the year," Heigel said. "I am disappointed about today. But, we had a great year. We had some good battles and played some good teams. We have a lot of nice players coming back, and we have a few players in eighth grade coming up. We have out catcher, shortstop, second baseman and centerfielder coming back. We should be good again. I am hoping (getting this far) gives us a positive feeling about coming in next year. We will find out soon. Two weeks from now we will be in the weight room, and I will find out immediately. Do we have five or six girls showing up for weightlifting or 14 or 15. That will be the key."
WILLIAMS VALLEY 5, DUBOIS CENTRAL CATHOLIC 0
Score by Innings
DuBois CC 000 000 0 – 0
Williams Vly 102 011 x – 5
DCC – 0
Shay Gulvas ss 3000, Avery Sickeri 3b 3000, Ashley Wruble p/2b 3010, Mia Meholick c 3000, Carley Semancik rf 3010, Alyssa Bittner 1b 3010, Maia Cogley 2b/lf 2000, Natahsa Kunselman ph 1000, Jordy Kosko cf 2000, Shyanne Lundy dp 2010, Madison Hoyt lf 0000, Morgan Tyler p 0000. Totals 25-0-4-0.
WILLIAMS VALLEY – 5
Kenna Ferron ss 3111, Mya Achenbach cf 3110, Stevie Unger lf 3110, Maddy Bordner 1b 3112, Emma Crisswell p 3012, Jamie Neiman 2b 3010, Alex Bogle 3b 3000, Tori Rabuck dp 3120, Madisun Ferron rf 0000, Grace Hoffman c 3000. Totals 27-5-8-5.
LOB: DCC 4. Williams Valley 6. Errors: DCC 3. Williams Valley 2. 2B: Rabuck 2. SB: Achenbach.
PITCHING
DCC
Ashley Wrube 0 IP, 0 H, 1 R, 1 ER, 2 BB, 0 K
Morgan Tyler 6 IP, 8 H, 4 R, 2 ER, 0 BB, 0 K
Totals: 6 IP, 8 H, 5 R, 3 ER, 2 BB, 0 K
Wruble pitched to two batters in the first inning
Williams Valley
Emma Crisswell 7 IP, 4 H, 0 R, 0 ER, 0 BB, 3 K
Winning pitcher: Emma Crisswell
Losing pitcher: Ashley Wruble