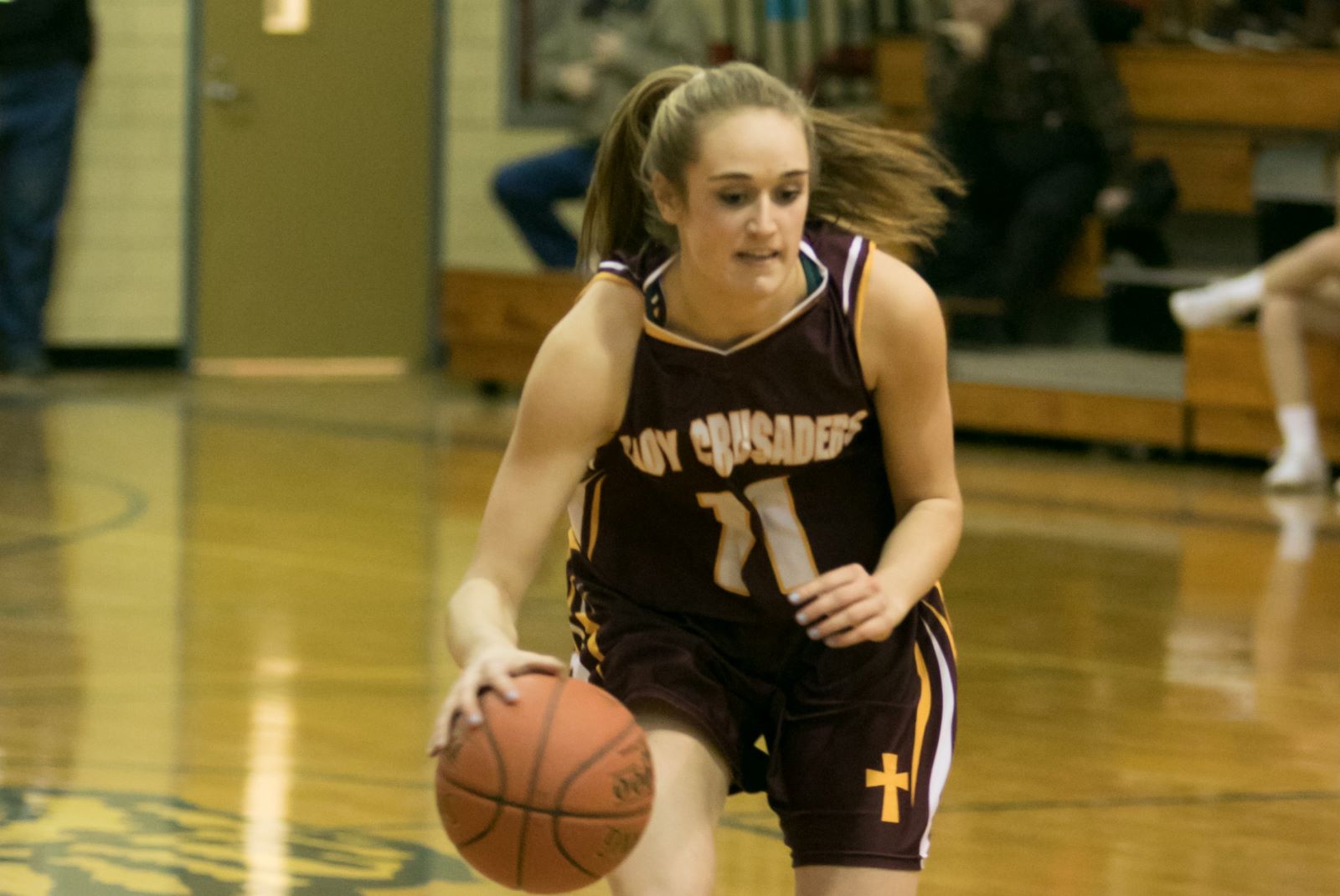 Dec. 11 girls' basketball recaps.
(Photo of ECC's Taylor Newton who had a double-double of 17 points and 10 rebounds in the Lady Crusaders win over Johnsonburg. Photo by Jared Bakaysa of JB Graphics. See more of Bakaysa's work here)
ELK COUNTY CATHOLIC 40, JOHNSONBURG 19
ST. MARYS, Pa. – Behind Taylor Newton's double-double of 17 points and 10 rebounds, Elk County Catholic started its 2019-20 season with a 40-19 AML win over visiting Johnsonburg.
Julia Aikens added 10 points for the Lady Crusaders, who led 28-8 at halftime.
Kaci Stelene paced Johnsonburg with 10 points.
DUBOIS CENTRAL CATHOLIC 55, BROCKWAY 37
BROCKWAY, Pa. – Shay Gulvas and Maia Cogley each netted 14 points as DuBois Central Catholic charged past Brockway, 55-37, on the road.
Cogley also went 3-for-4 from the line for the Lady Cardinals. Martina Swalligan added 12 points with Jordan Kosko chipping in 10 tallies.
Despite the loss, Selena Buttery recorded a triple-double with 15 boards, 14 points and 10 blocked shots for Brockway.
CURWENSVILLE 49, MOSHANNON VALLEY 35
HOUTZDALE, Pa. – Twenty-four points from Alyssa Bakaysa lifted visiting Curwensville over Moshannon Valley, 49-35.
Brianna Swindell added 12 points for the Lady Tide while going a perfect 4-for-4 at the line. Jordan Witherite, Tarah Jacobson and Hannah Condon each chipped in four tallies.
Sydney Bubb paced the Damsels going 10-for-12 at the line and finishing with 18 points.
ST. MARYS 56, KANE 26
ST. MARYS, Pa. – Kaylee Muccio netted 10 points to lead a balanced offensive attack as St. Marys topped visiting Kane, 56-26.
Lauren Eckert and Allison Schlimm each had nine tallies for the Lady Dutch. Megan Quesenberry added seven points and Samantha Hayes chipped in six.
The Lady Wolves were paced by Emily Buchiet's nine points.
BALD EAGLE AREA 47, CLEARFIELD 38
HYDE, Pa. – Lacee Barnhart and Maddie Perry combined to score 32 points to pace a 47-38 road victory in Mountain League play for Bald Eagle Area over Clearfield.
Barnhart led the Lady Eagles with 17 points with Perry adding 15 points.
Emma Hipps and Olivia Bender each scored 10 points to lead Clearfield with Kylie VanTassel adding nine points.
BROOKVILLE 57, ST. JOSEPH'S CATHOLIC ACADEMY 48
BROOKVILLE, Pa. – Marcy Schindler scored 20 points to lead Brookville to a 57-48 non-league win against visiting St. Joseph's Catholic Academy Wednesday.
Madison Johnson and Lauren Hergert reached double figures, scoring 15 and 12 points respectively.
Brookville led 30-19 at halftime and by as many as 20 points early in the fourth quarter before St. Joe's cut into that margin to set the final.