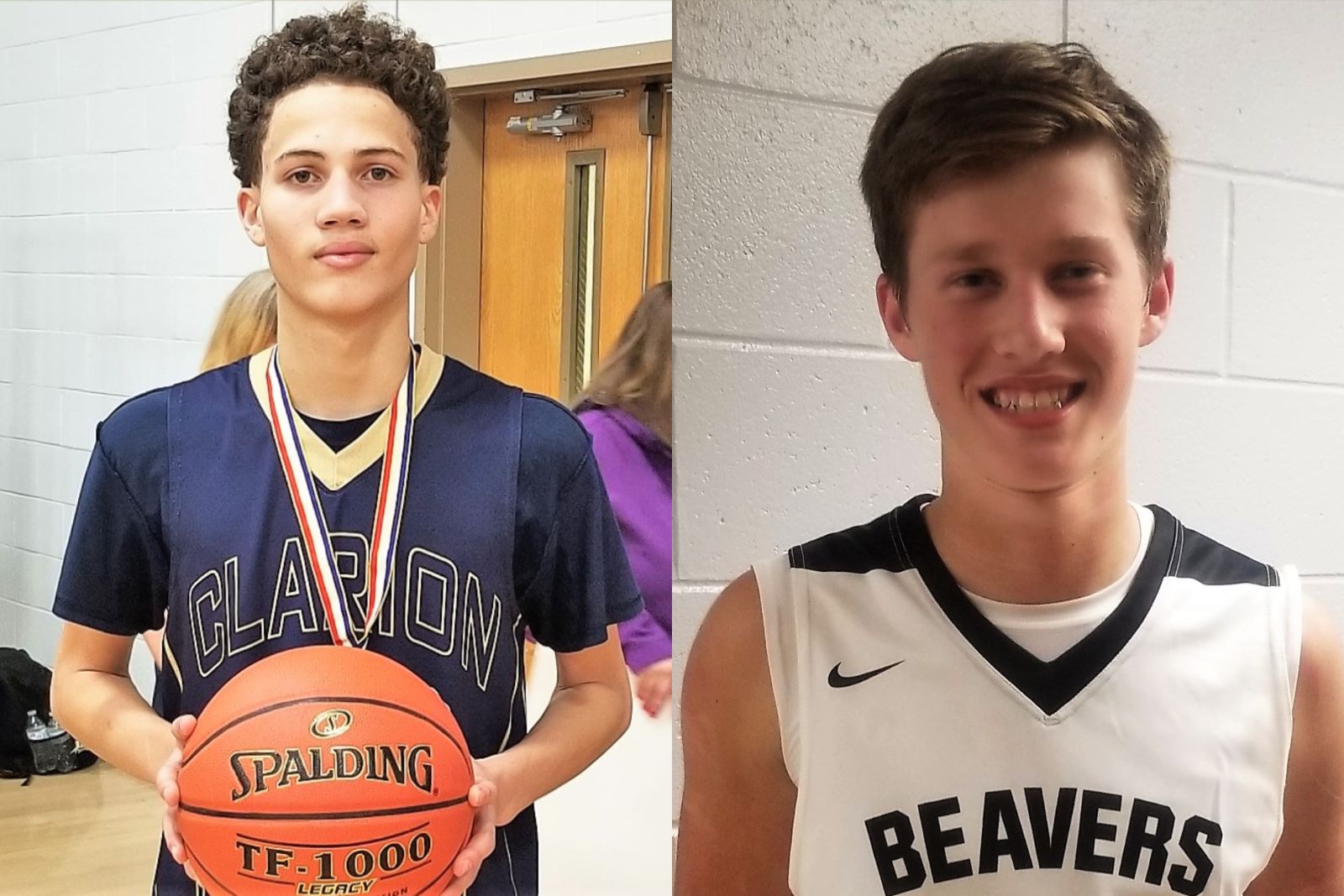 Dec. 19 boys' basketball recaps.
(Photo: Deion Deas (left) of C-L had the game-winning shot in the Lions win over North Clarion, while Chase Husted (right) of DuBois had the game-sealing block in the Beavers win over Johnsonburg)
CLARION-LIMESTONE 50, NORTH CLARION 48
FRILLS CORNERS, Pa. – In a battle of unbeatens for early control of the KSAC North, Deion Deas scored on a driving layup just before the buzzer to lift Clarion-Limestone to a 50-48 win at North Clarion.
With the game tied at 48, the Lions ran off 46 seconds before Deas took the ball to the rim to win the game.
C-L trailed 22-17 at halftime after North Clarion outscored the Lions 17-9 in the second quarter behind eight points from Matson Higgins, who hit a pair of 3-pointers in the quarter.
But C-L responded by outscoring the Wolves 23-16 in the third quarter to take a 40-38 lead into the final eight minutes.
Hayden Callen had seven points in third for the Lions with Mitch Knepp recording six of his 10 points in the quarter.
Callen led C-L with 16 points, 12 rebounds and four steals. Deas added 10 points and seven assists, Knepp had 10 points, Curvin Goheen chipped in nine points, 10 rebound and three steals and Jordan Hesdon had five points and five steals.
Higgins paced North Clarion with 13 points, Devon Walters added 12 points and Drew Gatesman had 11.
DUBOIS 36, JOHNSONBURG 35
JOHNSONBURG, Pa. – Chase Husted blocked a Gabe Watts shot at the buzzer to help secure a 36-35 DuBois road win over Johnsonburg.
Husted also did some late damage on the offensive end scoring seven of his game-high 11 points in the fourth quarter helping the Beavers break a 24-all deadlock after three.
Brady Woodward added nine tallies for DuBois while Lennon Lindholm had six on a pair of 3-pointers including a key fourth-quarter triple.
Watts and Cameron Stelene each scored nine points to lead Johnsonburg.
NORTHERN POTTER 54, SMETHPORT 47
ULYSSES, Pa. – Carter Anderson scored 10 of his game-high 25 points in the fourth quarter to help Northern Potter rally past visiting Smethport, 54-47.
The Panthers trailed 36-34 going to the final frame after being outscored 11-3 in the third quarter but the Hubbers.
But Anderson hit a pair of 3-pointers in the final eight minutes to fuel to the comeback.
Anderson finished with a double-double by adding 11 rebounds, while Tre Slawson chipped in 13 points and Ryan Langworthy had eight points and five steals.
Layne Shall scored 13 points to pace a balanced effort from Smethport's offense. Noah Lent added 12 points and Richie McDowell had 11.
A-C VALLEY 75, VENANGO CATHOLIC 50
FOXBURG, Pa. – Levi Orton tickled the twine for a game-high 32 points to lead A-C Valley past visiting Venango Catholic, 75-50, in KSAC North action.
Eddie Stevanus added a double-double for the Falcons with 19 points and 12 rebounds, while Russ Carr had seven points and seven assists and Tanner Merwin five points and seven steals.
Andrew Burda poured in 29 points for Venango Catholic while going 17 of 21 from the free-throw line. Reza Reese added seven tallies and Colin Deeter six on a pair of 3-pointers for the Vikings.
KEYSTONE 76, REDBANK VALLEY 52
NEW BETHLEHEM, Pa. – Using a balanced offensive effort that saw five players score in double digits Keystone picked up a 76-52 road KSAC South victory over Redbank Valley.
Marc Rearick hit five 3-pointers on his way to a team-high 15 points for the Panthers with Brandon Pierce hitting four 3-pointers and scoring 14 points. Andrew Lauer, Alex Rapp and Troy Johnson each chipped in with 10 points with Rapp also dishing out five assists.
Bryson Bain hit six 3-pointers on his way to a game-high 20 points for Redbank Valley, while Chris Marshall also hit a pair of triples and scored 19 points.
CLARION 63, CRANBERRY 57
SENECA, Pa. – Using a seven-point fourth-quarter advantage visiting Clarion rallied past Cranberry, 63-57, in KSAC South play.
The Bobcats trailed 39-33 at halftime and 48-47 going to the fourth quarter but got seven points, all from the line, from Josh Craig and six points, four from the line, from Cal German to rally for the victory.
German led Clarion with 21 points, Craig, who was 7 of 8 from the charity stripe, added 14 points and Nick Frederick contributed 13 points. Hunter Craddock grabbed a team-high 10 rebounds while just missing a double-double by scoring nine points, and Skylar Rhoades had three points and nine rebounds.
Matt McQuaide exploded for 25 points for Cranberry, including 17 in the first half, while Cam Russell scored 17, including 15 before halftime.
KARNS CITY 64, MONITEAU 54
KARNS CITY, Pa. – Chase Beighley hit 11 of 14 free throws on his way to a game-high 25 points leading Karns City past visiting rival Moniteau in KSAC South play.
Beighley added six assists for the Gremlins who also got 14 points from Ethan McElroy, 11 points and eight rebounds from Micah Rupp and five points and eight boards from Like Garing/
Kyle Pry paced Moniteau with 13 points, Ethan McDevitt added 12 points and Gage Neal had 10 tallies.
UNION 87, FOREST AREA 44
MARIENVILLE, Pa. – Getting all but seven points from five players visiting Union rolled to an 87-44 win over Forest Area at East Forest.
Karter Vogel led the Golden Knights with 20 points, Truman Vereb added 19 points and 10 rebounds, Luke Bowser scored 15 points and hauled down 13 rebounds, Caden Rainey had 14 points, six steals and six assists and Layton Stewart scored 12 points.
Franklin Meals had 16 points, four rebounds and three assists for Forest Area with Allen Johnston adding 15 points and five steals. Jullian Gillenwater scored four points and added three assists and three steals, Noah Burke added five points and eight rebounds.
CAMERON COUNTY 72, AUSTIN 36
EMPORIUM, Pa. – Big games from Caden Beldin and Dino Brown allowed Cameron County to roll past visiting Austin, 72-36, in NTL play.
Beldin scored a game-high 21 points while hauling in a game-best 13 rebounds, while Brown added 20 points, six steals and five assists. Dylan Guisto also scored nine points for the Red Raiders with Hayden Brown chipping in eight.
Joseph Glover Jr. paced Austin with 14 points and eight rebounds with Jackson Glover adding 10 points and three steals.
COUDERSPORT 72, GALETON 36
GALETON, Pa. – Led by 17 points from Hayden Keck four Coudersport players reached double digits in a 72-36 NTL road win over Galeton.
Kolby VanWhy added 15 points for the Falcons with Dillon Keglovits scoring 14 and Daniel Frame 12. In all, nine Coudersport players etched their names in the scorebook.
Ty Stover led Galeton with 10 points with Noah Shutt adding nine tallies.
OTTO-ELDRED 57, PORT ALLEGANY 51
PORT ALLEGANY, Pa. – A strong fourth quarter helped visiting Otto-Eldred pick up a 57-51 win over Port Allegany in NTL action.
The teams were tied at 34 at the end of three quarters before Jake Merry hit a pair of 3-pointers and went 4-for-4 from the free-throw line in the final eight minutes to help the Terrors pull out the victory.
Braden Maholic, who scored five fourth-quarter points, led the Terrors with 15 points, Merry and Cole Sebastian, who also scored five points in the final eight minutes, each added 13 points and Gavin Jimerson and TJ VanScoter scored eight points apiece.
Howie Stuckey and Jordan Card combined for 36 points for Port Allegany with Stuckey scoring 20 and Card 16. Ty Guilds chipped in 10 for the Gators.
BOLIVAR-RICHBURG (N.Y.) 62, Oswayo Valley 57
SHINGLEHOUSE, Pa. – Despite a monster game from Noah Wichert, Oswayo Valley dropped a 62-57 decision to visiting Bolivar-Richburg (N.Y.).
Wichert had 24 points, 15 rebounds and seven blocked shots for the Green Wave, who also got 10 points from Cayden Black and eight from Carter Stedman.
Riley Danaher led Bolivar-Richburg with 23 points with Landon Danaher scoring 20 points.
ELK COUNTY CATHOLIC 62, BROCKWAY 29
BROCKWAY, Pa. – Eleven different Elk County Catholic players scored to lead the visiting Crusaders to a 62-29 win at Brockway in AML action.
Leo Gregory and Regis Wortman each scored 11 points to pace ECC with Mason McAllister adding eight tallies and Isaac Wortman and Carter Lindemuth six each.
Marcus Copelli led Brockway with 10 points.