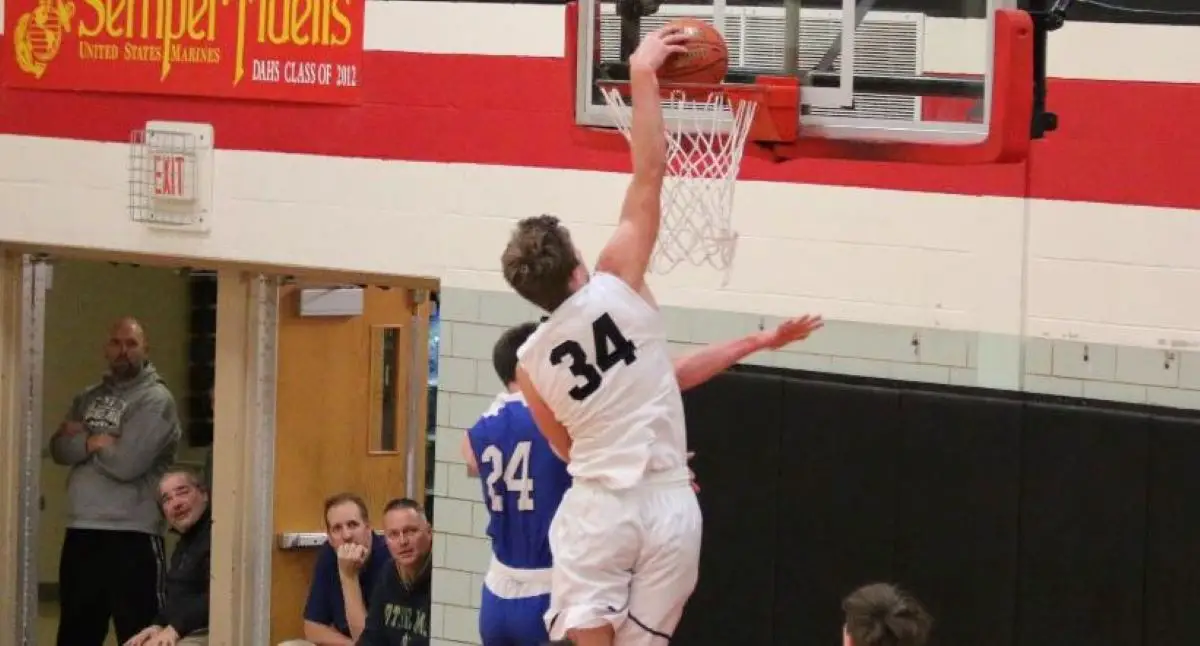 Dec. 21 basketball recaps.
(Photo: Chase Husted dunks during DuBois' win over Central Mountain Saturday. Photo by Kelli Hoffer)
BOYS
DUBOIS 57, CENTRAL MOUNTAIN 35
DUBOIS, Pa. – Chase Husted led a balanced offensive effort for DuBois with 14 points, including a slam dunk, as the Beavers topped visiting Central Mountain, 57-35.
Lennon Lindholm and Brady Woodward each added 10 points for DuBois with Nick Felix adding nine points.
Conner Soo led Central Mountain with 10 points.
ELK COUNTY CATHOLIC 74, PUNXSUTAWNEY 44
ST. MARYS, Pa. – Mark Kraus and Regis Wortman combined to score 34 points to lead Elk County Catholic to a 74-44 D9 League win over visiting Punxsutawney.
Kraus led the Crusaders with 18 points with Wortman adding 15 tallies. Will Uberti also scored 12 points for ECC with Mason McAllister chipping in eight points.
Nick Humble paced Punxsutawney with 23 points and Daren Byers added 10 tallies.
MONITEAU 55, SLIPPERY ROCK 44
WEST SUNBURY, Pa. – Ethan McDeavitt's all-around game of 11 points, 10 rebounds, six assists and six steals led Moniteau past visiting Slippery rock, 55-44.
Quinton Scriven added 15 points for the Warriors with Nate Tack scoring 10 points and Gate Neal chipping in six points, nine rebounds and six assists.
Judah Roth led Slippery Rock with a game-high 20 points. Ethan Plesakov added 10 tallies.
YOUNGSVILLE 50, DUBOIS CENTRAL CATHOLIC 26
YOUNGSVILLE, Pa. – A 14-point effort from Brady Olewine helped Youngsville dispatch visiting DuBois Central Catholic, 50-26.
Gage Hendrickson and Timber Bower each added 11 points for the Eagles.
Jalen Kosko had six points for DCC.
RIDGWAY 55, ST. JOSEPH'S CATHOLIC ACADEMY 46
BOALSBURG, Pa. – Dan Park and Zack Zameroski combined to score 39 points to lead visiting Ridgway to a 55-46 win over St. Joseph's Catholic Academy.
Park scored a game-high 21 points for the Elkers with Zameroski adding 18 points. Matt Dush contributed seven points and Alex Bon six.
Brendan Scanlon paced St. Joe's with 16 points, Noah Straub, the nephew of Elk County Catholic head coach Aaron Straub, chipped in 12 points, and Danny Dawson added eight tallies.
BRADFORD 67, ALLEGANY-LIMESTONE (N.Y.) 65
OLEAN, N.Y. – Cam Austen scored nine of his 11 points in the fourth quarter to help Bradford hold off Allegany-Limestone (N.Y.), 67-65, on the opening day of the Joe DeCerbo Memorial Tournament at St. Bonaventure University.
Tyler Gigliotti led the Owls, who were tied at 34 at halftime and led 50-49 at the end of three quarters, with 23 points, including 17 in the middle two quarters, with Evan Schmidt adding 12 tallies and six boards. Peyton Manion had a team-leading nine rebounds to go with eight points, and Gigliotti had three steals and two assists.
Ben Giardini paced Allegany-Limestone, which came into the game ranked 23rd in the New York Class B rankings, with 19 points, 14 of which came before halftime. Michael Wolfgang added 14 points, and Tyler Curran and Casey Curran each chipping in 11 tallies.
Bradford will face Olean (N.Y.) in the championship game at 7:45 p.m. Sunday.
OLEAN (N.Y.) 57, COUDERSPORT 54
OLEAN, N.Y. – Nine missed free throws hurt Coudersport in a 57-54 loss to Olean (N.Y.) in the opening round of the Joe DeCerbo Memorial Tournament at St. Bonaventure University.
The Falcons went 5 of 14 from the free-throw line, including just 1 of 6 in the fourth quarter.
Coudersport led 30-20 at halftime but were outscored 37-24 in the second half including 20-13 in the fourth quarter.
Covi Jones led Olean, which is ranked No. 11 in the New York Class B rankings, with 24 points with Daniel Klein added 18 points, including eight in the fourth quarter.
Hayden Keck led Coudersport with 21 points, but was 1 of 5 from the line, while Kolby VanWhy added 20 points.
Coudersport will face Allegany-Limestone (N.Y.) in the consolation game Sunday at 2:45 p.m.
GIRLS
COWANESQUE VALLEY 48, AUSTIN 16
AUSTIN, Pa. – Abby Ackley led a balanced attack from Cowanesque Valley with 11 points, as the Lady Indians rolled past Austin, 48-16, for a non-conference road win.
Kailey Wells added 10 points in the win.
Shae Setzer paced Austin with eight tallies