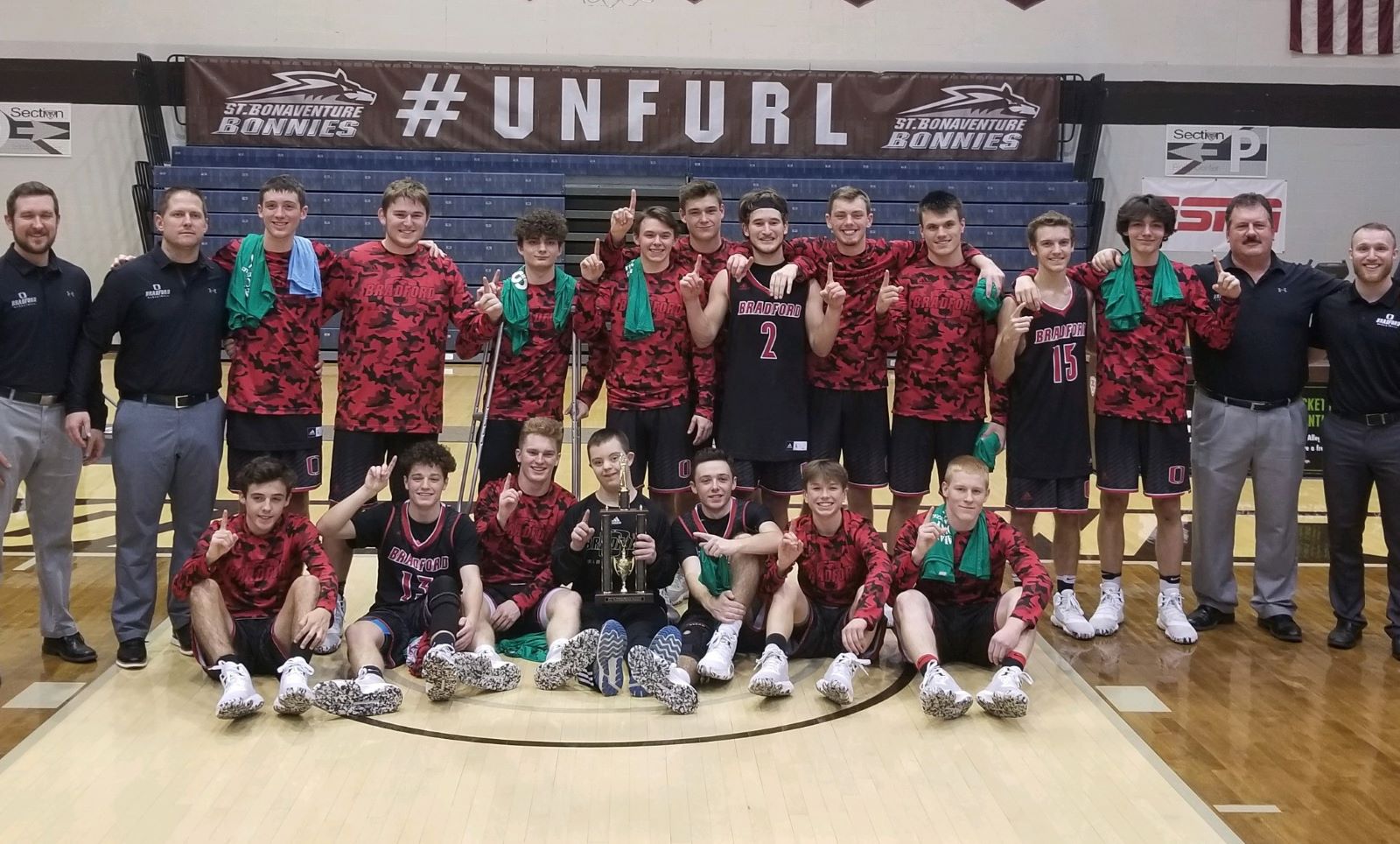 Dec. 22 boys' basketball recaps.
(Photo: Bradford worked double overtime to win the Joe DeCerbo Memorial Tournament title Sunday. Submitted photo)
BRADFORD 86, OLEAN (N.Y.) 82
OLEAN, N.Y. – Trailing by seven in regulation, Bradford rallied to beat Olean (N.Y.), 86-82, in double overtime in the championship game of the Joe DeCerbo Memorial Tournament at St. Bonaventure University.
The Owls were down 54-47 with just under five minutes to play but forced overtime tied at 64 when Cam Austin put back an offensive rebound with under 10 seconds to play.
It was Olean's turn in overtime to hit a late shot, as Dan Kelin grabbed an offense rebounds off a missed 3-pointer and hit the shot at the horn to force a second overtime tied at 72.
But Bradford controlled the second four-minute extra session to get the win outscoring the Huskies, 14-10.
Tyler Gigliotti had a monster game with 41 points for the Owls, including six in the second overtime and 11 in the two overtimes combined. He scored 19 of his points from the fourth quarter on.
Austin added 19 points, including five in the fourth quarter and two in the first overtime. Caleb Nuzzo chipped in nine points while scoring four in the two overtimes – three in the second overtime – with Evan Schmidt adding eight tallies.
James Wahcovi paced Olean with 22 points with Kamdyn McClain added 14 points and Jah'Karee McLain adding nine tallies.
Bradford trailed most of the game losing 19-12 after one quarter, 36-29 at halftime and 46-39 at the end of the third quarter before catching fire in the game's final 16 minutes scoring 47 points from the start of the fourth quarter onward.
ALLEGANY-LIMESTONE (N.Y.) 55, COUDERSPORT 42
OLEAN, N.Y. – Ben Giardini scored 22 points to lead Allegany-Limestone (N.Y.) to a 55-42 win over Coudersport in the consolation game of the Joe DeCerbo Memorial Tournament at St. Bonaventure University.
Casey Curran added 12 points for the Gators in the win.
Kolby VanWhy paced Coudersport with 18 points with Dillon Keglovits adding 11 points and Hayden Keck eight.