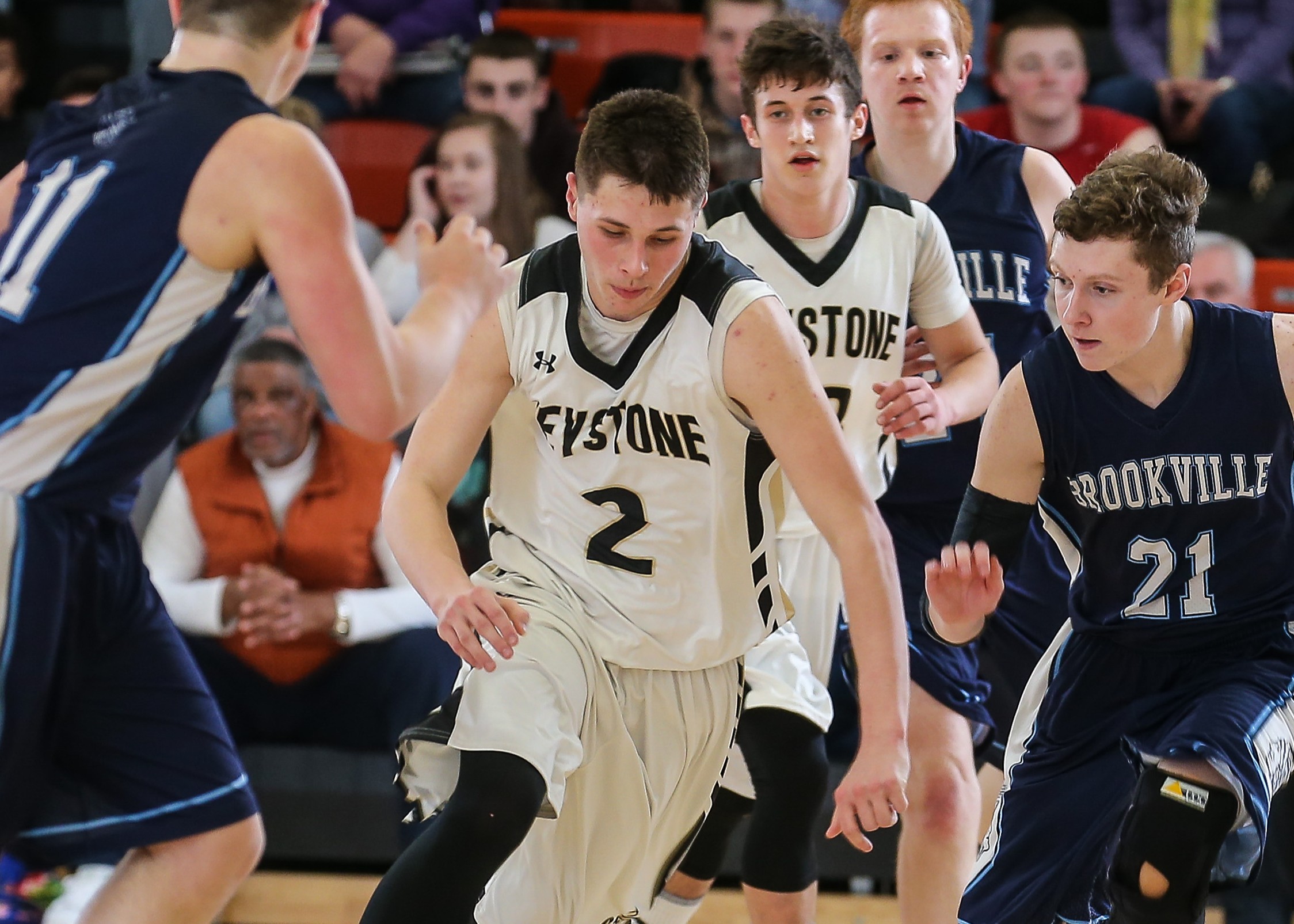 KEYSTONE 60, BROOKVILLE 56, OVERTIME
Read full story on ExploreClarion.com
CLARION, Pa. – Austin Ion forced overtime with a 3-pointer with just over 10 seconds to play, and then the Keystone junior scored five of his team's eight points in the extra session, as third-seeded Keystone topped sixth-seeded Brookville, 60-56, in the District 9 Class AA quarterfinals Thursday night at Clarion High School.
Keystone trailed by three, 52-49, following a pair of free throws by Brookville's Ben Reitz with 44 seconds left.
The Raiders then had a chance to put the game away when Jordan Tosh stepped to the line to shoot two with 20.7 seconds to go. But Tosh missed both free throws, and Keystone got the rebounds.
The ball eventually found its way to Ion, who buried a 3-pointer to tie the game at 52 with 10.1 seconds left.
Brookville (8-15) rushed down the floor before Kurt Schindler turned the ball over with about four seconds to go, and the game went to overtime.
Ion, who scored 17 points and had 10 rebounds for the Panthers, then picked up in overtime where he left off in regulation giving Keystone the lead for good, 55-52, with a 3-pointer 33 seconds into the extra session.
Keystone (12-11) eventually got the lead to as many as five, 59-54, on a Mason Rearick basket with just over 30 seconds to go in the game.
Rearick also scored 17 for Keystone.
Jimmy Moore led all scorers with 24 for Brookville with Reitz adding 15.
Keystone will face second-seeded Kane in the semifinals next week. Game details have yet to be released.
Listen to Ion talk about the win. 
BROCKWAY 56, KARNS CITY 47
Read full story on ExploreJeffersonPa.com
CLARION, Pa. – Fifth-seeded Brockway used a 10-0 run coming out of halftime to spearhead a 56-47 win over fourth-seeded Karns City in the District 9 Class AA boys' quarterfinals Thursday night at Clarion High School.
The game was tied at 22 at halftime, but Brockway (11-12) used the run at the start of the second half to take an 11-point lead, 38-27, by the end of the third quarter.
The Rovers then expanded the lead to 14, 42-28, a minute into the fourth quarter before a barrage of Karns City 3-pointers – four in all – over the next 4 ½ minutes got the Gremlins back to within four 47-43. Ian McElroy's second 3-pointer of the quarter with 2:34 to play was the final triple during that stretch.
But four points was as close as Karns City (10-12) got, as an intentional foul on McElroy on a breakaway by Carter Adams led to a three-point possession for the Rovers, who hit 7 of 10 free throws in the final 1:16 to salt the game away.
Adams finished with a game-high 19 points. Jarrett Esposito added 11 points and seven rebounds and Quade Lundberg 10 points for Brockway
Karns City got 16 points from McElroy and nine each from Reese Barger and Holden Martin. Chandler Turner had 11 rebounds.
Brockway will take on top-seeded Cranberry in the semifinals next week. Game details have yet to be released.  
Listen to Adams talk about the win.