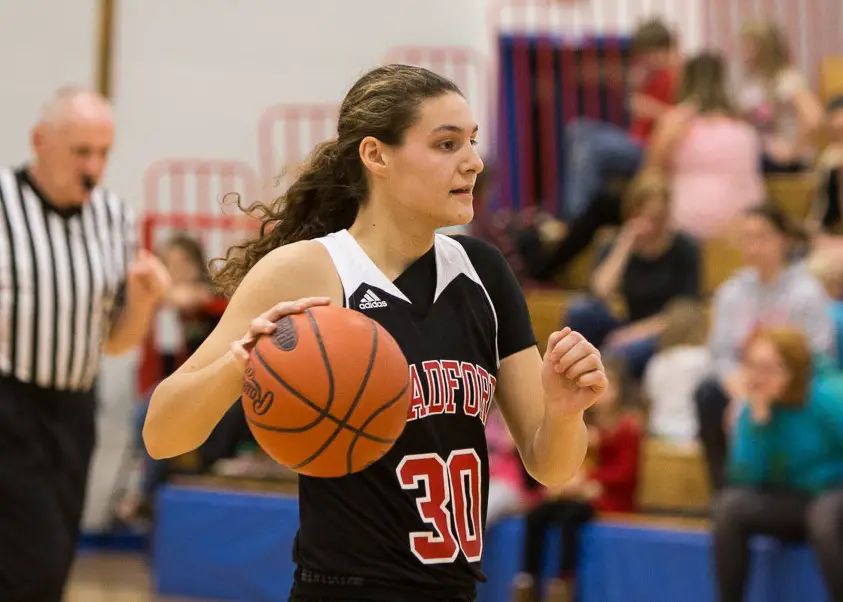 CLASS AAA
BRADFORD 47, ST. MARYS 46
ST. MARYS, Pa. – Bri Wells calmly sank two free throws with no time on the clock to lift third-seeded Bradford to a 47-46 win at second-seeded St. Marys in the District 9 Class AAA semifinals Wednesday night.
Wells was fouled as she shot a fadeaway jumper about 12 to 15 feet from the basket as time ran out.
With no one else at the line with her, and the gym loud as can be, the senior hit both charity shots to send Bradford (11-12) to the District 9 title came for the sixth consecutive season.
Well's free throws ended a frantic fourth-quarter comeback for Bradford, which trailed by five entering the quarter after being down 10 at halftime.
On the strength of a 13-3 first-quarter advantage, St. Marys led 23-13 at halftime and still held a 34-29 going to the fourth quarter.
But in the fourth quarter Raya Hennigan scored eight of her team-high 14 points, all 14 came after halftime, to bring Bradford back.
Wells finished with 10 points, and Morgan Rogenbaum added nine.
Rachelle Armanini led all scorers with 17 points for St. Marys (14-9). Rachel Bauer and Kaitlyn Barackman each added eight.
For the fourth straight year, Bradford will face Punxsutawney in the District 9 title game. The Lady Owls won in 2013 and 2014 but lost last year. Details on the title game are pending.
PUNXSUTAWNEY 55, CLEARFIELD 38
PUNXSUTAWNEY, Pa. – Behind double-doubles from Hope Bridge and Leah Miller, top-seeded and defending champion Punxsutawney earned its fourth straight trip to the District 9 Class AAA title game with a 55-38 win over fourth-seeded Clearfield in the semifinals Wednesday night at Punxsutawney High School.
Bridge scored a game-high 18 points to go with 10 rebounds, while Miller added 13 points and 15 rebounds for the Lady Chucks (19-4).
Morgan Vanleer added 12 points for Punxsy with Ivy Ferko (6 assists, 4 points) and Kate Horner (7 assists) combining to dish out 13 helpers.
Rachel Glenny tied Bridge with a game-high 18 points to pace Clearfield (10-13), while Emily Ryan added 13 points.
Punxsy led 30-20 at halftime.
The Lady Chucks will face Bradford in the title game for the fourth straight year. After losing to the Lady Owls in 2013 and 2014, Punxsutawney broke through for the D9 title last season.   
CLASS A
ELK COUNTY CATHOLIC 55, OTTO-ELDRED 36
DUKE CENTER, Pa. – Led by 14 points, 10 rebounds and five steals from Cassidy Cunningham, 11th-seeded Elk County Catholic ran right past sixth-seeded Otto-Eldred, 55-36, Wednesday night at Otto in the opening round of the District 9 Class A playoffs.
Cunningham was one of three Lady Crusaders to scored in double digits. Reilly Herzing added 13 points and Josie Smith 12.
Smith scored five of her points, all from the foul line, in the second quarter helping ECC (11-12) outscored Otto-Eldred 16-9 in the quarter to take a 26-15 halftime lead.
That lead grew to 14 points, 38-24, by the end of the third quarter with Herzing scoring six points in the quarter.
Allison Cousins led Otto (13-10) with 10 points. Camryn Thomas added eight points for the Lady Terrors with six coming in the fourth quarter.
ECC will take on third-seeded Northern Potter in the quarterfinals. Details are on the game are pending.
UNION 37, SMETHPORT 27
SMETHPORT, Pa. – Lexey Shick scored 24 of Union's 36 points, as the 10th seeded Golden Damsels beat seventh-seeded Smethport, 37-27, at Smethport in the opening round of the District 9 Class A postseason Wednesday night.
Lexey Shick, who hit 10 shots from field including a 3-pointer while going 3 of 4 from the line, was at her best in the fourth quarter scoring 10 of Union's 13 points while helping the Golden Damsels break open a 2-point game.
Union (11-12), which led 19-16 at halftime, held a 24-22 lead after three quarters but outscored the Lady Hubbers 13-6 in the fourth quarter thanks in large part to Shick.
Shick's older sister, Shayla, added seven points for Union.
Abbey Woodard paced Smethport (13-10) with 11 points, while Emily Treat added seven.
Union will get a rematch with second-seeded North Clarion in the quarterfinals. The She-Wolves beat the Golden Damsels, 67-60, in their regular-season meeting. While nothing official has been announced by District 9, the Union School District Facebook page is reporting the game will be at 6 p.m. at Clarion High School.
CLARION 42, JOHNSONBURG 39
JOHNSONBURG, Pa. – In a game that saw 12 lead changes and six ties, ninth-seeded Clarion overcame a five-point deficit in the final 1:20 to knock off eighth-seeded Johnsonburg, 42-39, at Johnsonburg in the first round of the District 9 Class A playoffs.
The Lady Cats (13-10) were down 38-33 with under 1:20 to go before using a 9-1 run led by Anna Reed's seven points to win the game.
Following a free throw with just under two minutes, Johnsonburg (12-12) led 38-33, and the Ramettes got the ball back following a Clarion turnover.
But a pair of missed free throws by Skylar Sherry gave Clarion some life, and Reed then took over.
A driving layup by Reed with 1:15 to go made it 38-35 Johnsonburg.
Cassidy King then missed two more free throws for Johnsonburg, and Reed tied the game on an old-school 3-point play with 55 seconds to go.   
Johnsonburg regained the lead,39-38, when Ashton Watts hit one of two free throws with 36 seconds left, but Reed answered with a jumper just inside the 3-point arc to put Clarion up for good, 40-39.  
Then, after a missed shot by Johnsonburg, Gloria Kroh hit two free throws to make it 42-39.
The game appeared over when Nicole Myers missed a 3-pointer with two seconds to go with the ball going out of bounds to Clarion, but the Lady Cats threw away the inbound pass giving Johnsonburg one last opportunity. But King's 3-pointer was off the side of the rim as time expired.  
Clarion trailed 14-8 at the end of the first quarter but used an 11-4 run to take a 19-18 lead late in the half before Johnsonburg went up 20-19 at halftime.
The Lady Cats, though, took a 28-26 lead going to the fourth quarter before Johnsonburg started the quarter on an 11-3 run to take a 37-31 lead.
Alexis Constantino paced Clarion with 11 points with Reed adding 10 and Kelly Beveridge seven. Kroh had six points and 10 rebounds.
King paced Johnsonburg with 10 points and seven steals. Watts added nine points, 12 rebounds and five steals.
Clarion will take on top-seeded Coudersport in the quarterfinals. Details on the game are pending.
CLASS AA
KANE 45, BROOKVILLE 40
FRILLS CORNERS — No. 4 Kane outshot and outrebounded No. 5 Brookville, offsetting its 30 turnovers in a 45-40 win in the lone D9 Class AA quarterfinal round game at North Clarion High School Wednesday night.
The Lady Wolves took the lead for good at the end of the first half, but never led by more than six points the rest of the way. They wound up shooting nearly 50 percent from the field (17-for-36) while Brookville struggled massively at 12-for-59.
Freshman Ella Marconi finished with 16 points on 7-for-11 shooting with 16 rebounds. Trinity Clark scored nine points while Rachel Morgan had seven points and nine rebounds. Freshman backup Hannah Buhl hit four big free throws in the final 70 seconds to secure the win. She scored all six of her points in the fourth quarter.
Hali Olson scored 16 points for Brookville (12-11) with eight rebounds and eight steals. Kara Wonderling scored eight points while Elaina Powell struggled to a seven-point night on 1-for-14 shooting.
Kane (16-9) now gets a shot at top-seeded Karns City in next week's semifinals at a site and time to be announced.