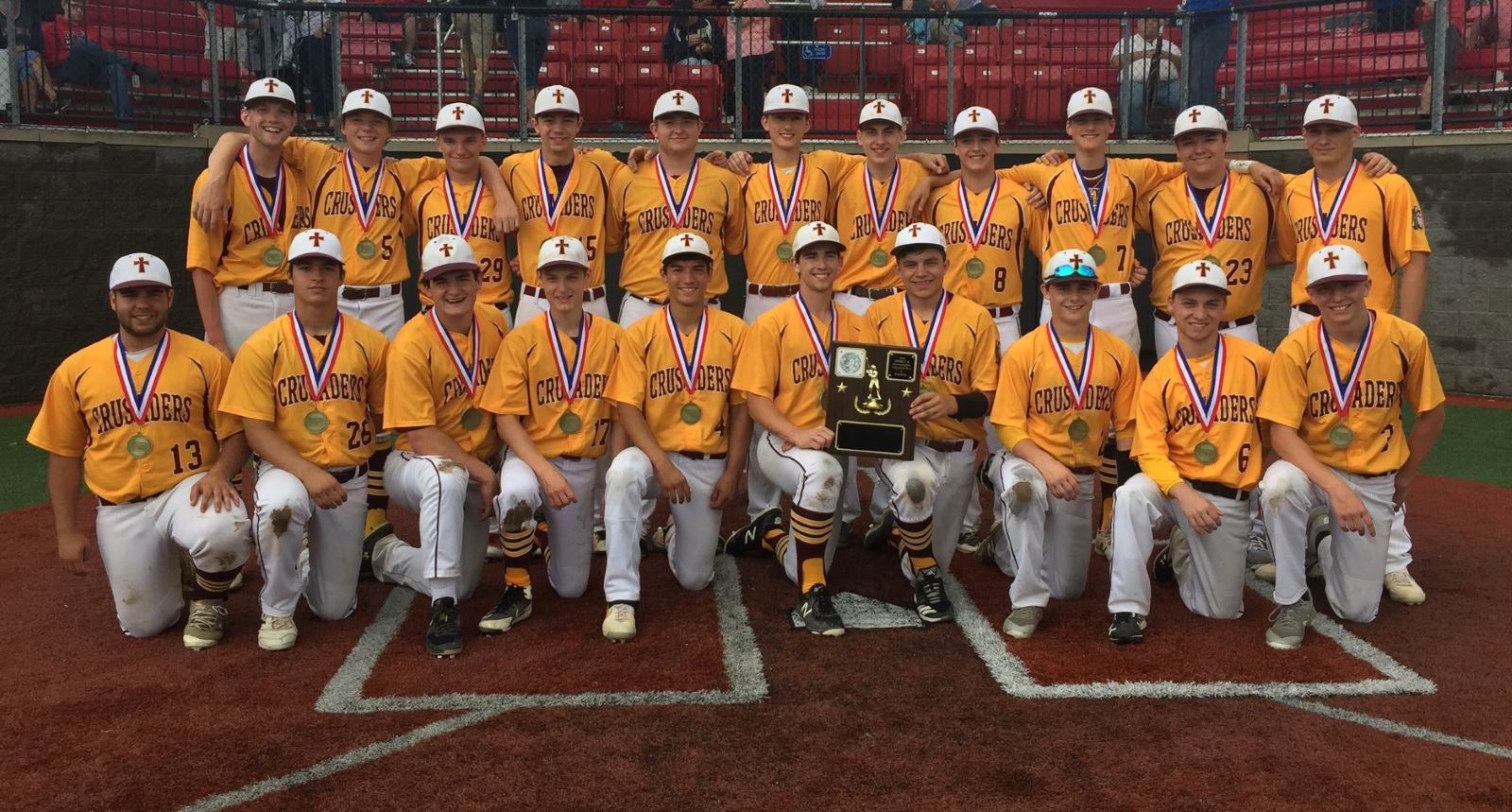 DUBOIS, Pa. – Elk County Catholic used a six-run second inning to secure its first District 9 Class 1A title since 2014 and the sixth in school history with a 12-2, five-inning win Otto-Eldred Wednesday afternoon at Showers Field in DuBois.
"It feels awesome," ECC manager James Slay said. "To have that title is just phenomenal. I feel like a proud papa. To see them grow this season, they had a concern about their abilities, some doubt in themselves, I knew they had it. I am more proud of my boys than the plaque. They are really doing a phenomenal job."
Up 2-0 after a two-run first inning, the fifth-seeded Crusaders, who beat fourth-seeded Clarion, top-seeded DuBois Central Catholic and the second-seeded Terrors to win the title, saw the first seven batters of the second inning reach to break the game open.
"Finally, in the last two weeks, I don't know what has happened," Slay said. They started to believe. I am so happy for them. The seeding to me didn't really matter. It's really about the boys. They have to execute on the field. They did a great job."
Isaac Brock started the rally with a double, ECC's lone extra-base hit of the game, and Alex Fedus singled him home. Ryan Fritz and Tylor Herzing then drew back-to-back walks to load the bases before Will Uberti walked to make it 4-0. An Alec Wehler singled home a run, and an error on Otto-Eldred on the play scored another run to make it 6-0. An out later, Brennen Klawuhn's pop single made it 7-0, and, following a lengthy rain delay, Wehler stole home to make it 8-0 with two outs.
ECC added to its lead with three more runs in the third on a Uberti sac fly, a Wehler single and an error.
Otto-Eldred got two runs back in the bottom of the third on a Chris Connelly ground out and a Cameron Magee single.
"Hats off to Otto, coach Thomas is a great guy, they have a great program," Slay said.
But the Crusaders got one of the runs back in the fifth on another RBI single by Boland.
Wehler had a big game going 3-for-3 with four runs scored and two RBIs for ECC. Boland was 3-for-4 with an RBI, Brock was 2-for-3 with a run scored and Herzing was 1-for-3 with three runs scored.
Hunter Cashmer got the win going four innings allowing two earned runs on five hits and two walks while striking out five.
"Hunter Cashmer is phenomenal," Slay said. "He is strong as an ox. He can go the distance. The rain delay threw him off on his rhythm."
Chase Sebastian took the loss going one inning allowing five runs, three earned, on four hits and a walk.
Both teams advance to the PIAA playoffs.
ECC plays the third-place team out of the WPIAL, Quigley Catholic or Vincentian Academy, while Otto-Eldred plays District 10 champion West Middlesex. Both of those games will be Monday, June 3.
"It's been an exciting journey so far," Slay said. "But we still have some more baseball to play. What's better than that? Winning the district title is huge, but we still have some more baseball to play."
Editor's note: Special thanks to Tim Cotter for helping with the quotes for this story
ELK COUNTY CATHOLIC 12, OTTO-ELDRED 2, 5 INNINGS
Score by Innings
ECC 263 01 – 12
Otto-Eldred 002 00 – 2
ECC – 12
Tylor Herzing lf 3310, Will Uberti cf 2102, Alec Wehler ss 3432, Hunter Cashmer p/rf 2011, Taylor Boland 3b 4031, Brennen Klawuhn c 3011, Dan Wimer cr 1000, Isaac Brock 2b 3120, Bryce O'Leary 2b 0000, Alex Fedus 3111, Ryan Fritz lf 0100, Jordan DePrator pr 0100, Brady Schneider rf/p 1000, Tommy Slay pr 0000. Totals 25-12-12-8.
OTTO-ELDRED – 2
Andrew Sheeler ss 3010, Cole Sebastian 2b/p 2110, Jacob Merry 1b/2b 3000, Chase Sebastian p/1b 3111, Chris Connelly c 2011, Cameron Magree cf 3011, Tommy VanScoter dh 2000, Josh Rhinehart lf, Trent Windsor rf 2010, Jacob Bell 3b 2000. Totals 22-2-6-2.
LOB: ECC 8. Otto-Eldred 7. Errors: ECC 1. Otto-Eldred 5. 2B: Brock. Chase Sebastian. Connelly. SB: Wehler (2), Herzing, Slay, Brock, Klawuhn. SF: Cashmer, Uberti. CI: ECC 0. Otto-Eldred 1.
PITCHING
ECC
Hunter Cashmer 4 IP, 5 H, 2 R, 2 ER, 2 BB, 5 K
Brady Schneider 1 IP, 1 H. 0 R, 0 ER, 0 BB, 1 K,
TOTALS: 5 IP, 6 H, 2 R, 2 ER, 2 BB, 6 K
Otto-Eldred
Chase Sebastian 1.0 IP, 4 H, 5 R, 3 ER, 1 BB, 0 K
Cole Sebastian 1 ⅔ IP, 5 H, 6 R, 4 ER, 4 BB, 1 K
Jacob Merry 3 ⅓ IP, 1 R, 1 ER, 2 BB, 2 K
5 IP, 12 H, 12 R, 8 ER, 7 BB, 3 K
Winning pitcher: Hunter Cashmer
Losing pitcher: Chase Sebastian