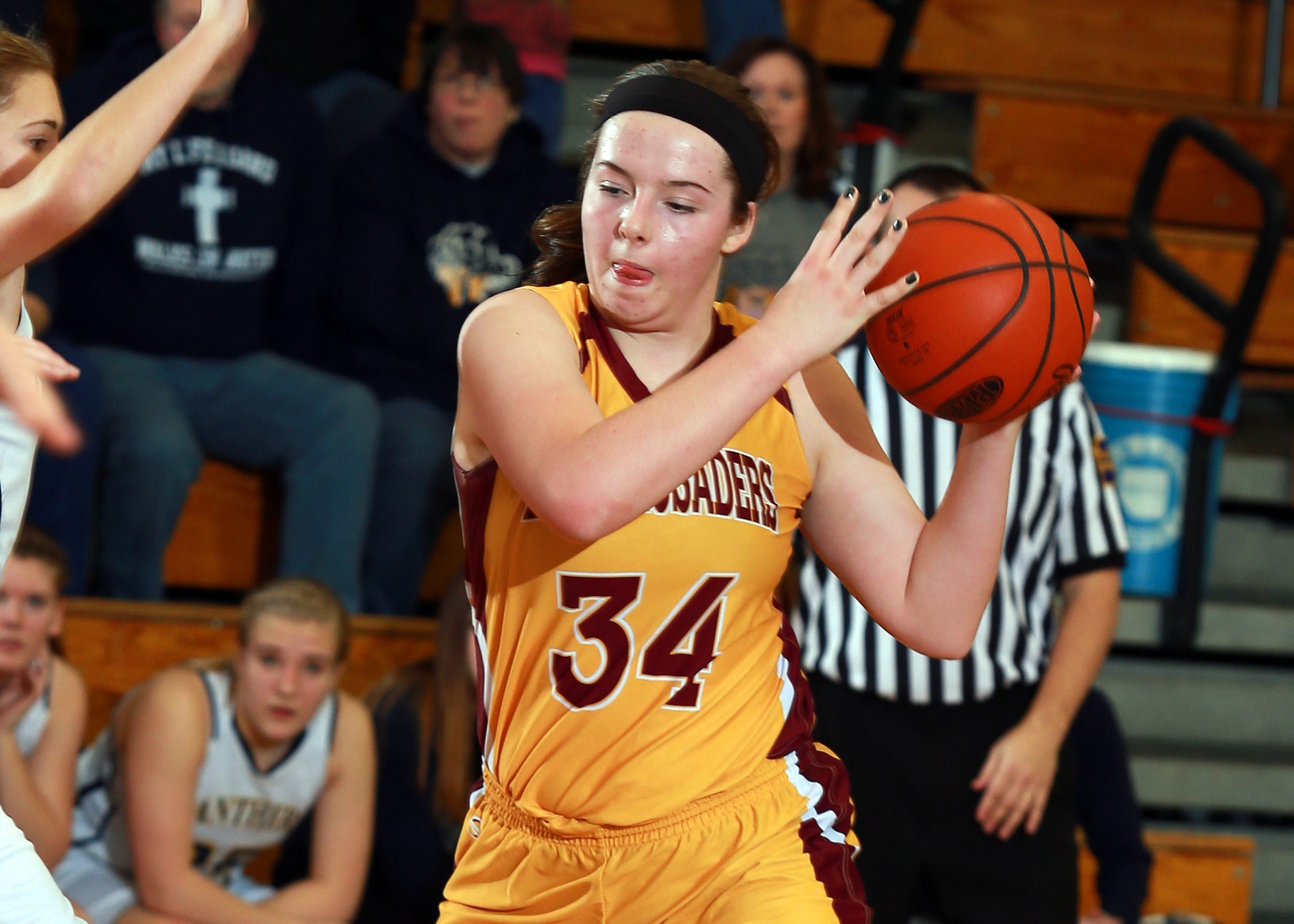 By Chris Rossetti
CLARION, Pa. – Going into the District 9 playoffs, no one predicted the Elk County Catholic girls' basketball team would be playing for a District 9 title.
After all, it looked like a rebuilding year for the Lady Crusaders and that going to the postseason at 10-12 was just going to get some younger players a taste of the postseason.
But 11th-seeded ECC has had other ideas, and following a 46-43 overtime win against North Clarion Wednesday night in the semifinals, the Lady Crusaders will get a chance to play for their first District 9 title since 2010.
"We were the the 11th seed, so people think of us as underdogs," ECC junior forward Reilly Herzing, who had 10 points and 12 rebounds, said. "So let's just just show them that we are not."
After leading the vast majority of the game, ECC found itself in the precarious spot of being up one but having North Clarion's leading scorer, Abbie Schmader, at the free throw line shooting two shots with 6.9 seconds left.
Schmader drained the first free throw, and ECC head coach Ken Pistner called timeout to freeze the senior, who then missed the second charity shot. But Tori Obenrader, who had a double-double of her own with 17 points and 12 rebounds despite being under the weather, grabbed the offensive rebound.
North Clarion head coach Terry Dreihaup then called a timeout to set up a potential game-winning shot, but Schmader's jumper as time ran out in regulation was off the mark forcing overtime.
"Our team has been in a lot of close games, and we know how that feels," Herzing said.
In overtime, North Clarion grabbed a 42-40 lead on a pair of Micheala Higgins free throws 18 seconds into overtime, but a Mackenzie Gahr layup following an offensive rebound tied the game at 42 with 3:11 to play.
Rebounding played a key role in the victory for ECC, as the Lady Crusaders outrebounded the She-Wolves 44-35 including 20 offensive boards. Something that rarely if ever has happened to North Clarion this year.
North Clarion went back ahead when Taylor Gatesman hit one of two charity shots with 2:52 left, but a Mackenzie Cashmer layup with 1:26 left but ECC ahead for good, 44-43.
The Lady Crusaders eventually got the lead to three, 46-43, but missed three free throws in the final 22 seconds of overtime to give North Clarion one final shot.
But a Higgins three with three seconds left was off the mark setting off a wild celebration by ECC.
"It was incredible," Herzing said. "I think our team work as a team is what got us the win."
It was missed ECC free throws at the end of regulation that helped North Clarion get the game to overtime.
Trailing by four, 40-36, with 45 seconds left, North Clarion was forced to foul sending Cassidy Cunningham to the line with 29 seconds left.
But Cunningham missed the front end of a 1-and-1, and Erika Sherman drilled a 3-pointer with 16.7 left to get the She-Wolves within one.
Cashmer then missed both shots of a two-shot foul with 15.8 to play giving North Clarion a chance to tie or win the game. ECC was bad from the line going just 11 of 25 on the night.
Prior to overtime, North Clarion led just three times the latest being at 33-31 with 7:05 left in the fourth quarter on a Schmader layup.
But a 9-3 run by ECC put the Lady Crusaders up the four late.
Playing ahead was something ECC found itself doing a lot in the game.
Starting the contest with a 13-4 run, the Lady Crusaders led 21-18 at halftime and got the lead to five, 23-18, early in the third quarter.
But North Clarion used a 9-2 run that featured a 3-pointer from Higgins to take its first lead of the game, 27-25, on a Schmader layup with 3:39 left in the third quarter.
Gahr answered with a basket for ECC to right the ship, and the teams entered the fourth quarter tied at 31.
While Schmader ended up with 11 points and six rebounds, ECC made her and Obenrader work for everything they got using a stingy triangle-and-two defense to frustrate North Clarion all night long. Against the junk defense, the She-Wolves chucked up an uncharacteristic 20 3-pointers, including nine from Higgins, making only four of them.    
"They (Schmader and Obenrader) are very impressive players," Herzing said. "So we wanted to stop them. That was our biggest goal. We stop them, we get the rebound and we get going."
ECC will take on fourth-seeded Keystone in the title game Saturday at Tippin Gym, while North Clarion will face top-seeded Coudersport in the consolation game at a site, day and time to be announced.
ELK COUNTY CATHOLIC 46, NORTH CLARION 43, OVERTIME
Score by Quarters
Elk CC 13 8 10 9 6 – 46
N. Clarion 7 11 13 9 3 – 43
ECC – 46
Mackenzie Cashmer 1-5 5-10 7, Josie Smith 1-7 3-6 5, Cassidy Cunningham 4-14 3-9 12, Mackenzie Gahr 4-8 0-0 8, Reilly Herzing 5-13 0-0 10, McKayla Wilson 1-3 0-0 2, Maddie Kear 1-1 0-0 2. Totals 17-51 11-25 46.
NORTH CLARION – 43
Micheala Higgins 1-10 2-2 5, Abbie Schmader 5-11 1-2 11, Cassie Wagner 1-6 0-0 2, Taylor Gatesman 1-4 3-4 5, Tori Obenrader 6-16 3-7 17, Ally Carll 0-0 0-0 0, Erika Sherman 1-1 0-0 3, Sarah Schettler 0-1 0-0 0. Totals 15-49 9-15 43.
THREE-POINTERS – ECC 1-9 (Cunningham 1-6, Cashmer 0-3).