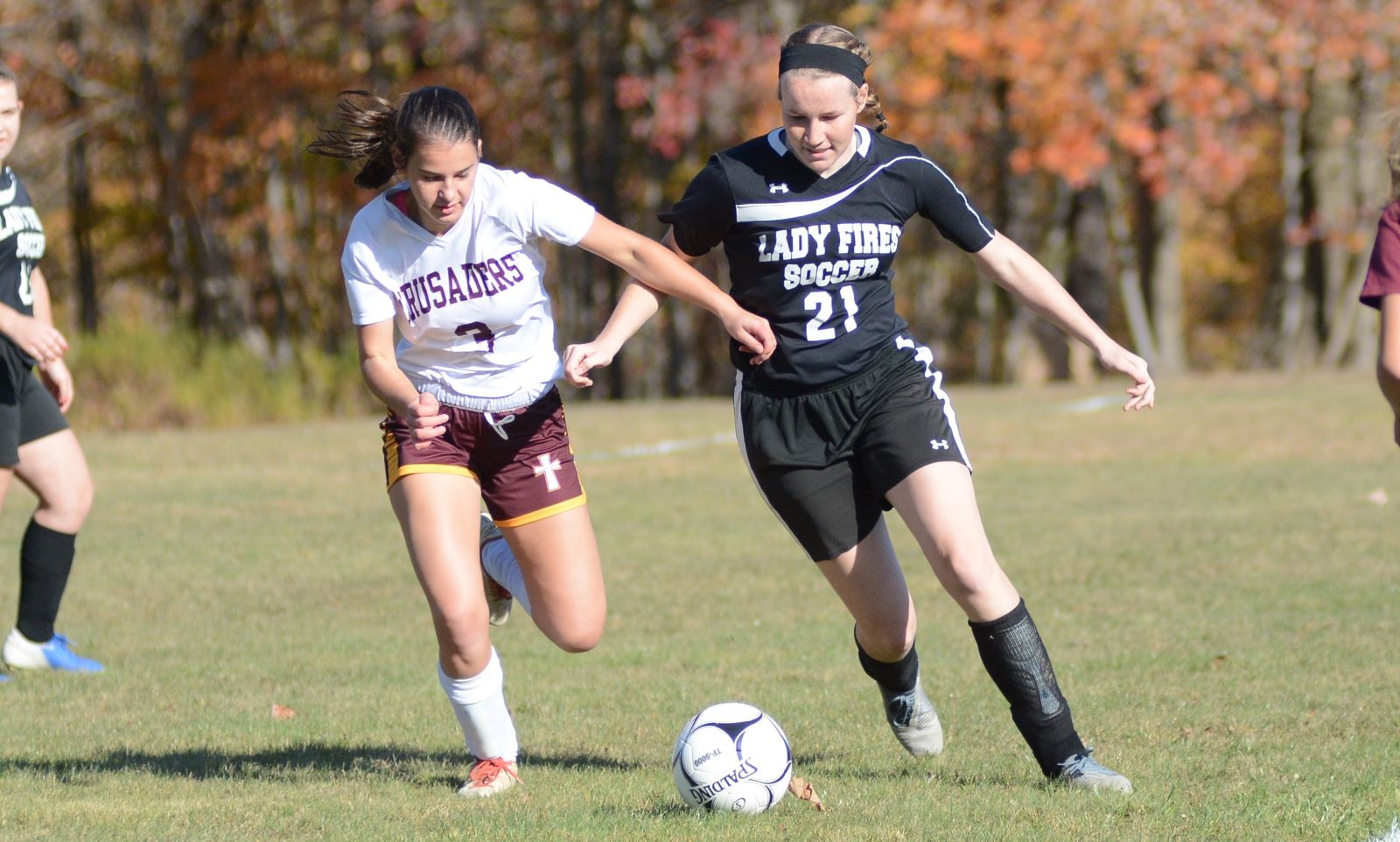 MARIENVILLE, Pa. – Emily Wolfe and Riley Belsole each scored twice to lift seventh-seeded Elk County Catholic to a 5-1 win over second-seeded Forest Area at East Forest Monday afternoon in the opening round of the District 9 Class 1A girls' soccer playoffs.
(Photo: ECC's Mary Cerroni and Forest Area's Abby Gatesman go for a ball during Monday's District 9 Class 1A quarterfinal game at East Forest won by ECC, 5-1. Photo by Deb Arner)
The goals from Wolfe and Belsole all game in the first half helping the Lady Crusaders take a 4-1 halftime lead.
"It feels really good," Belsole said. "I'm really proud of our team."
After the teams exchanged goals less than a minute apart early in the contest, Belsole, a freshman, broke the tie when she got loose on a breakaway early in the 15th minute.
"I think (that goal) really helped our momentum go further into the game," Belsole said. "The energy was high."
Just over three minutes later, Wolfe added her second marker of the game to make it 3-1.
"We were trying to get small passes and communicate with each other," Wolfe, who also opened the scoring midway through the eighth minute, said.
Watch the entire postgame interview with Wolfe and Belsole.
ECC head coach Ken Vogt Jr. said his team's early dominance came from putting what they practice into play.
"I think we were kind of putting into practice what we have been working on all season – spreading the field, using our little triangle passing, getting to open space," Vogt said. "We were able to generate some offense and get a couple of through balls and get a couple of nice shots."
Belsole was able to add to the Lady Crusaders lead just before halftime when she raced to a loose ball and hit the top, left corner of the net to make it 4-1 ECC at the break.
"We told them we have forty minutes to go, keep playing hard, keep doing what you are doing," Vogt said about his halftime message. "It's going to be emotional, it has a chance to get physical, so just keep playing your game and focus on the goal."
Fores Area head coach Staci Blair said while it wasn't ideal to be down three at halftime, she reminded her team that just a couple of weeks ago they had rallied from down two goals late at Kane to win in overtime.
"That was the message at halftime, and they were all confident in that," Blair said. "A couple of weeks ago, we did that at Kane. They knew we could score and score quick. But, we just couldn't put it together with our offense today."
Any thought of the Fires getting back in the game were dashed just over eight minutes into the second half when Chelsea Total chipped a ball off the hands of the Forest Area goalie to make it 5-1.
"We had a tough schedule," Vogt said of feeling his team was prepared for the postseason despite being the seventh seed. "We play some good teams. Seeing it all year kind of prepares us and tells us where we need to be and what we need to work on."
Blair said while the game didn't turn out the way she had hoped, she was proud of her team.
"That was part of the goal at the beginning of the season to make the playoffs," Blair said. "They knew about three weeks ago the chance to have a home playoff game was a definite possibility, so that is what we worked towards. They were excited about it, and it was great to see all the support out here today. I just wish it could have been a little different on the scoreboard."
After ECC took the early 1-0 lead on the Wolfe goal, Forest Area wasted little time tying the game at one on a tally by Abby Gatesman just 51 seconds later.
"I thought that goal was really important to settle us down," Blair said. "I thought that was going to kind of quell any nerves we had and get us back in the game. But, unfortunately, it didn't turn out that way."
ECC will take on third-seeded Redbank Valley, a 4-0 winner over Kane, in the semifinals at 7 p.m. Tuesday, Oct. 29, at DuBois High School.
CURWENSVILLE 5, PORT ALLEGANY 3
CURWENSVILLE, Pa. – Chloe Davis' goal, her third of the game, late in the 77th minute broke a 3-all tie and gave fourth-seeded Port Allegany a 5-3 win over fifth-seeded Port Allegany in the opening round of the District 9 Class 1A girls' soccer playoffs.
The game had been tied at three since Davis' second goal of the game midway through the 36th minute late in the first half.
After Davis' hat-trick tally – she also added an assist – Emma Rebar put the game away less than two minutes later when she scored against a pressing Port Allegany attack to make it 5-3. It was Rebar's second tally of the game.
Rebar started the scoring early in the third minute giving Curwensville a 1-0 lead before goals by Barnett (6th minute) and Emma Fox (7th minute) a 1:23 apart gave Port Allegany a 2-1 lead.
Just over four minutes later, Davis found the equalizer late in the 11th minute to tie the game at two before Barnett's second goal of the game, this one early in the 21st minute, gave the Lady Gators a 3-2 lead.
Maura Bunnell had six saves in securing the win in net for Curwensville.
Curwensville will face top-seeded Brockway, at 5 p.m. Tuesday, Oct. 29, at DuBois High School.
REDBANK VALLEY 4, KANE 0
NEW BETHLEHEM, Pa. – Scoring three times in the final 8:50, third-seeded Redbank Valley pulled away from sixth-seeded and visiting Kane for a 4-0 win in the opening round of the District 9 Class 1A girls' soccer playoffs.
The Lady Bulldogs had grabbed a 1-0 lead in the first half when Brooke Eberle scored in the opening 10 minutes.
The lead stood at 1-nil until early in the 72nd minute when Kennedy Hetter scored to make it 2-0. The came off a Josey Adams corner kick that Kane failed to clear after a couple of short chances by Redbank Valley. The corner was earned when Ember Hetrick had a breakaway shot saved out of bounds.
Reagen Beamer then put the game away early in the 76th minute on a breakaway making it 3-0 before Kane had an own goal with just over a minute remaining that made it 4-0.
Redbank Valley will take on seventh-seeded Elk County Catholic, a 5-1 winner over Forest Area, in the semifinals 7 p.m. Tuesday, Oct. 29, at DuBois High School.
BOYS' SOCCER
ELK COUNTY CATHOLIC 5, REDBANK VALLEY 2
NEW BETHLEHEM, Pa. – Edward Messineo hat trick plus one assist led fifth-seeded Elk County Catholic to a 5-2 win at fourth-seeded Redbank Valley.
Regis Wortman scored the other two goals for the Crusaders, while Koltin Kline scored twice for Redbank Valley.
It didn't take long for ECC to build a 3-0 lead in the contest with a Messineo corner kick setting up a Wortman goal less than two minutes into the contest and then Messineo scoring twice in a place of 6:30 minutes to make it 3-0.
Messineo's first goal came late in the sixth minute and then he added his second goal of the game early in the 13th minute to make it 3-0.
Kline got the Bulldogs within a tally midway through the 16th minute, but Wortman's second goal of the game, in the 40th minute with 31 seconds left in the half, made it 4-1 ECC at halftime.
A goal by Kline midway through the 44th minute kept Redbank Valley in striking distance at 4-2, but Messineo completed the hat trick with just over nine minutes to play to seal the win.
ECC will take on top-seeded Brockway in the semifinals at 7 p.m. Monday, Oct. 28, at DuBois High School.
BRADFORD 5, DUBOIS 2
BROCKWAY, Pa. – Building a 3-1 halftime lead, second-seeded Bradford advanced to the District 9 Class 3A boys' title game with a 5-2 win over DuBois in the semifinals at Varischetti Field in Brockway.
Ian Grady scored twice in the first half, and Isaiah Pingie added a goal in each half for the Owls, who will face top-seeded Clearfield in the title game at 6 p.m. Thursday at Varischetti Field.
Grady broke the ice with a goal a second into the third minute before Justin Kalgren tied the game at one for DuBois with a goal midway through the 13th minute.
But 1:09 after Kalgren's tally, Pingie gave Bradford the lead for good with his first goal of the game, and Grady made it 3-1 1:15 after that.
Pingie then scored late in the 44th minute after halftime to make it 4-1 Owls before Nick Gaeca gave DuBois some life with a goal late in the 51st minute.
Jerid Wilmoth, though, put the game away with a tally late in the 71st minute to set the final score.
Click here for volleyball recaps from Oct. 21