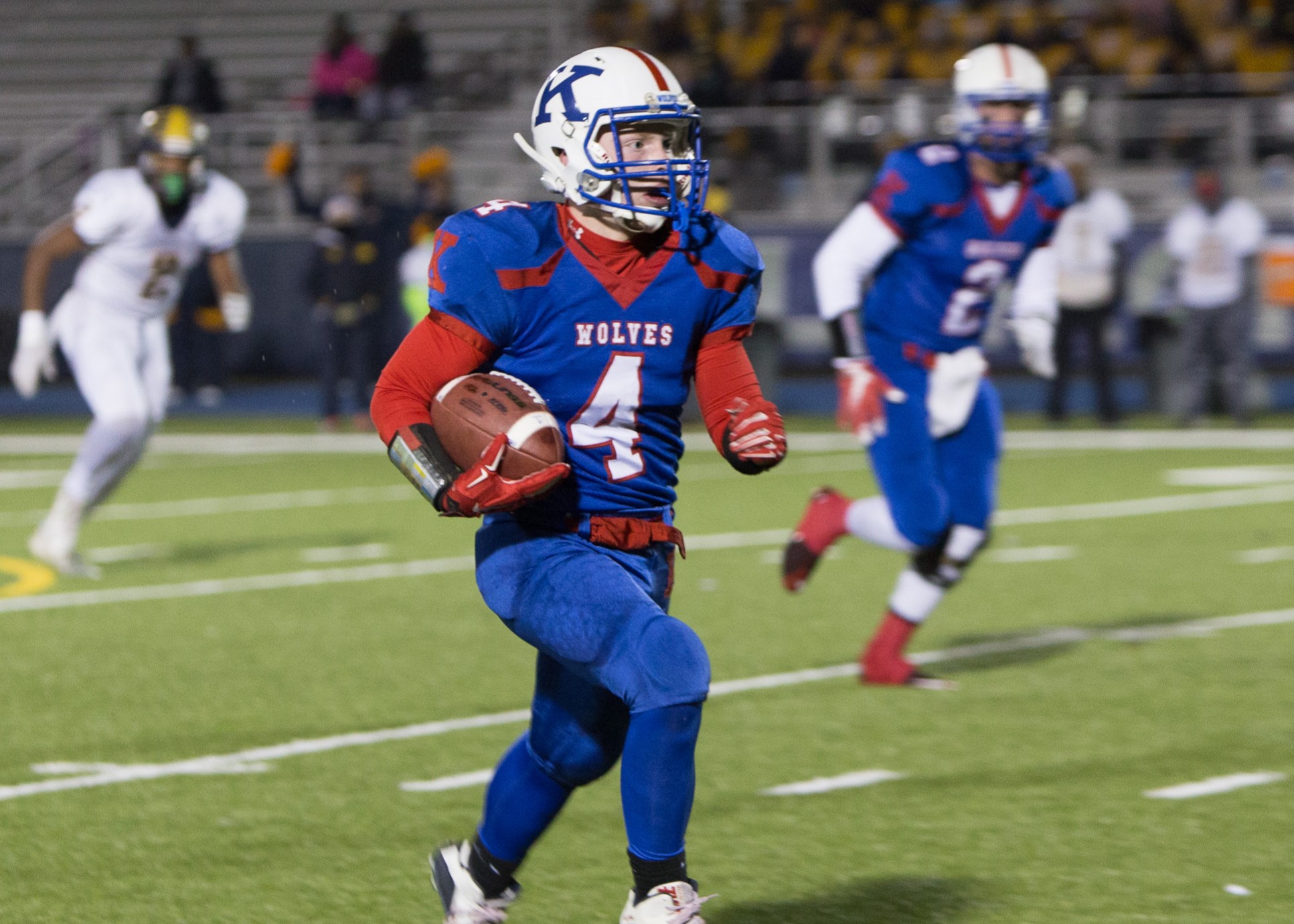 By Chris Rossetti
CLARION, Pa. – Farrell used big plays to end Kane's season, 27-6, in the PIAA Class A quarterfinals Friday night at Clarion University's Memorial Stadium.
The Steelers (13-1) had 16 plays of 10 or more yards including a pair that went for touchdowns and a couple of others that set up scores.
"Farrell is a great football team," Kane head coach Todd Silfies said. "They are well coached. They are disciplined. They have a lot of kids who can do a lot of different things."
One of the things the Steelers did well was use their speed, especially on the perimeter to break big plays when they needed them the most.  
"You can't even try to simulate that speed," Silfies said. "Not on the grass fields of Kane in December. We can't simulate it anyways. It's tough."
Farrell had two running backs each over 100 yards with a touchdown led by 139 yards from Malachi Newell including a 38-yard touchdown run. Braxton Chapman showed a combination of power and speed running for 102 yards with a 1-yard score.
Despite the Steelers speed, Kane was right in the football game trailing by just two scores, 14-0, at both halftime and the end of the third quarter.
But a 39-yard touchdown run by Davaughn Greene on a reverse on the second play of the fourth quarter was pretty much the dagger for the Wolves (12-1).
"We wanted to weather the storm," Silfies said. "I think we did that. They came out and went right down the field. It was a storm. But our guys weather it, and we were in position starting the fourth quarter where anything could happen with these young guys. Hats off to Farrell."
It wasn't like Kane was without chances.
Despite being limited to 217 yards of offense, the Kane had the ball inside the Farrell 30-yard line six times and on the Steelers side of the field seven times but only scored once against a defense that bent but wouldn't break.
The Wolves finally broke through on their last drive going 67 yards on 13 plays to score on a 1-yard Shane Rolick run with 2:21 to play.
"I'm proud of our guys for everything they've done this year," Silfies said. That was a heck of a run. There is no quit in them. You saw that down the stretch."
Shane Rolick capped off a fantastic senior season by rushing for 97 yards and the score and throwing for 72 more, while his twin brother, Tyler, added 48 yards rushing and caught two passes for 15 yards.   
"A lot of these guys, these seniors, I've coached for six years," Silfies said. "It's a special group."
And while the game was lost, the cupboard is far from bare for Kane, and that was evident in the play of sophomore Ange Costanzo, who had two interceptions on defense while also catching a pair of passes for 29 yards.
"Ange Costanzo played a whale of game," Silfies said. "We have a lot of guts coming back, but we are going to miss the seniors we are losing, their leadership. We came into camp and no one believed in us. You weren't picking us and no should you have. We had graduated a ton of guys and lost a great group of seniors last year. We were down a little bit. But our seniors are great leaders, some of the best I've ever coached. What happened tonight doesn't matter. We're going to look back and remember this year as one of the best in Kane football history."  
Farrell will now take on Berlin Brothersvalley in the PIAA semifinals next week after Berlin pulled perhaps one of the greatest upsets of all-time in Pennsylvania football history knocking off Clairton 35-22.
NOTES – Kane played without Big 30 Defensive Player of the Year, sophomore Erik Delong, who was injured in the D9 title game against Brockway … Farrell was penalized 12 times for 100 yards while Kane had five for 25 yards … The game featured, if that's the right word, 10 turnovers, five by each team – three picks apiece and two lost fumbles – but only one punt, by Kane … The victory gives District 10 a 13-12 lead over District 9 in the Class A playoffs in the last 25 years, and it very well could be the end of the district rivalry as we know it with six classifications coming in next year.
FARRELL 27, KANE 6
Score by Quarters
Farrell 8 6 0 13 – 27
Kane 0 0 0 6 – 6
Scoring Summary
First Quarter
F – Braxton Chapman 1 run (Alex Myers run), 9:50
Second Quarter
F – Malachi Newell 38 run (Run failed), 3:08
Fourth Quarter
F – Davaughn Greene 39 run (Run failed), 11:40
F – Myers 1 run (Marcus McCoy kick) 6:41
K – Shane Rolick 1 run (Conversion failed), 2:21
TEAM STATS
| | | |
| --- | --- | --- |
| Farrell | STATS | KANE |
| 16 | First Downs | 15 |
| 37-331 | Rushes-Yards | 39-145 |
| 68 | Passing Yards | 72 |
| 7-11-3 | Comp-Att-Ints | 10-22-3 |
| 399 | Total Yards | 217 |
| 2-2 | Fumbles-Lost | 4-2 |
| 12-100 | Penalties-Yards | 5-25 |
| 0-0 | Punts-Avg | 1-39 |
INDIVIDUAL STATS
RUSHING – Farrell: Braxton Chapman 16-102, Malachi Newell 8-139, Davaughn Green 4-44, Alex Myers 7-42, Tymir Green 1-6, Team 1-negative 2. Kane: Shane Rolick 25-97, Tyler Rolick 14-48.
PASSING – Farrell: Alex Myers 7-for-11, 68 yards, 3 interceptions. Kane: Shane Rolick 10-for-22, 72 yards, 3 interceptions.
RECEIVING – Farrell: Braxton Chapman 1-negative 1, Kyi Wright 1-18, Malachi Newell 4-38, Marcus McCoy 1-13. Kane: Tyler Rolick 2-15, Tyler Weidenhof 2-11, Ray Maze 2-8, Ange Costanzo 2-29, Issac Walters 2-17.
INTERCEPTIONS: Farrell: Alex Myers 2, Kyi Wright 1. Kane: Ange Costanzo 2, Ray Maze.