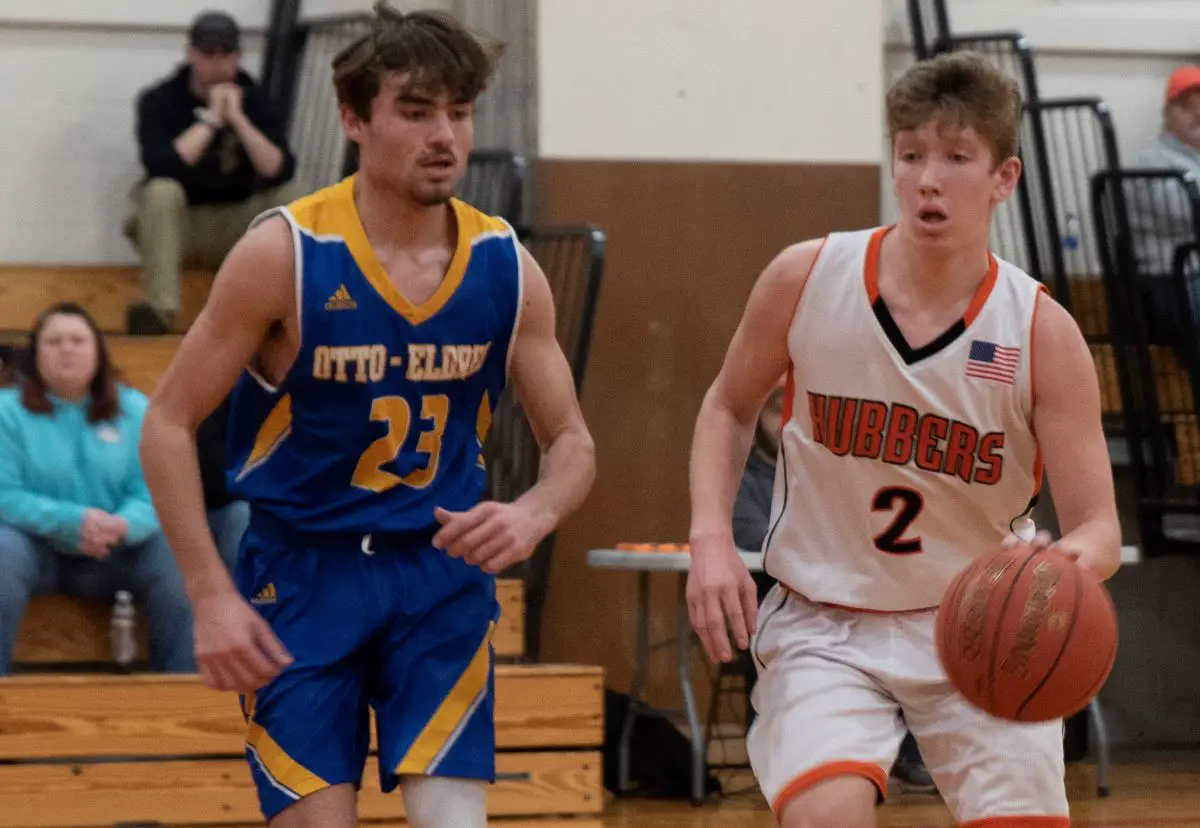 Feb. 13 boys' and girls' basketball recaps.
(Photo of Layne Shall of Smethport is guarded by Cole Sebastian of Otto-Eldred during the Hubbers win over the visiting Terrors. Shall had 15 points to lead all scorers. Photo by Barb Davis. See more of Davis' work here)
Also see: AML Semifinal Recaps
BOYS
SMETHPORT 50, OTTO-ELDRED 47
SMETHPORT, Pa. – A 10-point third-quarter advantage helped Smethport overcome a nine-point halftime deficit and defeat visiting Otto-Eldred, 50-47, in NTL action.
The Hubbers tailed 24-15 at the break but outscored the Terror 17-7 in the third quarter to take the lead.
Layne Shall scored nine of his game-high 15 points in the third quarter and 12 of his 15 in the second half to lead the comeback.
Meanwhile, Conner Alfieri scored all 10 of his points after halftime for Smethport, and Hunter Helsley (eight points) and Alex Ognen (seven points) combined for another 15 points in the victory.
Jake Merry led Otto-Eldred with 14 points with Cole Sebastion and Braden Maholic each scoring 13.
COUDERSPORT 75, ST. MARYS 61
ST. MARYS, Pa. – Coudersport closed out the regular season with a 75-61 win at St. Marys, as Hayden Keck and Kolby VanWhy combined to score 38 points.
Keck led the Falcons with 20 tallies and six steals with VanWhy adding 18 points.
Dillon Keglovits also chipped in 15 points and 11 rebounds for the Falcons.
Cahil Parrish paced St. Marys with 14 points with Mitchell Reiter, Luke Lasko and Drake Casley each scoring 10 points.
CLEARFIELD 80, CURWENSVILLE 17
HYDE, Pa. – Fourteen different Clearfield players etched their name in the scorebook, as the Bison rolled past visiting Curwensville, 80-17.
Matt Pallo led Clearfield with 14 points, Karson Rumsky added 12 tallies, Cade Walker had 11 points and six rebounds and Kadyn Hudson chipped in nine points.
Trevor Lansberry had seven points to lead Curwensville.
A-C VALLEY 67, UNION 43
FOXBURG, Pa. – Eddie Stevanus and Levi Orton combined to score 38 points, as A-C Valley used a quick start to the second half to down visiting Union, 67-43, in KSAC North action.
Orton led the Falcons with 21 points with Stevanus chipping in 17. Tanner Merwin added 10 points and Russ Carr seven.
Truman Vereb paced Union with 10 points, Layton Stewart added nine and Luke Bowser eight.
A-C Valley led 30-20 at halftime and then outscored Union 20-6 in the third quarter to blow the game open.
GIRLS
OSWAYO VALLEY 46, ARCHBISHOP WALSH (N.Y.) 22
OLEAN, N.Y. – Jadyn Brabham exploded for 23 points to lead visiting Oswayo Valley to a 46-22 win over Archbishop Walsh.
Marcy West adding 16 points in the win for the Green Wave.
CLARION-LIMESTONE 60, FOREST AREA 32
STRATTANVILLE, Pa. – Anna Kennemuth scored 13 points to lead Clarion-Limestone past visiting Forest Area, 60-32, in KSAC North play.
Syndey Simpson hit three 3-pointers and added 11 points in the win for the Lady Lions with Kendall Dunn, Janelle Pezzuti and Frances Milliron each chipping in nine points.
Jessica Wagner had 19 points and 15 rebounds to pace Forest Area with Megan Clow chipping in eight points.
BUCKTAIL 42, GALETON 41
GALETON, Pa. – Julie Green scored 19 points to lead visiting Bucktail past Galeton, 42-41.
Reileigh Isaacs added eight points for the Bucks in the win.
Jessie Evans paced Galeton with 24 points and three rebounds with Alli Macensky adding 11 points, 10 rebound and three blocked shots.
Macensky's two free throws with 15 seconds left got the Lady Tigers within a point, and Galeton got the ball back still down one with three seconds to play but couldn't get a decent shot off at the horn.