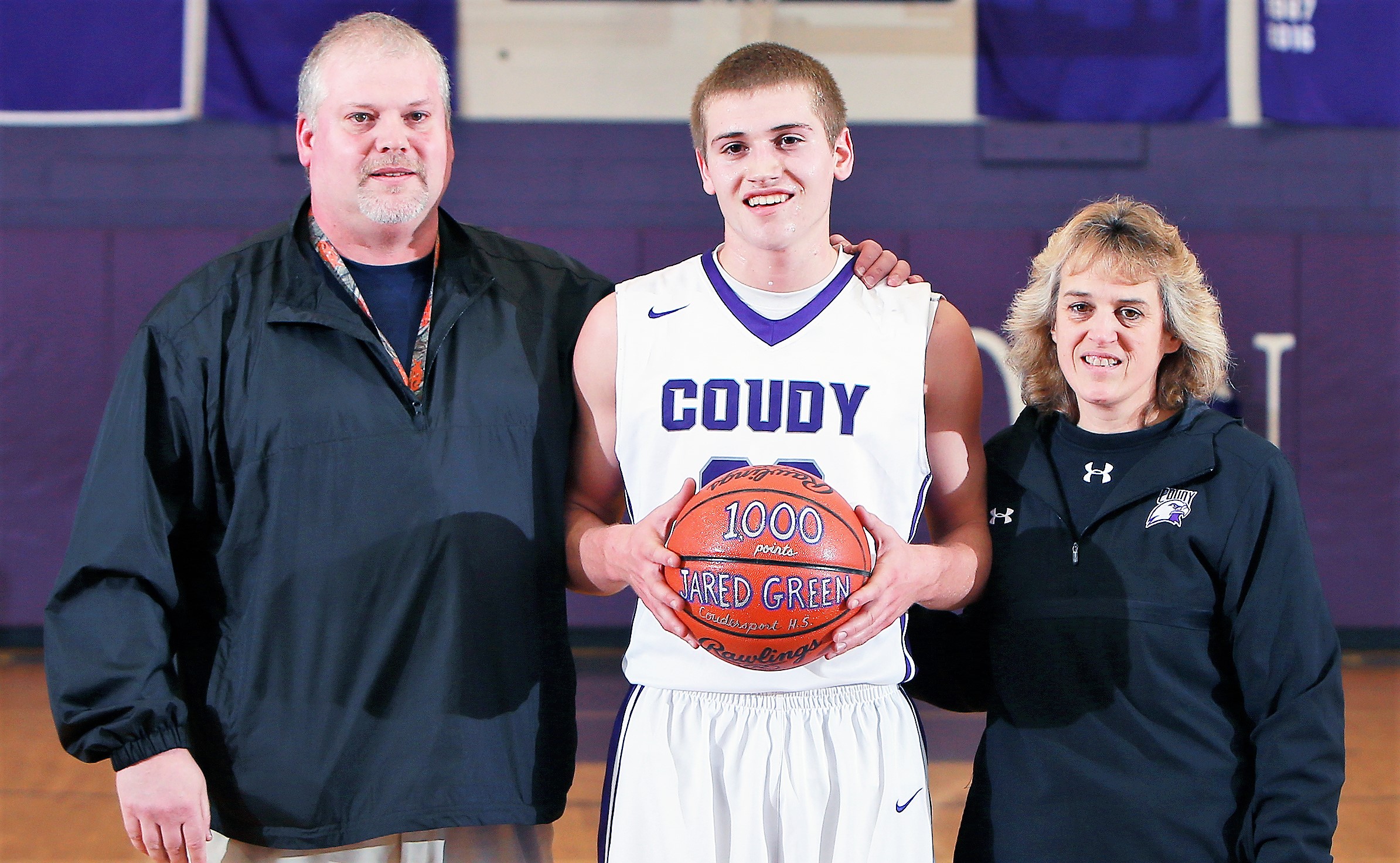 Feb. 8 boys' basketball recaps.
COUDERSPORT 65, GALETON 22
COUDERSPORT, Pa. – Needing 25 points for 1,000 in his career Coudersport junior Jared Green scored 26 in the Falcons 65-22 win over visiting Galeton in North Tier League action.
Green had 11 points at halftime to help Coudersport, which won for the third consecutive day, to a 32-7 lead at the break. He then added 11 more points in the third quarter before hitting a pair of fourth-quarter baskets to reach the mark.
Aaron Wolfinger, Green's cousin, added 14 points for the Falcons.
Isaiah Shuemaker paced Galeton with 11 points.
MONITEAU 65, KARNS CITY 59
WEST SUNBURY, Pa. – Moniteau continued its last season upward trajectory with a 65-59 win over visiting Karns City in KSAC South play.
Lake Pry again led the way for the Warriors with 24 points and seven rebounds. Jake Jewart added 13 points, seven rebounds and six assists and Jared Lominski had 12 points.
A quick start led Moniteau to the victory, as the Warriors led 18-11 at the end of a quarter thanks to eight points from Pry and five from Jewart. Jewart then added six more points on a pair of 3-pointers in a 22-point third quarter for the Warriors, who added two points to a 29-25 halftime lead going to the fourth.
Ian McElroy led Karns City with 24 points, Chandler Turner added 15 and Noah Pollock 10.
Moniteau's win keeps the Warriors slim hopes of a KSAC South title alive. They are now tied in the loss column with Karns City in the South with two losses each. Keystone, which beat Redbank Valley Wednesday night, has one loss. For Moniteau to win the South they need Keystone to drop two of its three remaining games – Union, Karns City and A-C Valley – while winning out. A tie with the Panthers doesn't do the Warriors any good because they split the season series with Keystone, and the Panthers currently hold all of the key tiebreakers. Keystone also owns the tiebreaker in a three-way tie with Karns City and Moniteau.
ST. MARYS 64, PUNXSUTAWNEY 56
ST. MARYS, Pa. – A strong first half helped St. Marys down visiting Punxsutawney, 64-56, in D9 League action.
The Dutch raced out to a 43-32 halftime lead and then withstood a five-point third quarter to pick the win, their second in a row after losing three straight and six of eight.
Jeff Wehler scored 14 of his 18 points in the first half to help St. Marys to the double-digit halftime advantage. Matt Marconi also scored 18 for the Dutch with Nathan Schneider pitching in 15.
Brandon Matthews led Punxsutawney with 18 points.
KEYSTONE 46, REDBANK VALLEY 19
KNOX, Pa. – Ten different Keystone players scored, as the Panthers rolled past visiting Redbank Valley, 46-19, in KSAC South action.
Austin Ion led Keystone with nine points with Tanner Wilson adding seven points and five steals, Corey Rapp seven points and six steals and Nate Wingard six points and nine rebounds.
Nick Smith's eight points led Redbank Valley.
CRANBERRY 56, FOREST AREA 43
SENECA, Pa. – Dan McQuaide hit six 3-pointers on his way to a career-high 24 points to help Cranberry break an eight-game losing streak with a 56-43 win over visiting Forest Area in KSAC North action.
Cameron Daugherty chipped in 10 points for the Berries, who led 37-18 at halftime.
Seth Berlin paced Forest Area with 15 points and 10 rebounds with Martin Ralston adding 10 points.
A-C VALLEY 57, UNION 50
FOXBURG, Pa. – Kody Wolfe matched his career high with 25 points while adding eight rebounds, as A-C Valley toppled visiting Union, 57-50, in KSAC South play.
Wolfe was 8 of 8 from the free-throw line on his way to the 25 points.
Jeff Ginn added nine points and six rebounds for the Falcons who also got seven points and seven steals from Dalton Callendar and eight rebounds from Joe Manculich.
Lucas Bowser scored a game-high 28 points while adding 13 rebounds, four steals and two assists,
Kolby Montgomery chipped in 13 points for the Golden Knights.
CLARION-LIMESTONE 73, VENANGO CATHOLIC 34
OIL CITY, Pa. – Ian Callen exploded for a season-high 25 points to go with 10 steals, six rebounds and four assists to lead visiting Clarion-Limestone to a 73-34 KSAC North win over Venango Catholic.
The win pushes the Lions to within a victory of their fourth straight KSAC North crown. C-L can claim the title with a win over Cranberry Friday rendering its rivalry game with Clarion next Wednesday meaningless because the Lions would hold the tiebreaker over the Bobcats even with a loss to Clarion. It would also be C-L's fifth KSAC North title in the last six years. That would break a tie with Union for the most KSAC divisional crowns since the conference split into two conferences for the 2006-07 season.
Dan Callen chipped in nine points, eight rebounds and five assists for C-L with Christian Smith and Deion Deas each adding 11 points.
Hunter Lancaster had 13 points to pace Venango Catholic.
CLARION 67, NORTH CLARION 58
CLARION, Pa. – Behind Cam Craig's career-high 27 points Clarion kept its faint hopes for a KSAC North title alive with a 67-58 win over visiting North Clarion.
Craig scored 12 of his 27 during a 22-point third quarter that helped Clarion take a 28-22 halftime lead and expand the advantage to 50-37 going to the fourth.
Ty Burford added 11 points for the Bobcats, whose only chance at a KSAC North title is to win out, including a win over C-L next Wednesday, while the Lions are upset by Cranberry Friday, with Austin Hummell chipping in 10 points.
Nathan Banner scored 22 points to pace North Clarion with Chase Schmader and Keeven Weaver each adding nine points.
CLEARFIELD 78, PHILIPSBURG-OSCEOLA 47
CLEARFIELD, Pa. – Will Myers and Tommy Hazel combined for 40 points, as Mountain League champion Clearfield closed out league play with a 78-47 thrashing of visiting Philipsburg-Osceola.
Myers, who became the all-time leading scorer in school history Monday, led the way for the Bison with 21 points with Myers adding 19.
Also reaching double digits for Clearfield were Evan Brown with 13 points and Ryan Chew with 10.
OTTO-ELDRED 39, OSWAYO VALLEY 34
DUKE CENTER, Pa. – In a hard-fought battle with District 9 Class 1A playoff seeding implications, Otto-Eldred held off visiting Oswayo Valley, 39-34, in North Tier League action.
Sawyer Drummond scored 16 points to lead the Terrors, who move to 12-8 on the season, with Damen Palmer adding 13 points.
Oswayo Valley, which drops to 12-9, got 18 points from Gavin Babcock.
The two teams as well as North Clarion (11-9), Port Allegany (11-10) and Cameron County (12-7) are battling it out for the two through six seeds in the upcoming District 9 1A bracket with Elk County Catholic (20-0) already having clinched the top spot.
CAMERON COUNTY 71, NORTHERN POTTER 36
ULYSSES, Pa. – Adam Shaffer led a trio of Cameron County players in double figures with 22 points, as the visiting Red Raiders rolled to a 71-36 North Tier League win over Northern Potter.
Jake Walters and Hunter Horning each added 10 points for Cameron County.
Tucker Kosa paced Northern Potter with 20 points.
KANE 55, SMETHPORT 26
KANE, Pa. – Strong games from Andrew Bucheit and freshman Chad Greville lifted Kane to a 55-26 win over visiting Smethport.
Bucheit had 14 points, 15 rebounds, seven assists and six blocked shots with Greville adding 15 points.
Noah Costa's eight points led Smethport.
BROCKWAY 65, JOHNSONBURG 54
JOHNSONBURG, Pa. – In a non-conference battle, Zane Puhala was one of four Brockway players in double digits with 17 points to lead the visiting Rovers to a 65-54 win over Johnsonburg.
Jake Wineberg added 13 points for Brockway with Carter Adams adding 11 and Jarrett Esposito 10.
Austin Green paced Johnsonburg with 14 points while hitting four 3-pointers. Ryan Kilhoffer added 10 points for the Rams.