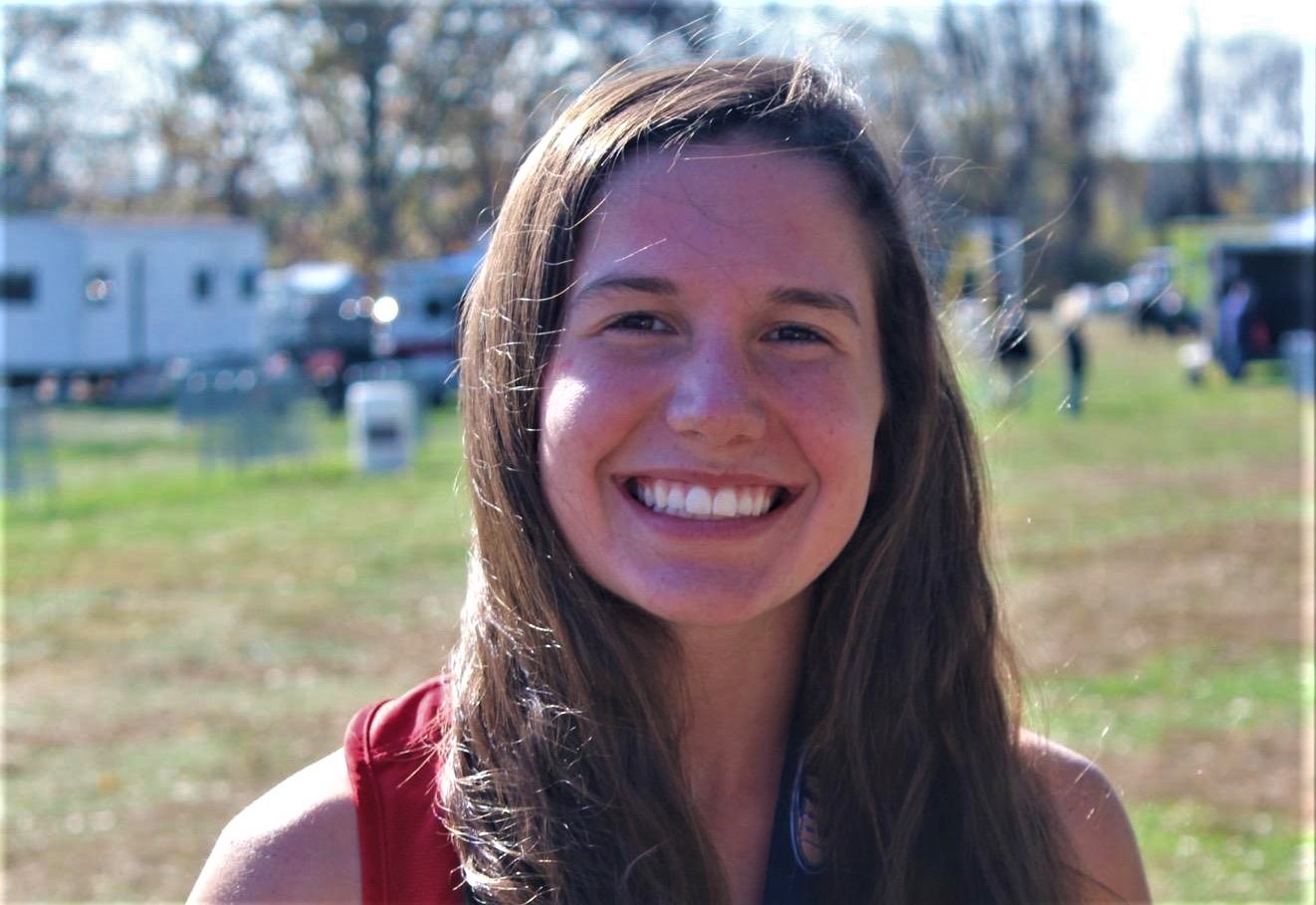 HERSHEY, Pa. – Four District 9 cross country runners earned medals Saturday at the PIAA Cross Country Championships in Hershey, Pa.
(Photo of Olivia Roberts of Punxsutawney, who was the highest-placing District 9 finisher taking 15th in the girls' Class 2A race. Submitted photo)
Punxsutawney's Olivia Roberts had the highest finish among the four taking 15th in the girls' Class 2A race in a time of 19:38.
Oswayo Valley's Cheyne Mehl was 22nd in the girls' Class 1A race in a time of 20:25.5, St. Marys' Samantha Hayes was 23rd in the girls' Class 2A race in a time of 20:02 and Elk County Catholic's Ben Hoffman was 25th in the boys' Class 1A race in a time of 17:09.
The Cranberry and Punxsutawney boys' teams tied for the best team finishes among District 9 schools with the Berries taking sixth in Class 1A (190 points) and the Chucks taking sixth in Class 2A (169 points).
North Clarion was the highest-finishing girls' team among District 9 squads finishing seventh in Class 1A with 218 points.
CLASS 1A GIRLS
In Class 1A girls, Cranberry took 14th as a team with 367 points to join North Clarion in the team race, while St. Joseph's Catholic won the team title with 93 points.
In addition to Mehl, District 9 had eight additional runners finish in the top 100 including three more runners in the top 50.
Northern Potter's Courtney Martin was 27th (20:52.4), Kane's Raeann Asel was 41st (21:06.4), Cranberry's Kalynne Ziegler was 44th (21:09), Moniteau's Jenna Blauser was 55th (21:25.7), North Clarion's Rachel Bauer was 65th (21:34.2), Kane's Emily Peterson was 84th (21:57.3), North Clarion's Nicole Fair was 85th (21:58.8) and North Clarion's Kayla Aaron was 97th (22:13.0).
Haley Hamilton of Our Lady of Sacred Heart won the PIAA Class 1A girls' title in a time of 19:19.9.
Full Class 1A girls' results can be found here.
CLASS 2A GIRLS
St. Marys was the lone District 9 team in the field with the Lady Dutch taking eighth with 211 points. South Fayette won the PIAA title with 62 points.
Two additional District 9 runners joined Roberts and Hayes in the top 100 with both being from St. Marys. Megan Quesenberry was 76th (20:59) and Kyla Johnson was 89th (21:11).
Marlee Starliper of Northern was the PIAA champion finishing in a time of 17:11.
Complete Class 2A results can be found here.
CLASS 1A BOYS
Clarion joined Cranberry in the boys' team race with the Bobcats finishing 16th with 332 points. Winchester Thurston won the championship with 113 points.
Hoffman was joined in the top 100 by 12 additional runners including four additional runners finishing in the top 39.
ECC's Joe Wolfe was 27th (17:12), Cranberry's Matt Woolcock was 29th (17:18), Clarion's Nathaniel Lerch was 34th (17:28), Cranberry's Daniel Fisher was 39th (17:38), DuBois Central Catholic's John Ristick was 51st (17:47), Keystone's Kolby Buzard was 64th (17:57), Cranberry's Joey Fox was 70th (18:01), North Clarion's Jacob Bauer was 76th (18:04), Cranberry's Christian Miller was 80th (18:09), Smethport's Ethan Nannen was 86th (18:12), Cranberry's River Perry was 97th (18:17) and Clarion's Gavin Hoover was 99th (18:20).
Colton Sands of Penns Valley won the race in a time of 15:56 ahead of his teammate and second-place finisher Brendan Colwell, who finished in 16:05.
Full Class 1A boys' results can be found here. 
CLASS 2A BOYS
While Punxsutawney was sixth, Lewisburg edged York Suburban for the team title as both finished with 82 points but Lewisburg had the highest finisher between the two.
Six District 9 runners finished in the top 100 led by Punxsutawney's Owen Bartlebaugh, who just missed a medal finishing 27th in a time of 16:54.7.
Punxsutawney's Aiden McLaughlin was 44th in a time of 17:09, DuBois' McKellan Jaramillo finished 84th (17:39.2), Bradford's Ryan Cottillion was 86th (17:39.5), Punxsutawney's Corbin Heitzenrater was 88th (17:39.9) and Punxsutawney's Andrew Wehrle was 91st (17:41.5).
Dylan Throop of General McLane won the title in a time of 15:57.1
Full Class 2A boys' results can be found here.