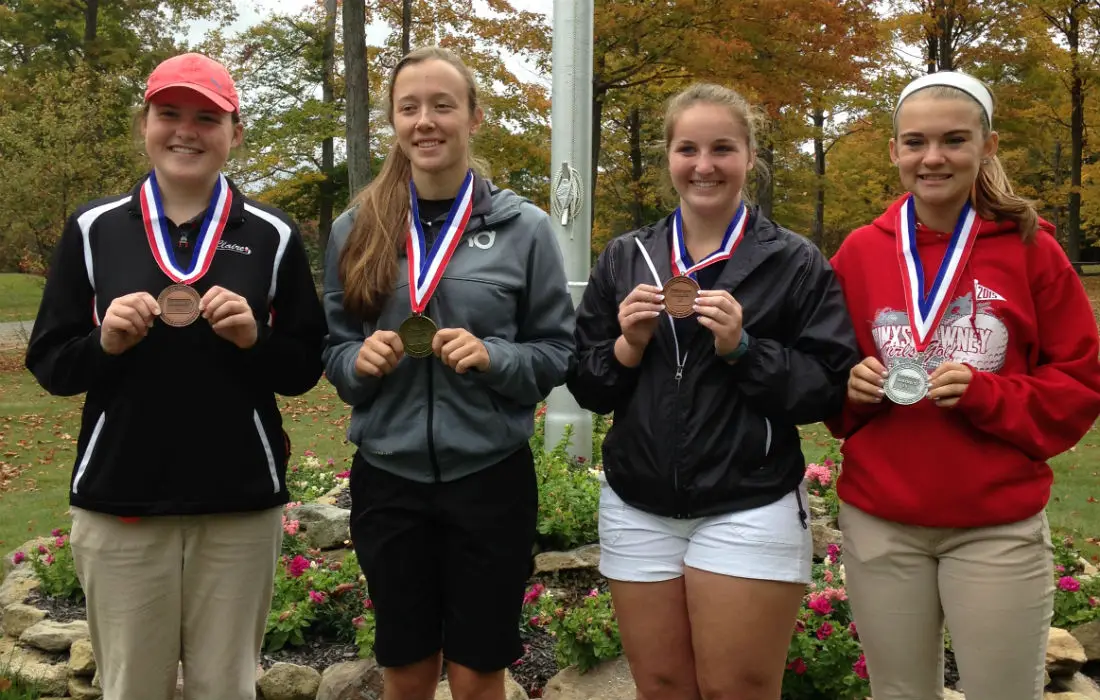 BRADFORD, Pa. – Keystone's Amber Hess and Bradford's Bri Wells took home District 9 individual golf titles Tuesday at Pine Acres Country Club in Bradford Tuesday, while Kane and Bradford won team titles.
Hess won the Class AA championship shooting a 79 outpacing Elaina Powell of Brookville and Morgan Vanleer of Punxsutawney by five shots each. Powell and Vanleer both qualified for the PIAA Championships along with Hess as did Clarion's Claire Saylor, who shot a 90. Saylor edged A-C Valley's Ellie Thompson on the first hole of a playoff for the final PIAA spot after Thompson also carded a 90.
Wells took the AAA title in a field of four golfers shooting a 91 topping DuBois' Kiersten Pearce, who shot a 111.
In AA team play, Kane beat Cameron County by two strokes finishing with a 443. Erin Pierce led the Lady Wolves with a 91, Hailey Oknefski shot a 98, Riana Smith a 118 and Maddi Dalton a 136.
The Class AAA team championship was a two-team playoff with Bradford shooting a 452 to outpace DuBois by six strokes. Wells led the Owls with the 91, while Makayla Belser shot a 118, Makensi Belser a 121 and Sam Williams a 122.
CLASS AA TEAM SCORES
Kane – 443
Cameron County – 445
A-C Valley – 448
Punxsutawney -453
CLASS AA INDIVIDUAL SCORES
Amber Hess, Keystone – 79*
Elaina Powell, Brookville – 84*
Morgan Vanleer, Punxsutawney – 84*
Claire Saylor, Clarion – 90*
Ellie Thompson, A-C Valley – 90 (Lost to Saylor in a playoff for final PIAA spot)
Erin Paulson, Kane – 91
Mary-Kate Elenchin, Coudersport – 98
Hailey Oknefski, Kane – 98
Sam Satterlee, Punxsutawney – 99
Abby Woodard, Smethport – 100
Kristina DeMatteis, Moniteau – 101
Kendyl Guisto, Cameron County – 103
Stephaie Fry, Coudersport – 103
Allison Sherman, A-C Valley – 104
Kennedy DeMatteis, Moniteau – 105
Tess Dupler, Cameron County – 107
Autumn Haney, Smethport – 110
Hannah Hoover, Curwensville – 114
Katie Thompson, Ridgay – 121
Alexis Ziegler, Cranberry – 122
Jocelyn Grice, Clearfield – 129
Kaitlyn Cappetta, Brockway – 132
Katie Hartman, Curwensville  – 144
Shania Reitz, Ridgway – 145
Angelina Hynds, Brockway – 146
Nicole Belkowski, Clearfield – 147
CLASS AAA TEAM SCORES
Bradford – 452
DuBois – 456
CLASS AAA INDIVIDUAL SCORES 
Bre Wells, Bradford – 91
Kiersten Pearace, DuBois – 111
Makayla Belser, Bradford – 118
Rebecca DeFazio, DuBois – 120