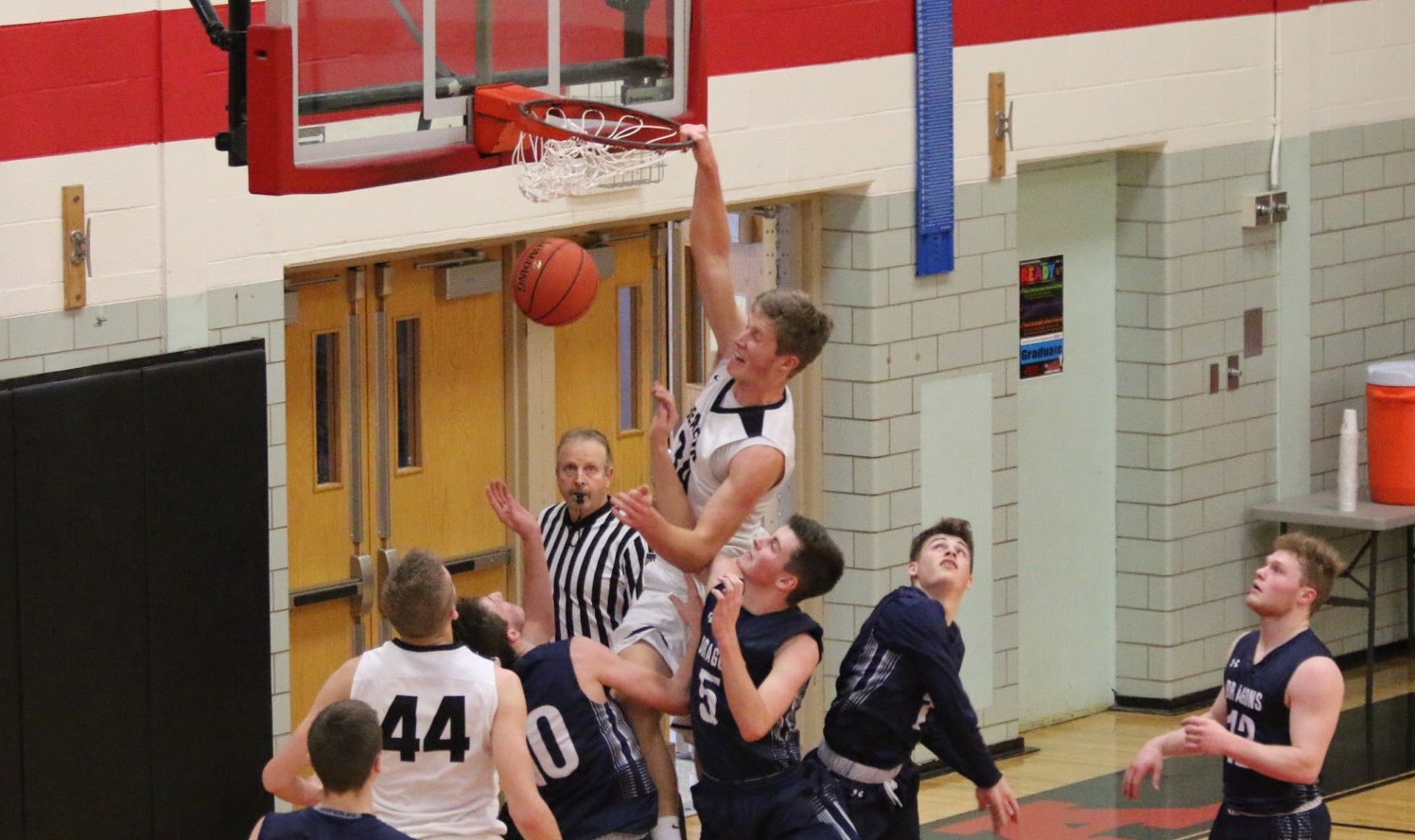 Jan. 11 boys' recaps.
(Photo: Chase Husted of DuBois puts down one of his two dunks Saturday. Photo by Kelli Hoffer)
DUBOIS 52, WARREN 51
DUBOIS, Pa. – Chase Husted had a monster game to lead DuBois to a 52-51 win over visiting Warren.
Not only did Husted score a game-high 26 points, he brought down the house with a pair of dunks and he blocked a final shot attempt by the Dragons that could have won the game for the visitors.
Husted was strong throughout the contest and scored eight first-quarter points helping the Beavers to a 21-14 lead after eight minutes and then finished with a seven-point fourth quarter to help DuBois hold off a second-half comeback attempt by Warren, which trailed 32-26 at halftime.
Lennon Lindholm added 11 points in the win for DuBois.
Ben Berdine paced Warren with 15 points. Tom Bablak and Peyton Barnes each scored 13 points.
CAMERON COUNTY 80, PUNXSUTAWNEY 44</strong
PUNXSUTAWNEY, Pa. – Behind a double-double from Caden Beldin and 20-point games from Dino Brown and Dylan Guisto, visiting Cameron County rolled to an 80-44 win over Punxsutawney.
Beldin had 15 points and 16 rebounds while also adding seven assists, while Dino Brown scored a game-high 22 points and Guisto added 20 points and four steals.
Daren Byers paced Punxsutawney with 15 points with Ethan Presloid adding 10.
SHEFFIELD 56, UNION CITY 48
SHEFFIELD, Pa. – Tyler Hepinger scored a game-high 23 points to lead Sheffield past visiting Union City, 56-48.
Tony Richards added 10 points in the win for the Wolverines.
Matthew Bennett paced Union City with 18 points with Cole Desimone adding 12 on four 3-pointers.
OTTO-ELDRED 57, GALETON 21
DUKE CENTER, Pa. – Braden Maholic scored 15 points to lead a balanced Otto-Eldred attack in a 57-21 win over visiting Galeton in NTL play.
Josh Rhinehart added nine points for the Terrors with Cole Sebastian and Gavin Jimerson each scoring eight points.
Ty Stover's six points led Galeton.