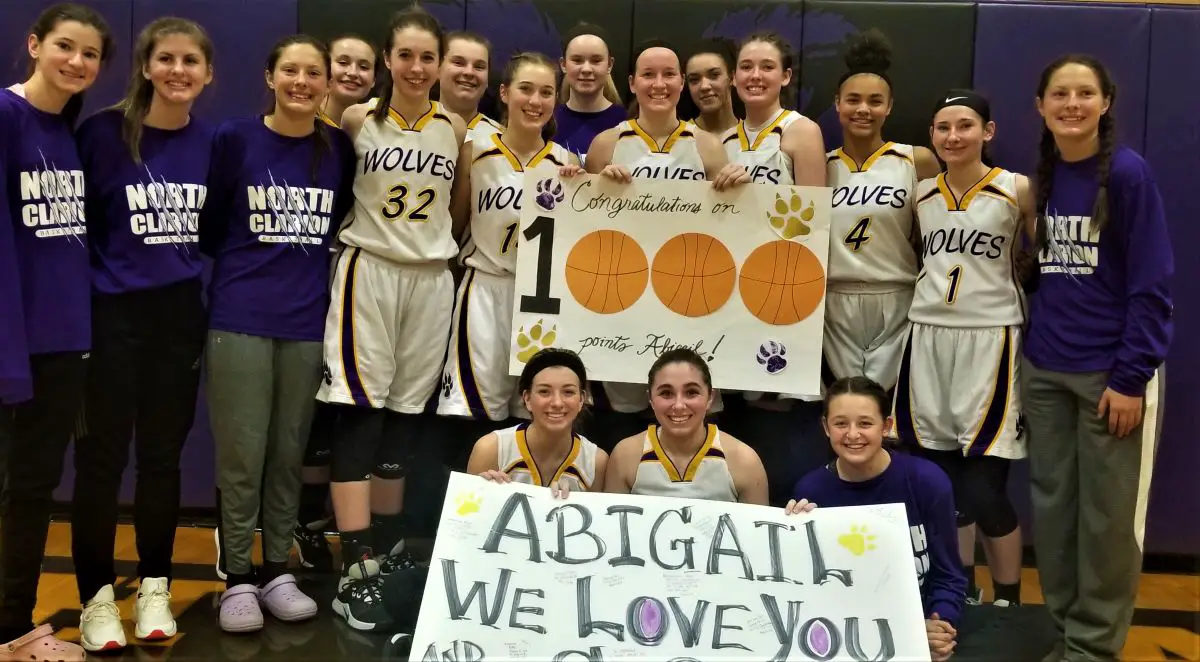 Jan. 15 girls' basketball recaps.
(Photo: Abby Gatesman with her teammates after scoring her 1,000th career point Wednesday)
NORTH CLARION 57, MONITEAU 41
FRILLS CORNERS, Pa. – With a 3-pointer at the 5:44 mark of the second quarter, North Clarion's Abby Gatesman became the ninth girls' player in school history to score 1,000 career points.
Standing in the corner near the Moniteau bench, Gatesman took a feed from fellow senior Mackenzie Bauer and drained the triple for her milestone points.
The shot gave Gatesman 1,000 points exactly – she needed nine coming into the night – and she finished with a game-high 19 points on the night and 1,010 in her career. She is the third Terry Dreihaup-coached player to get to 1,000 points for the She-Wolves joining Tori Obenrader (Class of 2018, 2,115 career points) and Abbie Schmader (Class of 2016, 1,066 career points).
She talked about reaching the 1,000-point mark.
Gatesman milestone shot came during a 28-2 run by North Clarion that turned an early 7-2 deficit into a 30-9 lead following four straight points – the last two from the line – from Amya Green.
Haley Sherman added 14 points and six rebounds while converting four old-school 3-point plays for North Clarion, while Trinity Thompson had six points, seven rebounds and three blocked shots.
Aslyn Pry paced Moniteau with 16 points and nine rebounds despite being in first-half foul trouble with three. Kristin Auvil added 11 points, while Abby Rottman and Haley Pry each scored seven.
The other 1,000-point scorers for North Clarion girls' basketball are Wendy Obenrader (Class of 1991, 1,822 points), Gina Hartle (Class of 1994, 1,299 points), Chris Allio (Class of 1990, 1,225 points), Megan Miller (Class of 1995, 1,122 points), Jess Tarr (Class of 2010, 1,047 points) and Jessica Weaver (Class of 2000, 1,030 points).
PUNXSUTAWNEY 50, ST. MARYS 31
PUNXSUTAWNEY, Pa. – In a battle for first place in the D9 League, Punxsutawney used a strong second half to pull away from visiting St. Marys, 50-31.
The Lady Chucks led by one, 21-20, at halftime but outscored St. Marys 15-5 in the third quarter and 14-6 in the fourth quarter.
The Presloid girls led the way in the third quarter for Punxsutawney with Chloe Presloid scoring six points and Riley Presloid adding five points. Ryley Cassaday then took over in the fourth quarter piling up six points.
Riley Presloid led the Lady Chucks with 15 points with both Chloe Presloid and Cassaday scoring 12 points each. Casaday was a perfect 6 of 6 from the free-throw line and also hauled in a team-best seven rebounds. Riley Presloid added four steals and three rebounds in the win.
Sarah Weaver dished out six assists and scored four points as well for Punxsutawney.
Chloe Presloid scored six of her 12 points in the third quarter with
Megan Quesenberry paced St. Marys with 10 points with Kaylee Muccio and Isabelle Caskey each scoring five points.
BROCKWAY 44, JOHNSONBURG 20
BROCKWAY, Pa. – Selena Buttery had a double-double to help Brockway pick up a 44-20 AML victory over visiting Johnsonburg.
Buttery netted 15 points and grabbed 11 rebounds to lead the Lady Rovers. Danielle Wood added 15 points and had four steals while Morgan Lindemuth chipped in six points. Macie Smith had two points and eight rebounds.
Tess Kocjancic and Kaci Stelene each had five points to pace the Rammettes in the loss.
DUBOIS 50, BRADFORD 38
BRADFORD, Pa. – Abby Guiher hit three 3-pointers on her way to 17 points to help visiting DuBois pick up a 50-38 D9 League victory over Bradford.
Olivia Johnson added 11 points in the win for the Lady Beavers with Sarah Henninger scoring eight points.
Bradford's Hannah Lary scored 22 points to lead all scorers.
BELLEFONTE 60, CLEARFIELD 38
BELLEFONTE, Pa. – Sixteen points from Sara Dettaas helped Bellefonte defeat visiting Clearfield, 60-38.
Maddie Tice hit three 3-pointers and finished with 14 points for the Lady Red Raiders. Mia Johnson and Emalee Neff each added eight points while Bella Corman chipped in six.
Emma Hipps and Olivia Bender each had 10 points for the Lady Bison in the loss.
GALETON 38, AUSTIN 22
AUSTIN, Pa. – Jessie Evans had 10 points and led a balanced offensive attack as Galeton rolled past Austin on the road, 38-22.
Alli Macensky added nine points, eight rebounds and five blocks for the Lady Tigers while Sandy Bliss netted eight points and grabbed six rebounds. Lauren Sauley had 10 boards to go along with six tallies and Cara Parsell netted five.
Kendra Valentini had 10 points and five rebounds to pace the Lady Panthers in the loss.
OTTO-ELDRED 57, OSWAYO VALLEY 21
DUKE CENTER, Pa. – Katie Sheeler and Haley Cousins combined for 27 points to lift Otto-Eldred over visiting Oswayo Valley, 57-21.
Sheeler had a game-high 16 tallies, including a pair of 3-pointers, while Cousins added 11. Morgan Dalton chipped in six points and Emmalee Sheeler netted five. Kayley Heller grabbed six rebounds and had four points.
Macy West paced Oswayo Valley with 11 points.
CAMERON COUNTY 48, NORTHERN POTTER 28
EMPORIUM, Pa. – Kaelee Bresslin hit four 3-pointers and finished with 21 points to help Cameron County defeat visiting Northern Potter, 48-28.
Reggie Goodrow added eight points with a pair of 3-pointers for the Lady Raiders. Morgan Lorenzo netted seven points while Eliza Farabaugh and Mallory McKimm each had six.
Aubrey Anderson paced the Lady Panthers with seven points.
COUDERSPORT 56, SMETHPORT 7
SMETHPORT, Pa. – Lauren Stimaker led a trio of double-digit scorers as visiting Coudersport routed Smethport, 56-7.
Stimaker had 16 points and hit a pair of 3-pointers to lead the Lady Falcons offense. Sarah Chambers had 15 tallies while Elizabeth Frame chipped in 10.
Erin Herzog had four points to pace the Lady Hubbers.
CRANBERRY 54, VENANGO CATHOLIC 25
OIL CITY, Pa. – Behind 24 points and five rebounds from Ava Ferringer visiting Cranberry rolled past neighboring Venango Catholic, 54-25, on the road.
Kaylie Bruce added eight points for the Berries with Megan Hadden chipping in six points and five rebounds.
Hope Winger led Venango Catholic with 11 points, four rebounds, two steals and two blocked shots.
Alyson Stewart added four points and three rebounds for the Lady Vikings and Jenna Lopata had a pair of points, two steals and three rebounds.
UNION 51, CLARION 46
RIMERSBURG, Pa. – Putting four players in double digits, Union snapped a four-game losing streak with a 51-46 win over visiting Clarion.
Keira Croyle led the Golden Damsels with 13 points with Dominika Logue adding a double-double of 12 points and 11 rebounds. Maggie Minick chipped in 11 points and Hailey Kriebel had 10 points.
Meanwhile, the Union defense limited Kait Constantino, who entered the game averaging 21.9 ppg to a season-low nine points.
Jordan Best led the Lady Cats with 13 points, KK Girvin scored 10 points and Payton Simko chipped in eight tallies.
KEYSTONE 47, A-C VALLEY 27
FOXBURG, Pa. – Behind 17 points from Natalie Bowser, Keystone earned a 47-27 road victory over A-C Valley.
Emily Lauer added 14 points for the Lady Panthers while Jozee Weaver netted eight points, including a pair of 3-pointers.
Andrea Meals had seven points in the loss for the Lady Falcons. Rachel Cullen and Avah Burke each had six tallies.
KARNS CITY 49, FOREST AREA 14
MARIENVILLE, Pa. – Emma Jones' game-high 21 points lifted visiting Karns City over Forest Area, 49-14.
Jones also had four 3-pointers for the Lady Gremlins. Britney Friters added nine points while Brooke Manuel netted six. Emily Huff and Abby Callihan each had four points.
Jessica Wagner paced Forest Area with seven tallies.
REDBANK VALLEY 70, CLARION-LIMESTONE 31
STRATTANVILLE, Pa. – Tara Hinderliter dropped a game-high 23 points to lead visiting Redbank Valley to a 70-31 win over Clarion-Limestone.
Alivia Huffman added 10 points for the Lady Bulldogs with Caylen Rearick and Lauren Smith each scoring nine and Madison Foringer adding seven.
Frances Milliron scored 13 points to pace C-L.