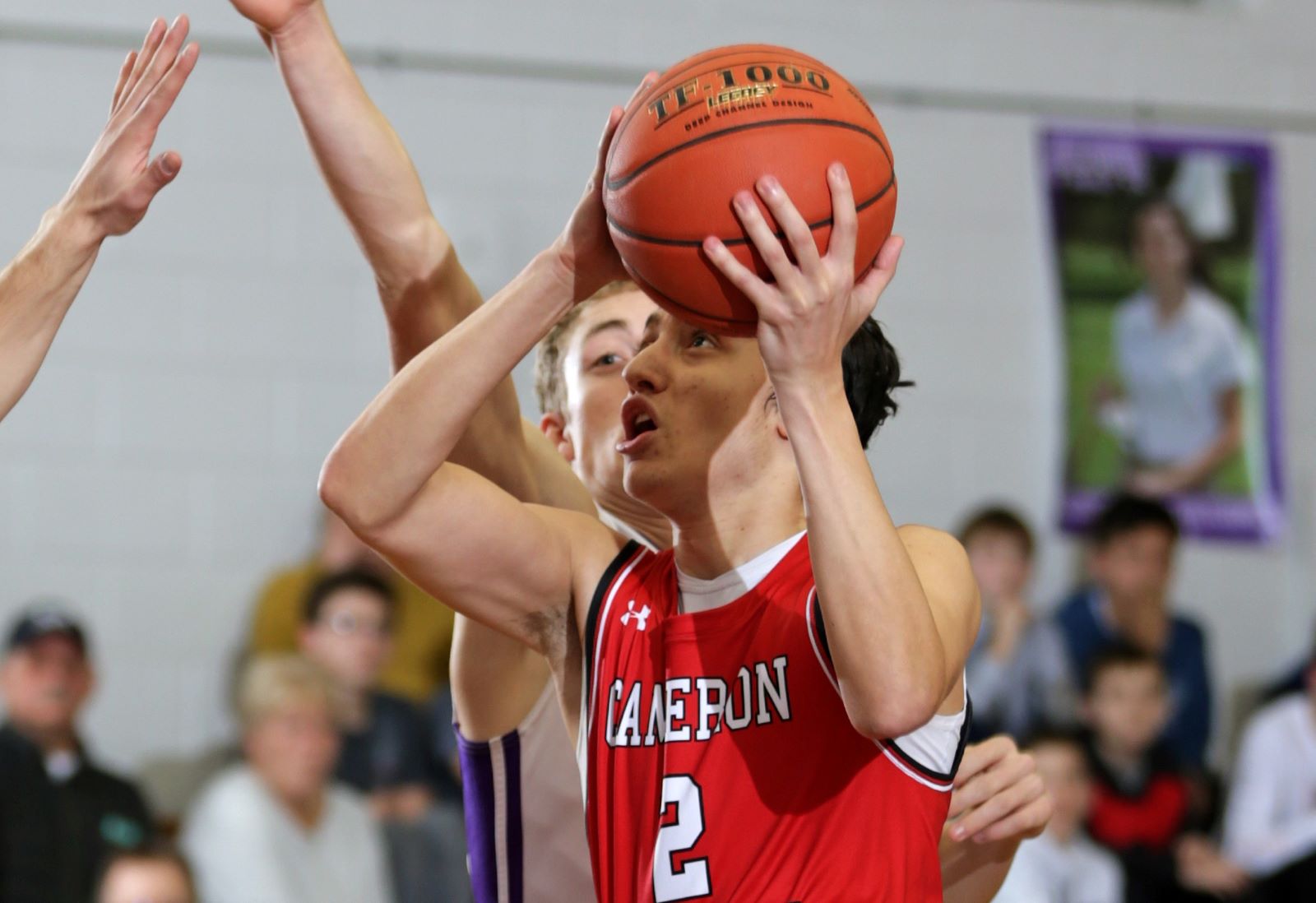 Jan. 16 boys' and girls' basketball recaps.
(Photo of Cameron County's Dino Brown, who had 29 points, all in the middle two quarters, in the Red Raiders win at Northern Potter. Photo by Paul Burdick. Check out more of Burdick's work here)
BOYS
CAMERON COUNTY 77, NORTHERN POTTER 46
ULYSSES, Pa. – Dino Brown scored all 29 of his points in the middle two quarters to help visiting Cameron County pull away from Northern Potter, 77-46, in NTL action.
The Red Raiders trailed 16-12 after a quarter, but Brown scored 13 second-quarter points to help Cameron County take a 31-25 halftime lead.
Then Brown hit three 3-pointers and scored 16 more points in the third quarter.
Caden Beldin added 23 points and 17 rebounds, and Hayden Brown chipped in 10 points.
Tre Slawon's 13 points led Northern Potter with Carter Anderson scoring 11, Ezra Sprow 10 and Ryan Langworthy seven.
JOHNSONBURG 86, PORT ALLEGANY 44
JOHNSONBURG, Pa. – Austin Green exploded for a game-high 29 points to lead Johnsonburg to an 86-44 win over visiting Port Allegany.
Cameron Stelene added 19 points in the win for the Rams with Gabe Watts scoring 10 points and Eric Christoff eight.
Howie Stuckey scored 22 points for Port Allegany.
OTTO-ELDRED 62, OSWAYO VALLEY 36
SHINGLEHOUSE, Pa. – Jake Merry scored a game-high 22 points to go with five rebounds and three steals to lift Otto-Eldred to a 62-36 road NTL win over Oswayo Valley.
Matt Murphy added 13 points in the win for the Terrors with Cole Sebastian scoring nine, Gavin Jimerson eight and Braden Maholic seven.
Noah Wichert had a double-double of 12 points and 11 rebounds for Oswayo Valley. Honor Gross chipped in seven points.
COUDERSPORT 65, SMETHPORT 33
COUDERSPORT, Pa. – Kolby VanWhy led a trio of Coudersport players in double digits with 20 points, as the Falcons won their 73rd consecutive NTL game with a 65-33 win over visiting Smethport.
Hayden Keck added 18 points and six rebounds for the Falcons with Dillon Keglovits scoring 12 points to go with eight rebounds.
Dalton Keglovits also had six points and four steals for Coudy.
Noah Lent led Smethport with 14 points.
AUSTIN 47, GALETON 37
GALETON, Pa. – Jackson Glover scored eight of his game-high 17 points in the fourth quarter to help visiting Austin pull away from Galeton, 47-37, in NTL action.
The Panthers led by two, 27-25, going to the fourth quarter before riding Jackson Glover's scoring to the 10-point win.
Jackson Glove completed a double-double with 13 rebounds and also had two assists and two steals.
Payton Shupe added eight points for Austin, while Parker Glover had six points, six rebounds, four assists and two steals and Skylar Crawford six points, eight rebounds, three assists, two blocked shots and a steal.
Ty Stover had a team-best 12 points for Galeton with Noah Shutt adding 11 points.
MARION CENTER 41, DUBOIS CENTRAL CATHOLIC 34
MARION CENTER, Pa. – Behind 16 points from Connor Fairman Marion Center beat visiting DuBois Central Catholic, 41-34.
Seth Carneal added nine points in the win for the Stingers.
Dante Armanini hit three 3-pointers on his way to a team-high 12 points for DCC. Jalen Kosko added seven tallies for the Cardinals.
GIRLS
RIDGWAY 36, ELK COUNTY CATHOLIC 31
RIDGWAY, Pa. – Julie Peterson led a balanced offensive attack for Ridgway with 10 points, as the Lady Elkers beat visiting Elk County Catholic, 36-31.
Ridgway trailed 18-13 at halftime but outscored ECC 13-6 in the third quarter to take a 26-24 lead going to the final eight minutes and then held on for the win.
Peterson scored four points in the important third quarter while Lindsay Steis scored five of her nine points in the quarter.
Gabbi Rohr also scored nine points in the win for Ridgway.
Taylor Newton had a game-high 18 points and 15 rebounds for ECC. Tami Geci added seven points and Julia Aikens six.