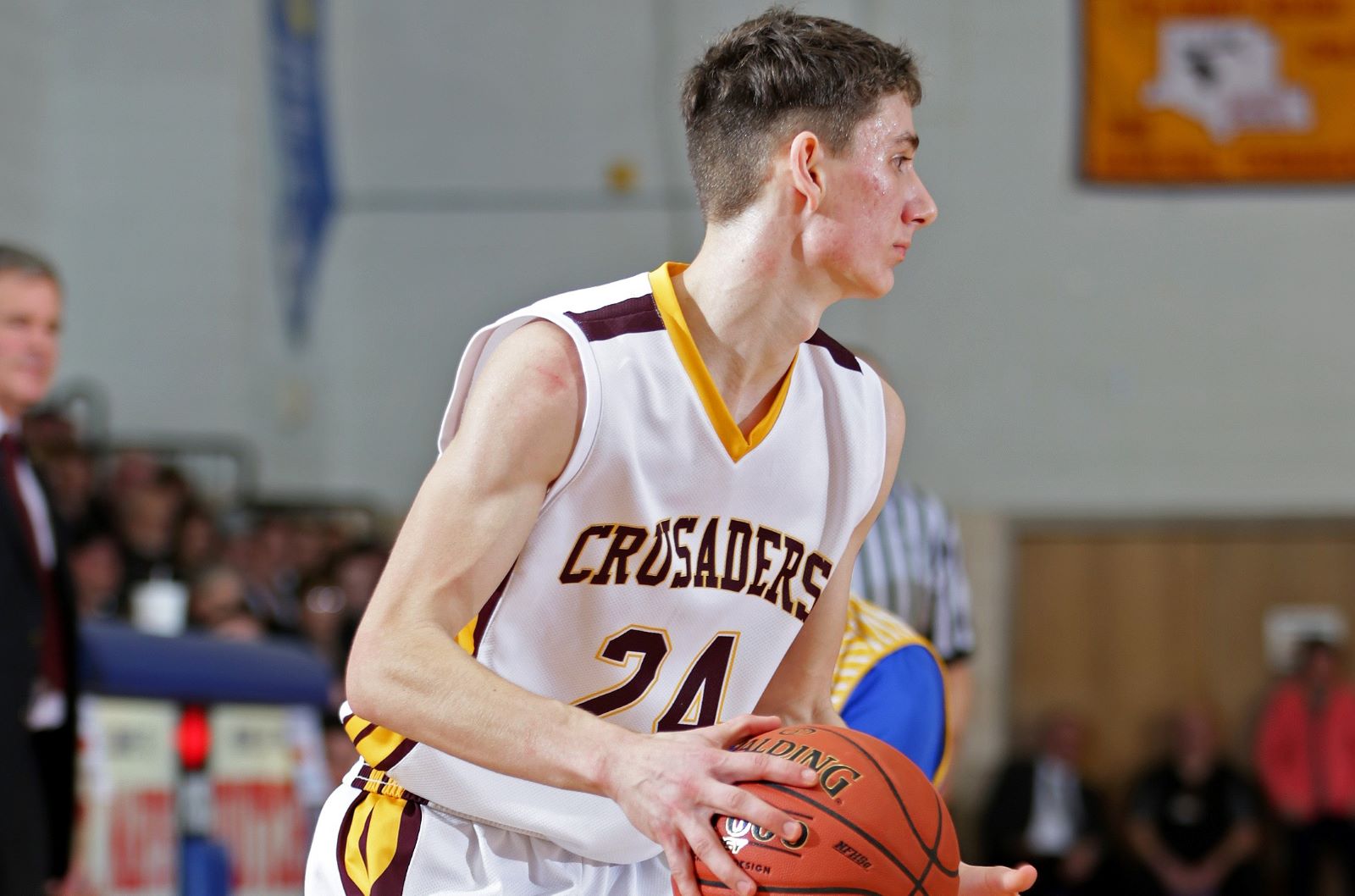 Jan. 17 boys' basketball recaps.
(Photo of ECC's Regis Wortman. Photo by Paul Burdick. Check out more of Burdick's work here)
ELK COUNTY CATHOLIC 42, RIDGWAY 32
ST. MARYS, Pa. – Putting three players in double digits, Elk County Catholic topped visiting Ridgway, 42-32, to stay unbeaten.
Regis Wortman led the Crusaders with 12 points with Leo Gregory and Mark Kraus each scoring 10 points.
Matt Dush had eight points for Ridgway with Zack Zameroski and Dan Park each scoring seven.
ECC won three of the four quarters and tied in the third quarter.
The Crusaders led 9-5 after one, 24-18 at halftime and 33-27 going to the fourth quarter. They then hit 7 of 10 free throws in the final eight minutes to seal the win and improve to 14-0 on the season.
SHEFFIELD 67, DUBOIS CENTRAL CATHOLIC 42
DUBOIS, Pa. – Tyler Hepinger scored a game-high 38 points while adding 10 steals to lead visiting Sheffield to a 67-42 win over DuBois Central Catholic in AML play.
The Wolverines led by just one, 25-24, at halftime before outscoring DCC 25-13 in the third quarter with Hepinger scoring 14 points in the quarter. Hepinger then added 17 more points in the fourth quarter.
Tony Richards added 12 points in the win for Sheffield with Jake Vinopal chipping in six points and nine rebounds and Lucas McNeal two points and eight assists.
Ethan Kress led DCC with 13 points, Loren Way scoring nine points and Damon Foster adding eight points.
KANE 69, CURWENSVILLE 39
CURWENSVILLE, Pa. – Chad Greville hit six 3-pointers on his way to a game-high 29 points, as visiting Kane had little trouble getting past Curwensville, 69-39.
Matt DeLuca also reached double digits for the Wolves with 12 points with Zuke Smith chipping in eight tallies.
Trevor Lansberry had 19 points for Curwensville.
BRADFORD 42, PUNXSUTAWNEY 33
PUNXSUTAWNEY, Pa. – Despite a spate of illness running through the team, visiting Bradford ground out a 42-33 win over Punxsutawney in D9 League action.
The Owls were without four players and two others fought through illness to help secure the come-from-behind win.
Evan Schmidt and Steven Knowlton led Bradford, which trailed 20-15 at halftime, with 13 points each with Tyler Gigliotti adding seven points.
Gigliotti and Caleb Nuzzo each hit big 3-pointers in a third quarter that saw the Owls turned a 20-15 halftime deficit into a 28-25 advantage. Nuzzo's triple was his only made basket of the game.
Micah Kriebel led Punxsutawney with 11 points with Ethan Presloid adding 10.
CLEARFIELD 59, BALD EAGLE AREA 42
HYDE, Pa. – Cade Walker had a double-double with 12 points and 11 rebounds to lead Clearfield to a 59-42 win over visiting Bald Eagle Area in Mountain League action.
Matt Pallo added 11 points for the Bison with Andrew Lopez scoring 10 points and handing out six assists, Luke Winters also scoring 10 points to go with five helpers and Cole Miller hitting three 3-pointers to finish with nine points.
Jaden Jones and Nate Hoover each scored 13 points for Bald Eagle with Nick Maynard scoring 11.
REDBANK VALLEY 53, UNION 44
RIMERSBURG, Pa. – Chris Marshall scored a game-high 17 points to lead visiting Redbank Valley to a 53-44 win over Union.
Owen Magagnotti added 13 points for the Bulldogs with Bryson Bain scoring 12 points.
Truman Vereb paced Union with 16 points and seven rebounds while Karter Vogle added 11 points and Isaac Saylor 10 points.
KARNS CITY 68, VENANGO CATHOLIC 39
OIL CITY, Pa. – Freshman Micah Rupp and Eric Booher each had career highs while recording double-doubles to help shorthanded Karns City to a 68-39 win at Venango Catholic.
Rupp scored 22 points and added 12 rebounds with Booher adding 13 points and 10 rebounds for the Gremlins, who were without both Chase Beighley and Nathan Waltman Friday night due to injuries.
Luke Garing also had six points and nine rebounds for Karns City with Ethan McElroy handing out eight assists to go with two points in the win. Cole Sherwin also scored eight points for the Gremlins.
CLARION 64, NORTH CLARION 36
FRILLS CORNERS, Pa. – Visiting Clarion used a strong second half to pull away from North Clarion, 64-36.
The Bobcats led by three, 25-22, at halftime but outscored the Wolves 39-14 in the second half including 15-4 in the third quarter to secure the easy win.
Cal German scored eight of his game-high 21 points in the third quarter and had 15 of his points after halftime to lead the Bobcats. He also added seven rebounds in the win.
Skylar Rhoades chipped in a double-double of 13 points and 10 rebounds for Clarion while adding four assists and four steals, Hunter Craddock just missed a double-double with nine points and a game-high 14 rebounds and Nick Frederick chipped in eight points and five boards.
Drew Gatesman led North Clarion with 12 points with Collin Schmader adding seven.
A-C VALLEY 60, MONITEAU 53
FOXBURG, Pa. – Levi Orton exploded for 38 points while adding eight rebounds to lead A-C Valley past visiting Moniteau, 60-53.
Eddie Stevanus added 12 points and eight boards for the Falcons with Eli Penny chipping in eight points and six assists.
Quinton Scriven scored 18 points for Moniteau with Mason Mershimer adding 11 and Ethan McDeavitt nine.
KEYSTONE 85, FOREST AREA 48
TIONESTA, Pa. – Led by a game-high 21 points and four steals from Troy Johnson, Keystone had five players reach double digits in an 85-48 win over Forest Area at West Forest.
Cam Easton added a career-best 13 points for the Panthers with Andrew Lauer scoring 12 and Brandon Pierce and Colin Say 10 each. Gavin Hogue also added seven points in the win. Say and Logan Sell each had four assists.
Franklin Meals paced Forest Area with 16 points, Noah Burke added nine points, Jullian Gillenwater eight and Allen Johnston seven.
CLARION-LIMESTONE 82, CRANBERRY 56
STRATTANVILLE, Pa. – Deion Deas scored 24 points and added four assists to lead Clarion-Limestone to an 82-56 win over visiting Cranberry.
Hayden Callen added 17 points, seven rebounds, six steals and two blocks for the Lions with Jordan Hesdon added 15 points and five steals, Mitch Knepp 12 points and three steals and Curvin Goheen eight points.
Matt McQuaide scored 20 points for Cranberry with JT Stahlman adding 12 points and Cam Russell eight points.