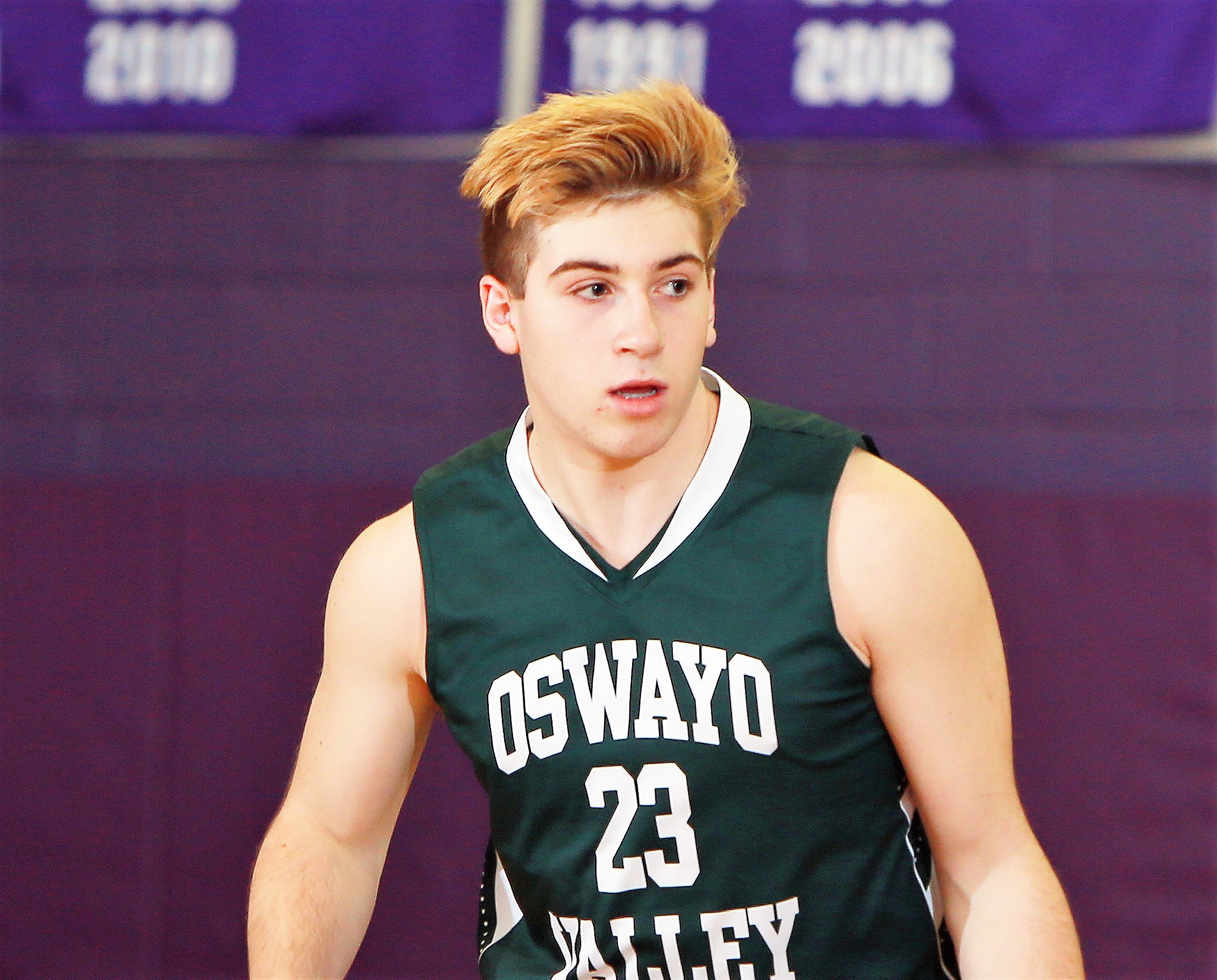 Jan. 18 boys' basketball recaps.
Girls' Recaps
(Cover photo of Oswayo Valley's Theo Henry. Photo by Paul Burdick. Check out more of Burdick's work here)
OSWAYO VALLEY 61, GENESEE VALLEY (NY) 56, overtime
SHINGLEHOUSE, Pa. – In an interstate matchup, Oswayo Valley outscored Genesee Valley (N.Y.) 19-9 in the fourth quarter and overtime combined to pull out a 61-56 come-from-behind victory.
The Green Wave trailed 47-42 going to the fourth quarter but forged a 54-all tie at the end of regulation thanks in part to four points from Theo Henry, who finished with a game-high 23 points.
Then in overtime, Oswayo Valley got scoring from four different players including going 5 of 8 from the free-throw line to outscore the Jaguars 7-2 in the extra session.
Garrett Babcock added 14 points and 11 rebounds for the Green Wave who also got 10 points from Gavin Babcock.
Logan Glover netted 22 points for Genesee Valley.
DUBOIS 53, BRADFORD 47
BRADFORD, Pa. – Behind 15 points and 14 rebounds from Nick LaBrasca, DuBois picked up a D9 League road victory, 53-47, at Bradford.
Kenny Garvey and Kyle Hopson each added 11 points for the Beavers, who led 28-21 at halftime.
Adam Boyer paced Bradford with 15 points with Tyler Gigliotti adding 12.
CURWENSVILLE 55, WEST BRANCH 50
CURWENSVILLE, Pa. – Josh Terry, Avery Francisco and Zach Marshall combined to net 36 points to give Curwensville a 55-50 Mo Valley League victory over visiting West Branch.
Terry led the Golden Tide with 14 points, Francisco added 12, all coming before halftime, and Marshall chipped in 10.
Larry Cowder led all scorers with 22 points for West Branch with David Guerra adding 13 tallies.
CLARION 68, REDBANK VALLEY 47
CLARION, Pa. – Led by 17 points from Cam Craig, five different Clarion players reached double digits in a 68-47 win over visiting Redbank Valley.
Ryan Anthony added 15 points for the Bobcats who also got 10 each from Ty Burford, Reed Anthony and Austin Hummell.
BROOKVILLE 62, KANE 34
BROOKVILLE, Pa. – Brookville used a balanced effort to rout defending District 9 2A champion Kane, 62-34, at Brookville.
Jimmy Moore led the Raiders attack with 14 points with Ben Reitz and Aaron Park each chipping in 12 tallies and Bryan Dworek nine.
The Raiders, who like Kane are now in Class 3A, held Kane's leading scorer Andrew Bucheit to five points and six rebounds and second-leading scorer Chad Greville to six points. Davis Gardner led the Wolves, who were outscored 38-18 in the second half, with eight tallies.
EISENHOWER 50, SHEFFIELD 27
RUSSELL, Pa. – Thomas Warren scored 18 points, as Eisenhower dispatched visiting Sheffield, 50-27.
Jack Reynolds chipped in 12 points for the Knights, while Roger Dunham and Austin Simmer each scored six points to pace Sheffield.