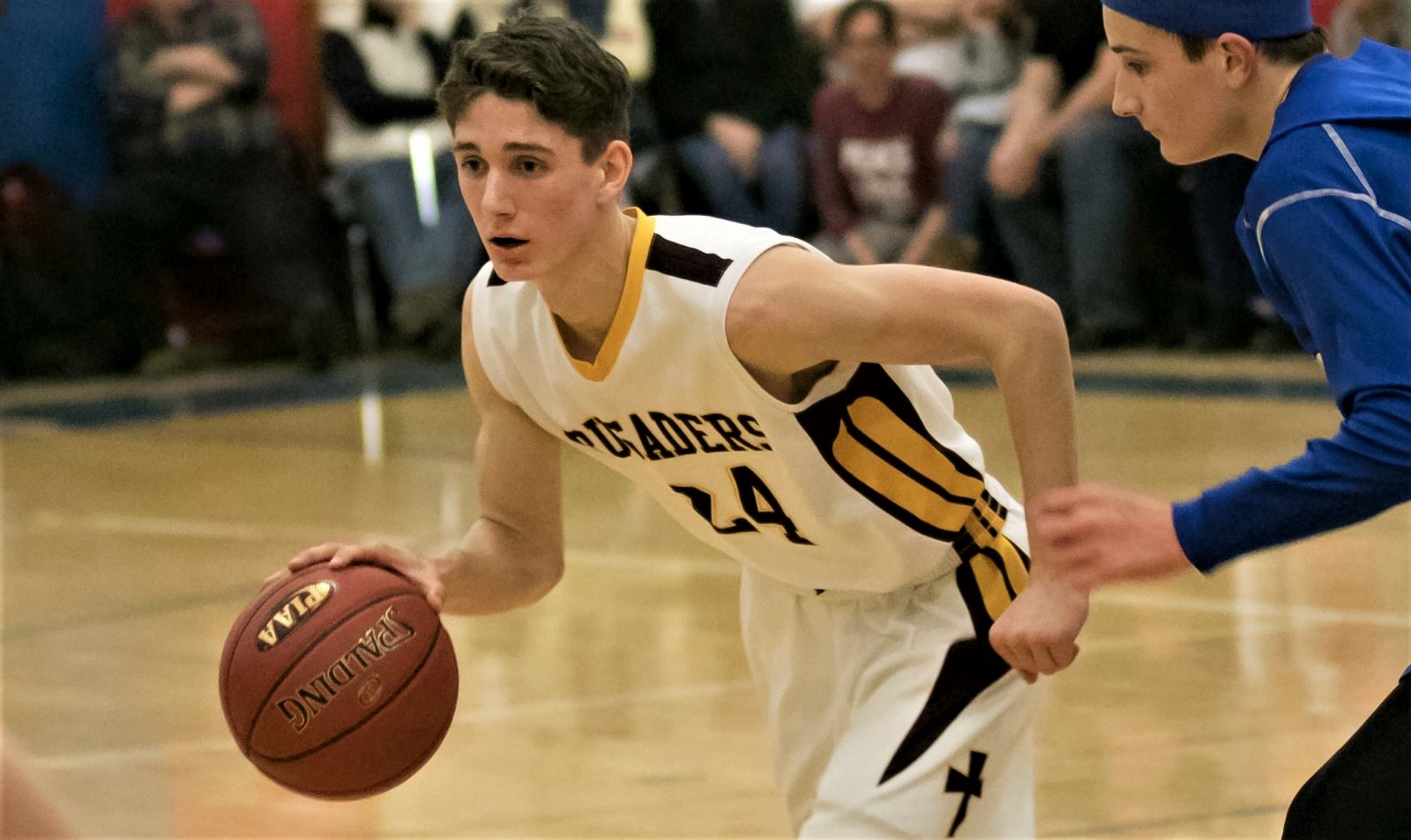 Jan. 20 boys' basketball recaps.
(Photo of ECC's Regis Wortman who scored 27 points in the Crusaders win at Kane Monday night. Photo by Jared Bakaysa of JB Graphics. See more of Bakaysa's work here)
ELK COUNTY CATHOLIC 60, KANE 52
KANE, Pa. – Regis Wortman exploded for 27 points to help visiting Elk County Catholic remain unbeaten with a 60-52 win over Kane in AML action.
Wortman hit 13 shots from the field while going 1 of 2 from the free-throw line.
Mark Kraus hit four 3-pointers and added 18 points for ECC while Will Uberti scored nine points.
Chad Greville hit three 3-pointers on his way to 19 points to pace Kane, while Carson Whiteman added eight points.
COUDERSPORT 74, BRADFORD 50
COUDERSPORT, Pa. – Led by 23 points, five rebounds and five steals from Hayden Keck, Coudersport knocked off visiting Bradford, 74-50.
Three additional Falcons reached double figures in scoring with Dillon Keglovits adding 14 points and seven rebounds, Kolby VanWhy 13 points and Derek Easton 11 tallies.
Tyler Gigliotti scored a game-high 28 points for Bradford while hitting four 3-pointers and adding five rebounds and two assists. Evan Schmidt, who late last week committed to continuing his hoops career at Pitt-Bradford, added nine points and three steals, Steven Knowlton chipped in eight points and three steals and Peyton Manion had a team-best seven rebounds to go with two points.
DUBOIS 70, CLEARFIELD 58
HYDE, Pa. – Lennon Lindholm knocked down four 3-pointers and went 7 of 8 from the line on his way to a game-high 25 points to lead visiting DuBois to a 12-point, 70-58, win over Clearfield.
Chase Husted added 13 points for the Beavers, all in the first three quarters, before fouling out, while Nick Felix chipped in 10 tallies.
Karson Rumsky scored 17 points for Clearfield with Cade Walker adding 16 points and Luke Winters 13, all in the second half.
MONITEAU 51, BROCKWAY 43
BROCKWAY, Pa. – Getting a double-double of 14 points and 10 rebounds from Ethan McDeavitt, visiting Moniteau beat Brockway, 51-43.
McDeavitt also added four assists, while Gage Neal came close to a double-double with nine points and nine rebounds while also dishing out four helpers for the Warriors. Kyle Pry also had nine points in the victory with Nate Tack chipping in eight and Quinton Scriven seven.
Alec Freemer paced Brockway with 13 points with Marcus Copelli adding 10 and Jon Wood eight.
JOHNSONBURG 77, SHEFFIELD 49
SHEFFIELD, Pa. – Austin Green led a trio of Johnsonburg players in double digits with a game-high 23 points, as the visiting Rams beat Sheffield, 77-49, in AML play.
Cameron Stelene added 17 points for Johnsonburg in the win with Gabe Watts scoring 13 and Garrett Gregori eight.
Tyler Hepinger led Sheffield with 19 points, while Jake Vinopal added 11 points, six rebounds, three assists and three steals and Tony Richards eight points.
AUSTIN 58, NORTHERN POTTER 46
AUSTIN, Pa. – Jackson Glove scored 21 points, hauled down 13 rebounds, came away with four steals and handed out four assists to help Austin to a 58-46 home NTL win over Northern Potter.
Joseph Glover also had a double-double for the home team scoring 17 points to go with 11 rebounds, two assists and a steal, while Caden Rees chipped in 10 points and Parker Glover give points, six assists, five rebounds and a steal.
Carter Anderson had a team-best 15 points for Northern Potter with Ryan Langworthy scoring 12 and Ezra Sprow eight.
SMETHPORT 43, OSWAYO VALLEY 33
SMETHPORT, Pa. – An 18-point effort from Richie McDowell helped Smethport beat visiting Oswayo Valley, 43-33, in NTL action.
McDowell was 7 of 11 from the free-throw line and also hit five shots, including a 3-pointer, on his way to the game-high effort.
Alex Ognen added nine points for the Hubbers with Layne Shall scoring eight, including five from the free-throw line.
Gunner Bean scored 11 points for Oswayo Valley, including nine in the fourth quarter when he hit a pair of 3-pointers. Carter Steadman chipped in six points and seven rebounds for the Green Wave with Cayden Black adding six points and three steals and Noah Wichert six points.
CAMERON COUNTY 64, PORT ALLEGANY 36
EMPORIUM, Pa. – Dino Brown led a foursome of Cameron County players in double digits with 21 points, as the Red Raiders beat visiting Port Allegany, 64-36, in AML action.
Hayden Brown added 14 points for Cameron County with Dylan Guisto chipping in 12. Caden Beldin had a strong overall game with 11 points, eight rebounds, six assists and five steals.
Howie Stuckey hit three 3-pointers and finished with 19 points to lead Port Allegany.
Beldin 8 rebounds, 6 assists, 5 steals
KEYSTONE 56, A-C VALLEY 47
FOXBURG, Pa. – Troy Johnson, Alex Rapp and Andrew Lauer combined to score 33 points, as Keystone used a balanced offensive effort to pick up a 56-47 road win over A-C Valley.
Johnson led the Panthers with 13 points with Rapp and Lauer each adding 10 tallies. Marc Rearick chipped in seven points and Isaak Jones and Brandon Pierce six each in the win.
Levi Orton had a game-high 17 points to go with seven rebounds and five steals for A-C Valley with Eddie Stevanus adding 14 points, eight rebounds and four blocked shots. Tanner Merwin chipped in eight points and Eli Penny six for the Falcons.
WEST SHAMOKIN 73, KARNS CITY 47
KARNS CITY, Pa. – Despite a 30-point, eight-rebound, four-assist effort from Chase Beighley, Karns City dropped a 73-47 decision to visiting West Shamokin.
Beighley was 12 of 13 from the free-throw line and also made eight shots from the field, including a pair of 3-pointers, but was the only Gremlin to reach double digits.
West Shamokin, which led by 11 (48-37) going to the fourth quarter, had three players reach double figures led by 22 points from Travis Smulik. Bo Swartz and Eric Spencer, who hit four 3-pointers, both added 12 points apiece while Justin Smulik scored eight.
Eric Booher added six points for Karns City, which played its third straight game without Nathan Waltman.