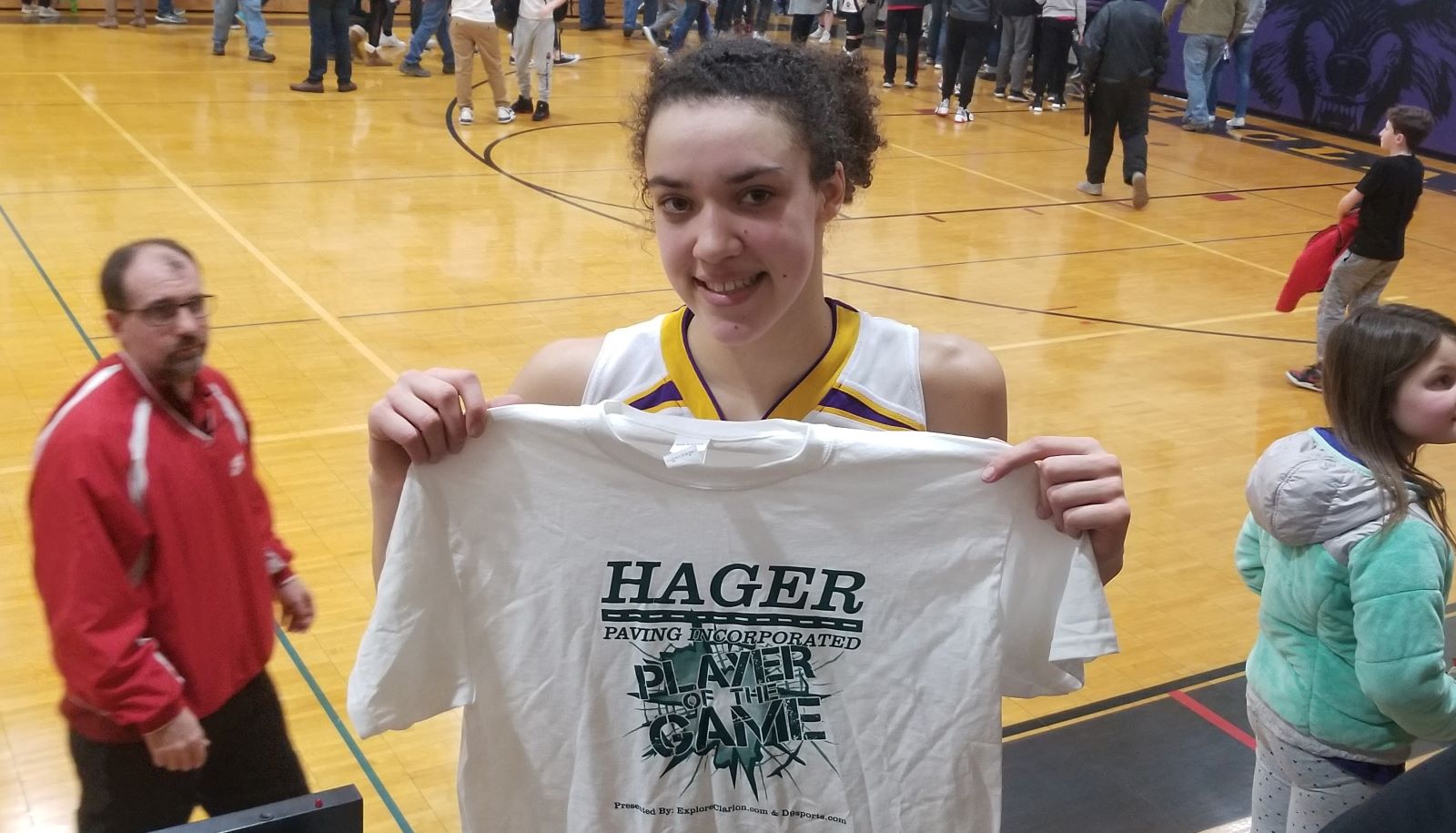 Jan. 21 girls' and boys' recaps.
(Photo of North Clarion's Trinity Thompson)
GIRLS
NORTH CLARION 70, REDBANK VALLEY 56
FRILLS CORNER, Pa. – A barrage of 3-pointers from North Clarion helped the She-Wolves remain unbeaten with a 70-56 win over visiting Redbank Valley.
Relisten to the game:
North Clarion hit 10 3-pointers, including seven in the first half, and used a 28-4 run in the middle two quarters to erase a 25-21 deficit and take a 52-29 lead midway through the third quarter.
Redbank Valley wouldn't go way closing the third quarter on an 11-0 run to get within 12, 52-40, going to the fourth quarter. But the She-Wolves started the fourth quarter on a 6-0 run and never let the lead drop to below double digits the rest of the way.
North Clarion put four players in double digits led by Mackenzie Bauer's 15 points. Gabby Schmader added 13 points, Abby Gatesman 12 and Haley Sherman 11 on 11 of 15 from the line. Sherman added seven rebounds with Bauer dishing out seven assists and Gatesman five assists and at least three blocks.
Trinity Thompson added seven points and a game-high 12 rebounds while also blocking at least four shots.
Thompson talked about the win.
Tara Hinderliter led all scorers with 28 points for Redbank Valley with Lauren Smith adding 22 points. Alivia Huffman had a team-best six rebounds to go with four points.
THE COACH AND THE SCRIBE POWERED BY THE REHAB CENTRE
Jess Quinn (The Coach) and Chris Rossetti (The Scribe) broke down the game and talked a little District 9 girls' basketball in the Jan. 22 edition of The Coach and The Scribe Powered by the Rehab Centre. The Rehab Centre has six locations serving you, including in Clarion, Brookville, and Kittanning. The Rehab Centre, Chiropractors Caring for Health.
DUBOIS CENTRAL CATHOLIC 44, BROCKWAY 30
DUBOIS, Pa. – Shay Gulvas' 13 points led a balanced offensive attack in DuBois Central Catholic's 44-30 AML victory over visiting Brockway.
Martina Swalligan added 11 points and went 5-for-7 at the line for the Lady Cardinals. Maia Cogley had nine tallies while Paris Farley netted six.
Selena Buttery had a double-double with 13 points and 17 rebounds to pace the Lady Rovers. Danielle Wood added 11 points and had three steals.
JOHNSONBURG 43, SHEFFIELD 11
JOHNSONBURG, Pa. – Kaci Stelene and Tess Kocjancic combined for 28 points to help Johnsonburg roll past visiting Sheffield, 43-11, in AML play.
Stelene led the Rammettes offense with 15 tallies while Kojancic added 13. Julia Jones chipped in nine points.
Lily Lauffenburger had four points for Sheffield in the loss.
RIDGWAY 30, CURWENSVILLE 13
RIDGWAY, Pa. – Sixteen points from Christina Fullem helped Ridgway defeat visiting Curwensville, 30-13, in AML action.
Gabbi Rohr had six tallies for the Lady Elkers with Julie Peterson adding four.
Briana Swindell paced the Lady Tide with four points.
PUNXSUTAWNEY 58, BROOKVILLE 43
BROOKVILLE, Pa. – Putting four players in double digits visiting Punxsutawney beat Brookville, 58-43.
Ryley Casaday had a double-double with 10 points and 18 rebounds, including 11 on the offensive end, while also adding three steals, three assists and a blocked shot. Riley Presloid scored a team-best 16 points to go with four steals and two assists, Sarah Weaver had 12 points, five assists, two rebounds and a steal, Kiestin Riley chipped in 10 points, seven rebounds, three steals and an assist with six of her boards coming on the offensive glass, and Chloe Presloid had eight points, five steals, three rebounds and an assist in the win.
Lauren Hergert tied for game-high honors with 16 points for Brookville with Marcy Schindler adding 11 and Morgan Johnson eight.
After tailing 11-7 after a quarter of play, Punxsutawney used a 15-4 second quarter to take a 22-15 halftime lead and the outscored the Lady Raiders 36-28 in the second half.
GALETON 20, SMETHPORT 18
SMETHPORT, Pa. – Cara Parsell's go-ahead bucket with two minutes left broke an 18-18 tie and gave Galeton a 20-18 NTL road victory over Smethport.
Jessie Evans tied the game at 16 with a 3-pointer with five minutes left before the Parsell's go-ahead bucket.
Parsell and Evans each had six points to lead the Lady Tigers offense. Alli Macensky added four tallies.
Erin Herzog paced the Lady Hubbers with 10 points in the loss.
COUDERSPORT 52, OSWAYO VALLEY 22
COUDERSPORT, Pa. – Behind 21 points from Sarah Chambers, Coudersport earned a 52-22 victory over visiting Oswayo Valley in NTL play.
Lauren Stimaker had 12 tallies for the Lady Falcons while Emma Chambers added five.
Jadyn Brabhon paced the Green Wave with 10 points.
PORT ALLEGANY 58, AUSTIN 22
AUSTIN, Pa. – Cailey Barnett had a double-double with 21 points and 10 steals while also adding nine rebounds to help Port Allegany to a 58-22 NTL road victory over Austin.
Evin Stauffer had 12 points, five rebounds and three assists for the Lady Gators. Bree Garzel netted eight points, grabbed seven rebounds and dished out four assists while Madeline Smith grabbed six rebounds.
Kylie Welsh had 10 points to pace the Lady Panthers offense in the loss. Taylor Brewer added six points, seven rebounds and five blocks.
OTTO-ELDRED 47, NORTHERN POTTER 29
DUKE CENTER, Pa. – Katie Sheeler hit three 3-pointers and finished with a game-high 18 points to lead Otto-Eldred past visiting Northern Potter, 47-29.
Bri Heller had a double-double with 13 boards and 14 points for the Lady Terrors. Kayley Heller grabbed nine rebounds while Morgan Dalton added four points and seven rebounds.
Courtney Martin had a double-double with 12 points and 13 rebounds in the loss for the Lady Panthers. Aubrey Anderson added seven tallies and Madison Hoopes grabbed nine boards.
KEYSTONE 54, VENANGO CATHOLIC 16
OIL CITY, Pa. – Emily Lauer led a trio of double-digit scorers as Keystone left with a 54-16 road victory over Venango Catholic.
Lauer had a game-high 20 points to lead the Lady Panthers offense. Maddie Dunlap netted 11 points while Jozee Weaver added 10, including a pair of 3-pointers.
Hope Winger paced the Lady Vikings with eight tallies and seven rebounds in the loss.
CLARION 56, A-C VALLEY 33
FOXBURG, Pa. – Kait Constantino and KK Girvin combined for 36 points and helped visiting Clarion top A-C Valley, 56-33.
Constantino led the Lady Cats offense with 19 points, seven rebounds and six steals while Girvin had a game-high three 3-pointers and finished with 17 points. Jordan Best grabbed a team-high 10 rebounds.
Mia Sherman hit three 3-pointers and finished with 11 points to pace the Lady Falcons offense in the loss.
ST. MARYS 59, CLEARFIELD 23
ST. MARYS, Pa. – Isabelle Caskey netted a game-high 17 points to lead St. Marys past visiting Clearfield, 59-23.
Megan Quesenberry and Kyla Johnson each had eight points for the Lady Dutch. Kaylee Muccio and Allison Schlimm each added seven tallies while Lauren Eckert and Britney Shaw each chipped in five.
Megan Durandetta hit a pair of 3-pointers and finished with eight points to pace the Lady Bison in the loss.
MONITEAU 68, FOREST AREA 20
TIONESTA, Pa. – Ashlyn Pry had a double-double with 16 points and 13 rebounds, as visiting Moniteau rolled past Forest Area, 68-20, at West Forest.
Kristen Auvil hit a pair of 3-pointers and finished with 12 points for the Lady Warriors. Haley Pry had 11 points and six steals while Kaitee Chesonis recorded a career-high 10 points.
Megan Clow and Jessica Wagner each had six tallies to pace Forest Area in the loss.
CLARION-LIMESTONE 50, KARNS CITY 31
STRATTANVILLE, Pa. – Francis Milliron went 9-for-9 at the free-throw line and finished with 19 points to lead Clarion-Limestone past visiting Karns City, 50-31.
Kendall Dunn added 12 points for the Lady Lions and went 8-for-10 at the line. Maddy Wenner netted eight points and Anna Kennemuth chipped in five.
Emma Johns paced the Lady Gremlins with 10 points in the loss.
BOYS
RIDGWAY 59, CURWENSVILLE 18
CURWENSVILLE, Pa. – Matt Dush had 14 points to lead a balanced offensive attack to help Ridgway route Curwensville, 59-18, in AML play.
Zach Zameroski added 13 points for the Elkers with Dominic Allegretto chipping in 10, including a pair of 3-pointers. RJ Miller had nine points and Dan Park chipped in six.
Adam Miller paced the Tide with six tallies and Trevor Lansberry netted five.
HUNTINGDON 72, CLEARFIELD 56
HYDE, Pa. – Nick Gearhart and Jackson Ritchey combined for 43 points to help Huntingdon earn a 72-56 road victory over Clearfield in Mountain League action.
Gearhart led the Bearcats offense with 22 tallies while Ritchey added 21. Darin Harman netted 15 points and Andrew Miller added 10.
Cade Walker paced the Bison with 17 points and seven rebounds. Cole Miller hit three 3-pointers and finished with 11 tallies.
CRANBERRY 66, UNION 57
SENECA, Pa. – Matt McQuaide exploded for a game-high 34 points to lead Cranberry past Union, 66-57.
J.T. Stahlman added 20 points for the Berries. Preston Forrest hit a pair of 3-pointers to finish with six points and Cameron Russell netted five.
Truman Vereb paced the Knights offense with three 3-pointers and 17 points in the loss. Caiden Rainer netted 12 points and Karter Vogel chipped in eight.