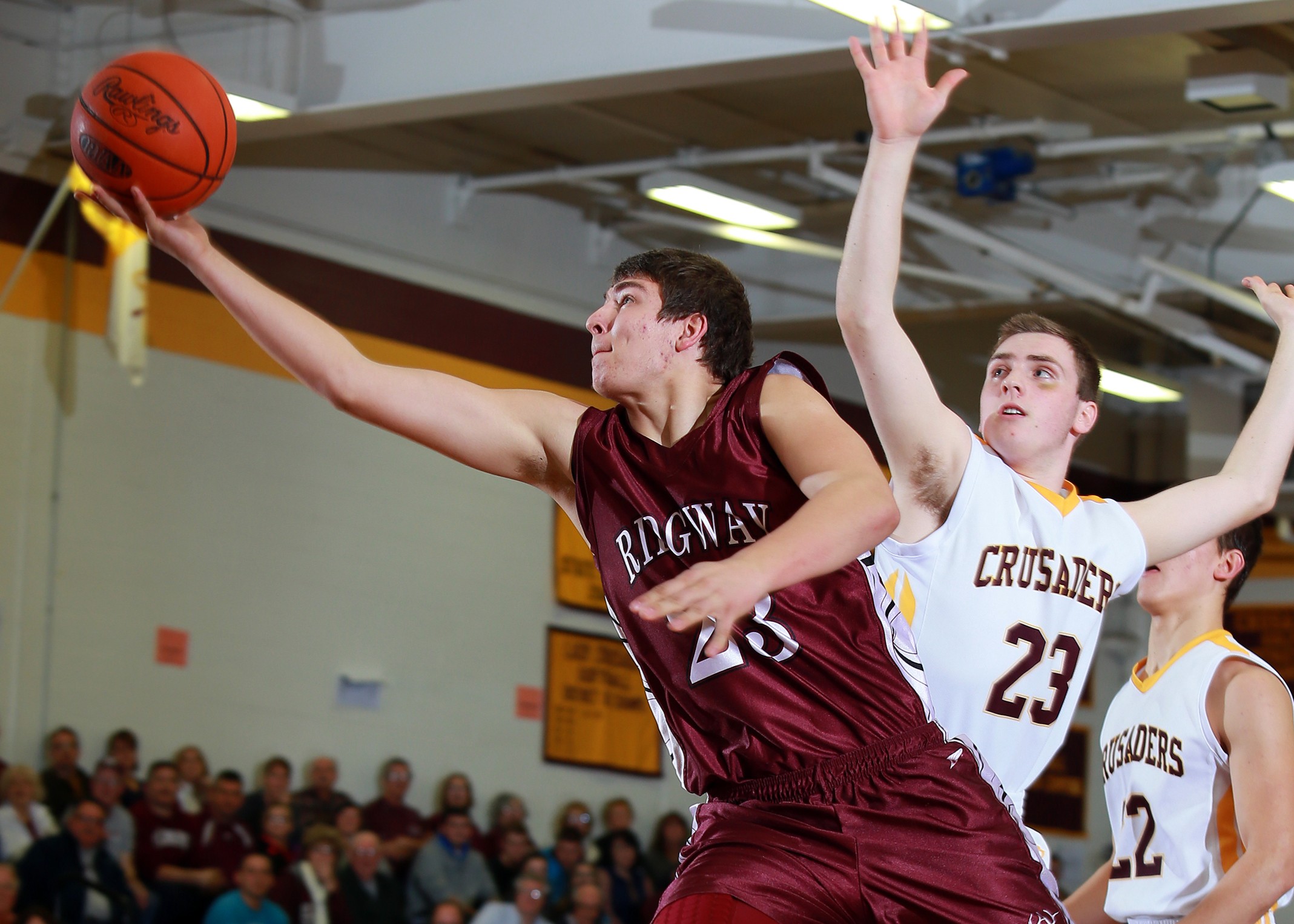 RIDGWAY 47, BROCKWAY 34
RIDGWAY, Pa. – Jeremy and Andy Breier combined for 24 points to lead Ridgway to a 47-34 AML win over visiting Brockway.
Jeremy Breier netted a game-high 14 points with Andy Breier adding 10. Johnny Mitchell chipped in nine for the Elkers.
Corey Carr had eight points to pace Brockway with Jarrett Esposito adding seven.
JOHNSONBURG 48, KANE 43
JOHNSONBURG, Pa. – Johnsonburg outscored visiting Kane by 12 in the second half to rally from a six-point halftime deficit and get a 48-43 win in AML play.
The Rams, who trailed 15-5 at the end of the first quarter, were down 28-22 at the break before outscoring the Wolves 13-7 in each of the final two quarters.
Ryan Kilhoffer led Johnsonburg with 15 points with Kevin Benson Kacey Raubenstrauch and Andrew Ackers each scoring seven points apiece.
Andrew Bucheit paced Kane with a game-high 19 points. Chris Udovitch and Davis Gardner each added eight tallies.
ELK COUNTY CATHOLIC 58, SHEFFIELD 21
SHEFFIELD, Pa. – Led by 10 points from Nate DaCanal, 11 different Elk County Catholic Crusaders scored in a 58-21 AML win at Sheffield.
Joe Kucenski added eight points for ECC, while Ryan Lemay and Drew Higby paced Sheffield with four apiece. Austin Simmer had seven rebounds for the Wolverines.  
DUBOIS CENTRAL CATHOLIC 45, CURWENSVILLE 39
DUBOIS, Pa. – Riding the wave of a strong middle two quarters, DuBois Central Catholic beat visiting Curwensville, 45-39, in AML action.
The Cardinals trailed 13-12 after one quarter but took a 26-18 halftime lead before expanding the advantage to 12 points, 38-26, at the end of three quarters.
Christian LaParne led DCC with 18 points. Justin Miknis added 12 and Joey Varischetti nine.
RJ Olson paced Curwensville with 10 points with Nick Stewart and Jake Terry each scoring eight.
NORTH EAST 60, BRADFORD 49
NORTH EAST, Pa. – Led by 17 points from Garrett Owens, North East put four players in double digits in getting a non-conference win over visiting Bradford, 60-49.
Nathan Mayes added 14 points for the Grape Pickers.
Andy Pantuso had 19 points, 10 rebounds and five assists to pace Bradford with Deondre Terwilliger adding 13 points and Tyler Nuzzo 10 points. John Eakin chipped in nine rebounds.   
UNION 57, CLARION 49
CLARION, Pa. – Union built an 11-point lead after three quarters and held off a furious rally by Clarion in the fourth quarter to gain its second win over the Bobcats in less than two weeks, 57-49, in non-conference action at Clarion.
The Golden Knights led 34-23 at the end of three quarters after outscoring Clarion 14-7 in the third quarter.
But Clarion rallied in the fourth and closed to within a point, 36-35, with five minutes to play.
Cole Morris wouldn't let the comeback happen, though, scoring 13 of his game-high 23 points in the fourth quarter.
Lucas Bowser added 13 points, all in the first half, and 11 rebounds for Union with Hank Murphy also recording a double-double with 11 points and 12 rebounds. Gavin Hawk added eight points and was 6 of 8 from the free-throw line in the fourth quarter.
Jonathan Smith led Clarion with 15 points and 13 rebounds while scoring nine fourth-quarter points. Cam Craig added 13 points.
PUNXSUTAWNEY 75, BALD EAGLE AREA 67
WINGATE, Pa. – Led by 20 points from Brandon Matthews, Punxsutawney had five players reach double digits in a 75-67 road win at Bald Eagle Area.
Dylan Huey and Ethan Riley each added 14 points for the Chucks with Devin Kelly contributing 11 and Jacob Weaver 10. Huey – 14 rebounds – and Kelly – 11 rebounds – completed double-doubles.
After leading by 10, 42-32, at halftime, Punxsy found itself tied at 48 at the end of the third quarter before outscoring the hosts 27-19 in the fourth quarter behind eight points from Kelly and seven from Matthews.  
CENTRAL MOUNTAIN 66, DUBOIS 50
MILL HALL, Pa. – Cole Reeder, Kyle Everhart and Alex Garbrick combined to score 44 points to lead Central Mountain to a 66-50 non-conference win over visiting DuBois.
Reeder netted 16 points for the Wildcats with Everhart and Garbrick each adding 14.
DuBois, which played without John Oberlin and Braydn Schwabenbauer, got 16 points from Nick LaBrasca.
KEYSTONE 67, FOREST AREA 29
TIONESTA, Pa. – Thirteen different Keystone players scored in a 67-29 win over Forest Area at West Forest in non-conference action.
Austin Ion led the Panthers with 13 points. Tanner Wilson added eight.
Nic Smail paced Forest Area with 10. Jarrett Kahle added eight for the Fires.
BROOKVILLE 71, KARNS CITY 32
BROOKVILLE, Pa. – Dominating from the start, Brookville put up 40 points in the first half and cruised to a 71-32 win over visiting Karns City in a non-conference matchup of Class AA teams.
The Raiders used an 18-4 game-starting run to take a 40-15 halftime lead.
Jimmy Moore led Brookville with 19 points. Kurt Schindler added 14 and Ben Reitz 11.
Ian McElroy and Jimmy Thompson each scored eight points for Karns City.