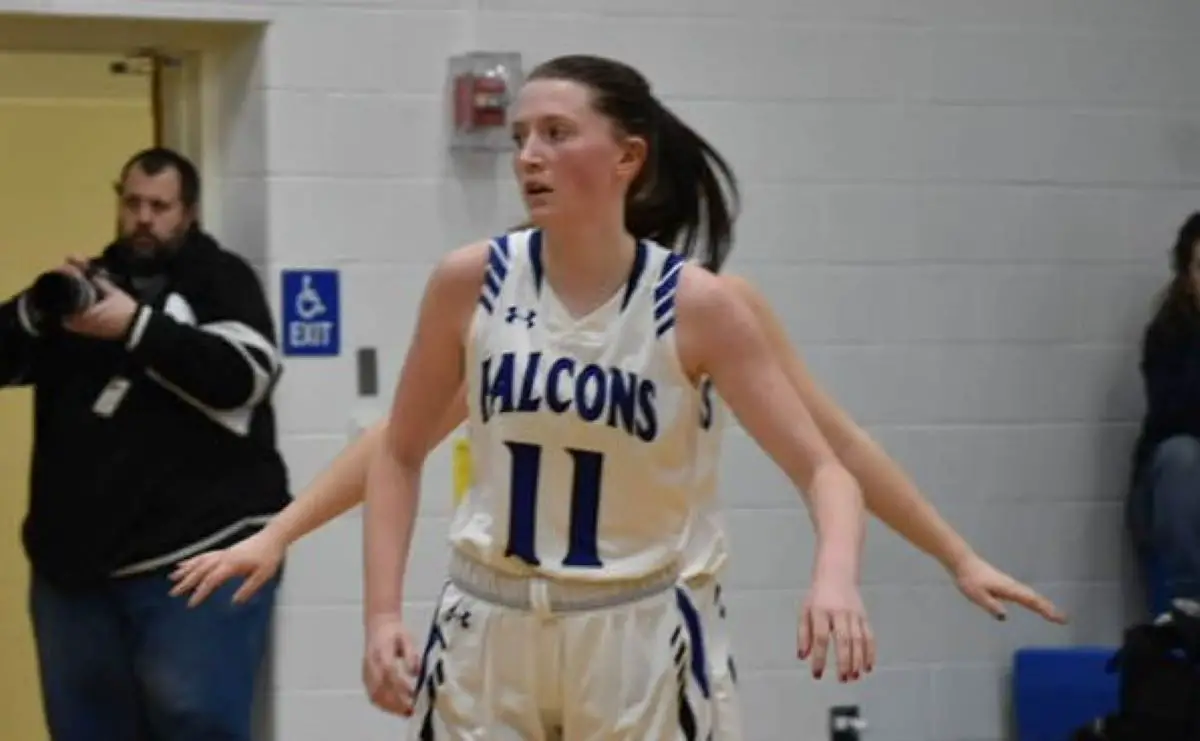 Jan. 27 girls' basketball recaps.
(Photo of Mia Sherman, who scored the first four points of double overtime in A-C Valley's win over Karns City. Photo by Cynthia Rapp)
A-C VALLEY 41, KARNS CITY 38, 2 OTS
FOXBURG, Pa. – Mia Sherman scored four points in the second overtime, and A-C Valley started the overtime on a 6-0 spurt to beat visiting Karns City, 41-38, in double overtime.
The teams were tied at 30 at the end of regulation and at 35 at the end of the first overtime before Sherman scored the first four points of the second overtime and Rachel Cullen added a pair of free-throws to make it 41-35.
With time running out, A-C Valley backed off defensively and Rossi McMillen drained a 3-pointer to bring the Lady Gremlins within three, 41-38.
Although the clock was under five seconds, and A-C Valley didn't have to inbound the ball, the Lady Falcons were able to get it inbounds as time expired.
A-C Valley led 15-14 at halftime and expanded that lead to 25-19 at the end of the third quarter thanks to four third-quarter points apiece from Sherman and Andrea Meals.
But behind a pair of fourth-quarter 3-pointers from Abby Callihan and another triple from Emma Johnson, Karns City rallied to force overtime.
Sherman had a game-high 13 points for A-C Valley with Meals adding 10 and Cullen six.
Johns led Karns City with 15 points with Callihan adding seven, all in the fourth quarter and overtime.
CLEARFIELD 34, CURWENSVILLE 33
HYDE, Pa. – Emma Hipps baked home a shot from the top of the key with about 30 seconds left, and Clearfield withstood a last-second shot by Curwensville to escape with a 34-33 home win against its neighbor.
The Lady Bison, who led 24-23 going to the fourth quarter, struggled from the free-throw line in the final eight minutes going just 6 of 15 from the charity stripe and found itself down 33-32 when Hipps hit her shot.
Curwensville called a time out and Skylar Pentz was just off the mark with a last-second shot to give the Lady Bison the victory.
Hipps led all scorers with 11 points with Tesa Miller adding nine for Clearfield.
Alyssa Bakaysa had a team-best 10 points for Curwensville with Kyra Henry adding seven.
The Lady Bison used an 11-7 second-quarter advantage to take a 17-13 halftime but saw the Lady Tide whittle the advantage to one, 24-23, going to the fourth quarter.
UNION 46, CRANBERRY 44
RIMERSBURG, Pa. – Dominika Logue scored seven of her team-high 13 points in the second quarter to help Union secure a 14-point advantage in the frame on its way to a 46-44 win over visiting Cranberry.
The Golden Damsels trailed 13-9 at the end of a quarter but behind Logue took a 27-17 halftime that they expanded to 40-28 at the end of three quarters.
Cranberry fought back in the fourth quarter behind five points from Kaia Dean and four from Kaylie Bruce but could never get over the top.
Logue had a double-double for Union with 13 points and 11 rebounds while also adding five steals and four assists. Tori Milliron and Hailey Kriebel each added 10 points in the balanced scoring effort with Kiera Croyle chipping in nine.
Ava Ferringer paced Cranberry with 15 points and eight rebounds with Bruce adding 11 points, Dean eight points and nine rebounds and Megan Hadden eight points.
BROCKWAY 47, KANE 38
BROCKWAY, Pa. – Behind Selena Buttery Brockway rallied past visiting Kane for a 47-38 non-conference win.
The Lady Rovers trailed 21-19 at halftime but built a 36-27 lead after three thanks to Buttery who scored seven of her 16 points in the third quarter and 12 of her tallies in the second half.
Buttery finished with a double-double by adding 18 rebounds and also blocked five shots.
Danielle Wood also added 16 points for the Lady Rovers and handed out five assists, Morgan Lindemuth chipped in six points, six rebounds and five assists, Ciara Morelli added five points and six rebounds and was credited with playing great defense by head coach Dick Esposito, and Macie Smith grabbed eight rebounds while scoring four points.
Emily Bucheit led all scorers with 17 points but was held to six after halftime for Kane, while Ainsley Saf chipped in 12 points for the Lady Wolves.
PUNXSUTAWNEY 69, ELK COUNTY CATHOLIC 35
PUNXSUTAWNEY, Pa. – Riley Presloid, Sarah Weaver, Kierstin Riley and Chloe Presloid combined to score 61 points to help Punxsutawney stayed unbeaten in D9 League play with a 69-35 win over visiting Elk County Catholic.
Riley Presloid led the Lady Chucks with 22 points, five rebounds, four assists and a steal, while Weaver chipped in 17 points, three rebounds, three assists and two steals. Riley added 12 points, a game-high 11 rebounds, two steals and two assists and Chloe Presloid had 10 points, three rebounds, three assists and a steal.
Ryley Casaday also added six rebounds, four assists, two steals and two points for the Lady Chucks.
Taylor Newton had 15 points and nine rebounds for ECC.
GALETON 38, OSWAYO VALLEY 32
SHINGLEHOUSE, Pa. – Thanks to 14 points, 11 rebounds, six blocked shots and a steal from Alli Macensku, visiting Galetn picked up a 38-32 road NTL victory over Oswayo Valley.
Jessie Evans added eight points, four assists and two rebounds for the Lady Tigers with Cara Parsell chipping in seven points, six rebounds and five assists.
Macy West had 12 points to lead Oswayo Valley with Jadyn Brabham adding nine.
OTTO-ELDRED 42, CAMERON COUNTY 28
DUKE CENTER, Pa. – Kayley Heller's double-double of 13 points and 10 rebounds helped Otto-Eldred to a 42-28 win over visiting Cameron County in NTL action.
Haley Cousins added 12 points in the victory for the Lady Terrors with Katie Sheeler chipping in seven points, six rebounds, four steals and four assists and Bri Heller snagging eight rebounds to go with three points.
Mallory McKimm had 12 points for Cameron County with Kaelee Breslin adding 10.
PORT ALLEGANY 53, SMETHPORT 15
SMETHPORT, Pa. – Cailey Barnett hit three 3-pointers on her way to a game-high 22 points while adding eight rebounds and four assists in Port Allegany's 53-15 road NTL win over Smethport.
Gracie Archer chipped in eight points for the Lady Gators with Bree Garzel adding seven points, eight assists and six rebounds and Evin Stauffer six points and six rebounds.
Erin Herzog had four points for Smethport
COUDERSPORT 44, NORTHERN POTTER 21
COUDERSPORT, Pa. – A 15-point night from Mikayla Dunn helped Coudersport secure a 44-21 NTL win over visiting Northern Potter.
Sarah Chambers added 12 points in the victory for the Lady Falcons.
Madison Hoopes scored 11 points to lead Northern Potter.
MONITEAU 50, VENANGO CATHOLIC 27
OIL CITY, Pa. – Aslyn Pry recorded a double-double of 16 points and 10 rebounds to help visiting Moniteau roll to a 50-27 win over Venango Catholic.
The Lady Warriors built a 12-2 lead at the end of the first quarter with half the points coming from Pry and then built the advantage to 26-8 by halftime.
Kristin Auvil added 10 points in the win with Abby Rottman scoring eight.
Emmy Ekis had 17 points and seven rebounds for Venango Catholic with Mariah Wessell adding eight points, four rebounds and two steals for the Lady Vikings.
TIDIOUTE CHARTER 50, FOREST AREA 23
TIDIOUTE, Pa. – Tidioute Charter Nakiesha Krouse scored her 1,000th career point while netting a total of 16 to help Tidioute Charter beat visiting Forest Area, 50-23.
Krouse game into the game needing 15 to reach the milestone and got there.
Andrea Curtin also scored 16 points for the Lady Bulldogs with Shelby Proctor adding seven.
Jessica Wagner had seven points and 20 rebounds for Forest Area with Megan Clow also adding seven points.
NORTH CLARION 66, JOHNSONBURG 26
JOHNSONBURG, Pa. – In a rematch of last year's District 9 Class 1A championship game, visiting North Clarion blasted out to a 31-point halftime lead on its way to a 66-26 win over Johnsonburg.
The She-Wolves led 25-6 at the end of the first quarter thanks to 10 points from Abby Gatesman and five each from Gabby Schmader, Haley Sherman and Mackenzie Bauer and then expanded the advantage to 42-11 by the break.
Gatesman led a balanced offensive effort for unbeaten North Clarion with 15 points, Sherman added 14, Bauer 13 and Schmader nine.
Kaci Stelene paced Johnsonburg with nine points with Tess Kocjancic adding eight.
KEYSTONE 60, CLARION-LIMESTONE 42
STRATTANVILLE, Pa. – Emily Lauer scored 15 of her game-high 21 points before halftime to help visiting Keystone get back on the winning path with a 60-42 win over Clarion-Limestone.
Jozee Weaver added 14 points for the Lady Panthers with Alyssa Dunlap scoring 12.
Kendall Dunn paced C-L with 11 points with Maddy Wenner and Frances Milliron each adding 10 and Anna Kennemuth nine.