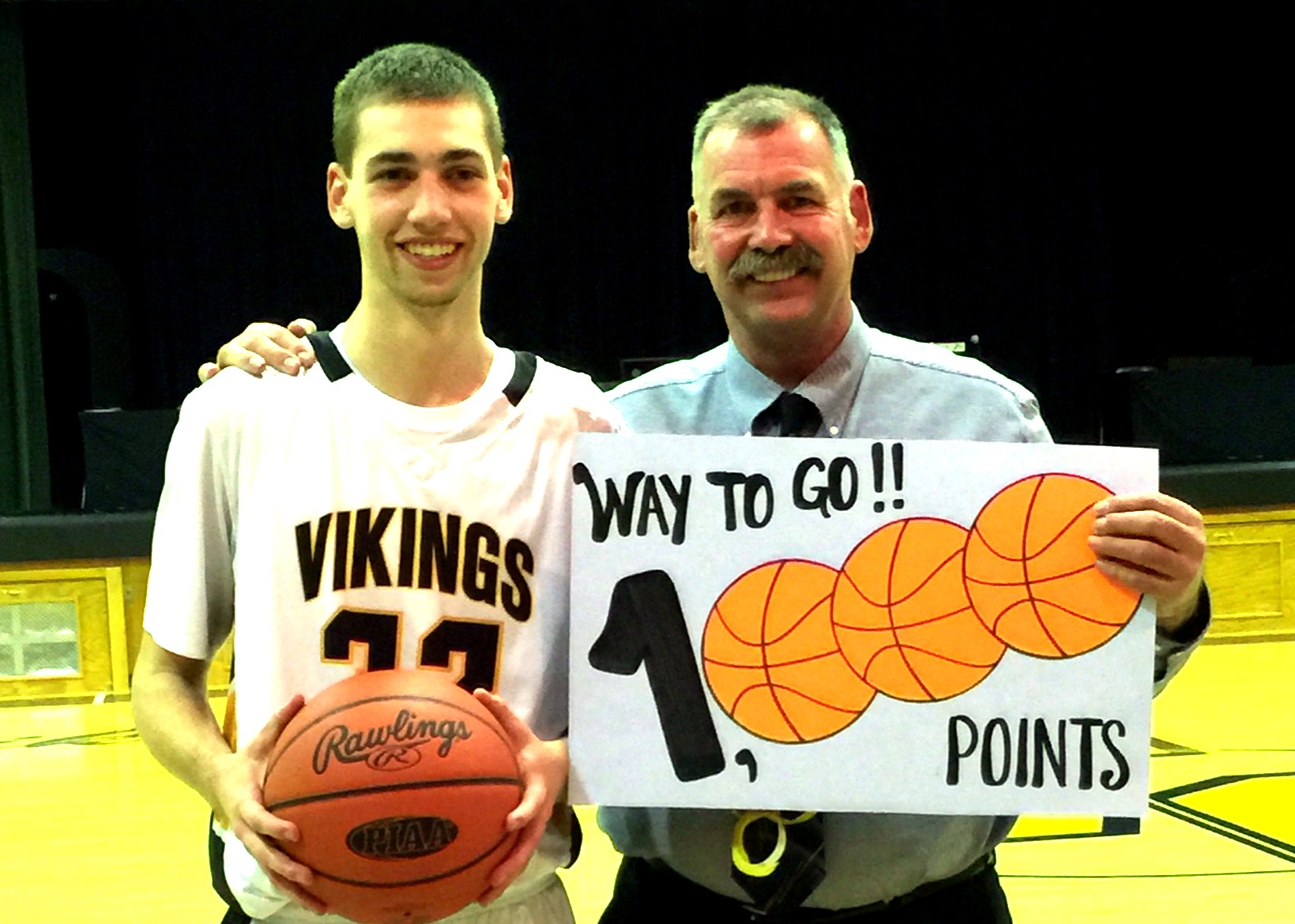 VENANGO CATHOLIC 69, FOREST AREA 56
OIL CITY, Pa. – Brady Kingston scored 31 points and went over the 1,000-career-point total while helping Venango Catholic beat visiting Forest Area, 69-56, in KSAC North action.
Kingston, who completed a double-double with 15 rebounds, has now topped 30 points in three straight games and four times in all this year. He needed 12 points coming into the game to reach 1,000 and finished the night with 1,019. He is the 13th player in Venango Catholic history to reach 1,000 career points and becomes the third player to reach the milestone in the last two seasons joining Devin Zagar and Scott Toy, who did so last season as seniors.
Noah Puleo added 17 points for Venango Catholic.
Nic Smail had a career-high 25 points for Forest Area, while Seth Berlin added a career-best 17 points to go with 13 rebounds for the Fires.
DUBOIS CENTRAL CATHOLIC 55, KANE 47, OVERTIME
KANE, Pa. – Christian LaParne scored six of his game-high 31 points in overtime to help visiting DuBois Central Catholic beat Kane, 55-47, in non-conference action.
Davis Gardner forced the overtime for Kane when he hit a jumper with seven seconds left in regulation to tie the game at 45.
But in overtime, DCC took over outscoring the hosts 10-2.
Joey Varischetti added 11 points and 15 rebounds for DCC.
Chris Udovich led Kane, which was without leading scorer Andrew Bucheit (injury) with 15 points. Andy Bundy added nine and Gardner eight. Tyler Rolick chipped in with seven.
JOHNSONBURG 59, CURWENSVILLE 26
CURWENSVILLE, Pa. – Behind 20 points from Ryan Kilhoffer Johnsonburg grabbed a 59-26 road win at Curwensville in AML play.
Kevin Benson added 13 points for the Rams.
Quamone Newkirk paced Curwensville with nine points. Jake Terry and RJ Olson each added eight.
RIDGWAY 57, SHEFFIELD 18
RIDGWAY, Pa. – Jeremy Breier scored 22 points to lead Ridgway to a 57-18 win over visiting Sheffield in AML action.
With the win, the Elkers, who also got eight points from Andy Breier, claim the AML South title.
Ryan Lemay led Sheffield with six points, while Austin Simmer had six rebounds and three steals.
ST. MARYS 64, DUBOIS 43
ST. MARYS, Pa. – Parker Housler led a trio St. Marys players in double figures, as the Dutch dispatched of visiting DuBois, 64-43, on Senior Night at the Dutch Oven.
Housler scored 15 points while Jeff Wehler and Brady Bauer each added 12 for St. Marys.
Zach Sloan led DuBois with 15 points.
ELK COUNTY CATHOLIC 61, PUNXSUTAWNEY 54
ST. MARYS, Pa. – Elk County Catholic rode the wave of a strong first half to a 61-54 D9 League win over visiting Punxsutawney.
The Crusaders led 36-28 at the break and expanded that lead to 51-35 at the end of three quarters.
Gabe Kraus led ECC with 20 points, while Nate DaCanal added 16 and Kyle Huff 13.
Brandon Matthews paced the Chucks with 17 points. Dylan Huey added 13 and Devin Kelly 12.
REDBANK VALLEY 38, A-C VALLEY 31
FOXBURG, Pa. – Sam Heeter and Dalton Dougherty combined to score all but six of Redbank Valley's points, as the visiting Bulldogs beat A-C Valley, 38-31, in KSAC South action.
Heeter led all scorers with 21 points, while Dougherty added 12.
Austin Heeter led A-C Valley with 11 points, while Joe Manculich added four points and 11 rebounds.
UNION 45, KARNS CITY 41
RIMERSBURG, Pa. – Union outscored Karns City 15-1 in the third quarter on its way to a 45-41 win over the visiting Gremlins in KSAC South play.
Cole Morris led Union, which trailed 30-21 at halftime, with 14 points, seven rebounds and seven assists. Hank Murphy added 13 points, seven rebounds and five blocked shots, while Lucas Bowser had 12 points.
Chandler Turner led Karns City with 11 points and 13 rebounds.
KEYSTONE 54, MONITEAU 28
KNOX, Pa. – Austin Ion had a monster game with 25 points, 10 rebounds and three assists to lead Keystone to a 54-28 win over visiting Moniteau in KSAC South play.
Brayden Shick added eight points for the Panthers, while Tanner Wilson had four points, four assists and three steals.
Lake Pry paced Moniteau with eight points.
CRANBERRY 73, CLARION 53
Read full game story on ExploreVenango.com • Listen to Varsek & Evan Lutz talk about the win
Listen to the archived broadcast of the game
SENECA, Pa. – Cranberry shot 66.7 percent in the first half while building a 16-point halftime lead on its way to a 73-53 win over Clarion in KSAC North action.
The Berries led 41-25 at the break and got 23 points from Evan Lutz, 19 in the first half. Lutz, who was 10 of 16 shooting, added five rebounds and three assists.
Nick Varsek chipped in nine points and 11 assists, 10 before halftime, for the Berries, who also got 12 points from Brendan Zerbe and 11 from Dechlyn Sheffer.
Jonathan Smith paced Clarion with 23 points, eight rebounds and three assists. Ty Burford added 11 points and seven rebounds, and Bo Miller had six points and nine boards.
CLARION-LIMESTONE 72, NORTH CLARION 31
STRATTANVILLE, Pa. – Four Clarion-Limestone players reached double digits in a 72-31 win over visiting North Clarion that secured at least a tie of the KSAC North title for the Lions.
Taylor Smith and Ian Callen led C-L with 16 points each, Dan Callen had 13 points and Christian Smith 11. Noah Rankin chipped in eight points for the Lions.
Griffin Schmader and Nathan Banner each had nine points for North Clarion.
CLEARFIELD 97, BALD EAGLE AREA 57
WINGATE, Pa. – Clearfield put on its track shoes and raced past Bald Eagle Area for a 97-57 Mountain League road win.
Tommy Hazel led the Bison with 22 points, seven rebounds and six assists. Will Myers added 21 points, seven rebounds and six helpers, while Cody Spaid had 14 points, eight rebounds and five blocks and Evan Brown 12 points and five steals.  
AJ Onder led Bald Eagle with 18 points, Trey Butterworth added 16 and Noah Chambers 14.