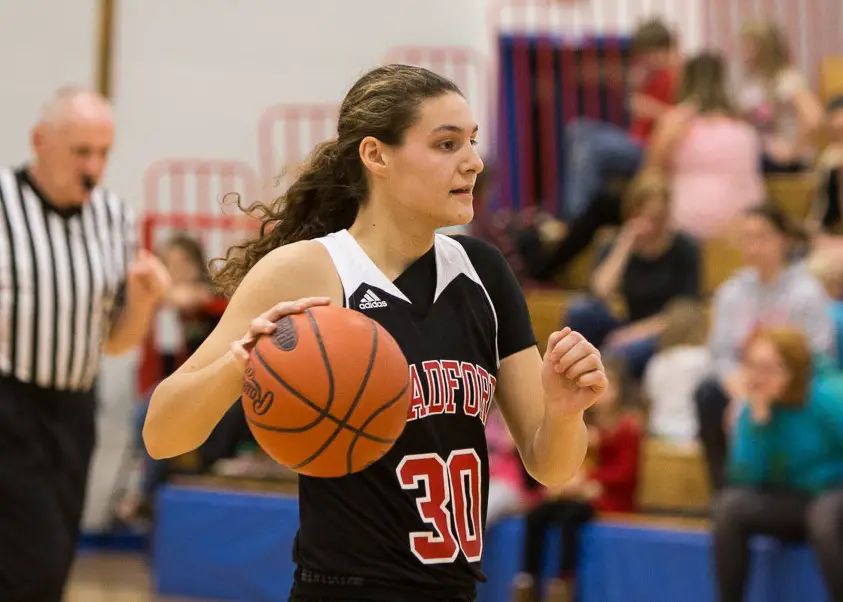 Jan. 3 girls' basketball recaps.
(Cover photo of Bradford's Bri Wells. Photo by Shawn Murray. Check out more of Murray's work here.)
BRADFORD 49, ST. MARYS 39
BRADFORD, Pa. – Bri Wells exploded for 26 points, as Bradford picked up its first win of the year with a 49-39 victory over visiting St. Marys in D9 League action.
Wells hit nine shots from the field and went 8 of 12 from the line for the Lady Owls, who trailed 22-20 at halftime before outscoring the Lady Dutch 29-17 in the second half behind 12 points from Wells.
Brinya Moffett added nine points for Bradford with seven coming after halftime.
Rachelle Armanini paced St. Marys with 15 points.
DUBOIS CENTRAL CATHOLIC 39, BROCKWAY 27
DUBOIS, Pa. – DuBois Central Catholic jumped out to a 14-point halftime lead on its way to a 39-27 win over visiting Brockway in AML action.
The Lady Cardinals led 26-12 at the break and overcame a two-point third quarter to secure the victory.
Riley Assalone led DCC with 11 points with Jordy Frank adding 10.
Leah Lindemuth paced all scorers with 15 points for Brockway while adding 13 rebounds.
PUNXSUTAWNEY 50, CLEARFIELD 33
PUNXSUTAWNEY, Pa. – Leah Miller was a one-woman wrecking crew scoring 32 points and hauling in 21 rebounds to lead Punxsutawney to a 50-33 win over visiting Clearfield.
Kate Horner added 13 points and seven steals for the Lady Chucks, who led 26-14 at halftime.
Alayna Ryan paced Clearfield with 13 points with Brooke Cline adding 10.
CRANBERRY 56, COMMODORE PERRY 47
SENECA, Pa. – Cranberry outscored visiting Commodore Perry 9-0 in overtime to get a 56-37 win over the visiting Lady Panthers.
Malliah Shreck scored four of her 14 points in the extra session, while Emily Kahle scored all three of her points in overtime on free throws and Bree Swartzfager added two of her 11 points in the OT. Shreck finished off a double-double with 14 rebounds.
Hannah Duncan paced Cranberry with a season-high 17 points. The Berries were without leading scorer Erin Merryman, who was out sick.
Brittany Shrock paced Commodore Perry with 21 points while Kate Wilkosz and Brooke Shrock each chipped in 10 points.
Cranberry led 28-21 at halftime and 39-34 after three but was outscored 13-8 in the fourth quarter with Brittany Shrock scoring seven of her 21 in the frame.
DUBOIS 50, CENTRAL MOUNTAIN 37
MILL HALL, Pa. – Ashley Hallowell scored 17 points and hauled down 22 rebounds to lead visiting DuBois to a 50-37 win at Central Mountain.
Chelsea DeSalve added 13 points for the Lady Beavers, who took a 26-21 halftime lead before outscoring the Lady Wildcats 24-16 in the second half with Hallowell, who scored all of her points in the final three quarters, scoring nine of DuBois' 11 third-quarter points.
Elaina Eckley and Alexis Anastos each scored nine points for Central Mountain with Anastos hitting three 3-pointers.
SHEFFIELD 46, TIDIOUTE CHARTER 45
TIDIOUTE, Pa. – Mya Grubbs hit a 15-foot jumper with 10.8 seconds left lifted visiting Sheffield to a 46-45 win over Tidioute Charter.
The Lady Wolverines trailed 23-20 at halftime but took a seven-point lead late in the third quarter thanks to seven points in the quarter from Lexi Lyon and entered the fourth quarter with a 36-32 lead.
The final eight minutes then went back-and-forth before Grubbs nailed the game-winning shot.
Lyon paced Sheffield with 16 points and 14 rebounds with Eliza Davidson adding 11 points and 10 rebounds. Marissa Grubbs chipped in with eight, and Maya Grubbs had seven.
Nakiesha Krause had a game-high 19 points for Tidioute Charter, who also got 10 from Sunny Henderson.
NORTH CLARION 64, JOHNSONBURG 49
FRILLS CORNER, Pa. – Tori Obenrader led four North Clarion players in double digits with 23 points, as the She-Wolves knocked off visiting Johnsonburg, 64-49, in come-from-behind fashion.
Cassie Wagner and freshman Abby Gatesman each chipped in 13 for North Clarion, which trailed 31- 27at halftime, while Michaela Higgins added 11 points.
Nicole Myers led Johnsonburg with 19 points with Cassidy King adding 15 points.
After trailing at the half, the She-Wolves outscored the Ramettes 16-4 in the third quarter with Wagner and Obenrader, who had another double-double with 18 rebounds, each scoring six points in the frame. North Clarion then outscored Johnsonburg 21-14 in the fourth quarter behind nine points from Gatesman and six from Obenrader.
Gatesman also had a double-double with 10 rebounds while adding three assists and three blocks, while Obenrader chipped in four assists and two blocked shots.
ELK COUNTY CATHOLIC 31, KANE 26
ST. MARYS, Pa. – Josie Smith and Reilly Herzing combined to score 18 points to lead Elk County Catholic to a 31-26 win over visiting Kane in AML action.
Smith led the Lady Crusaders with 10 points with Herzing chipping in eight.
Ella Marconi took home game-high honors with 15 points for Kane.