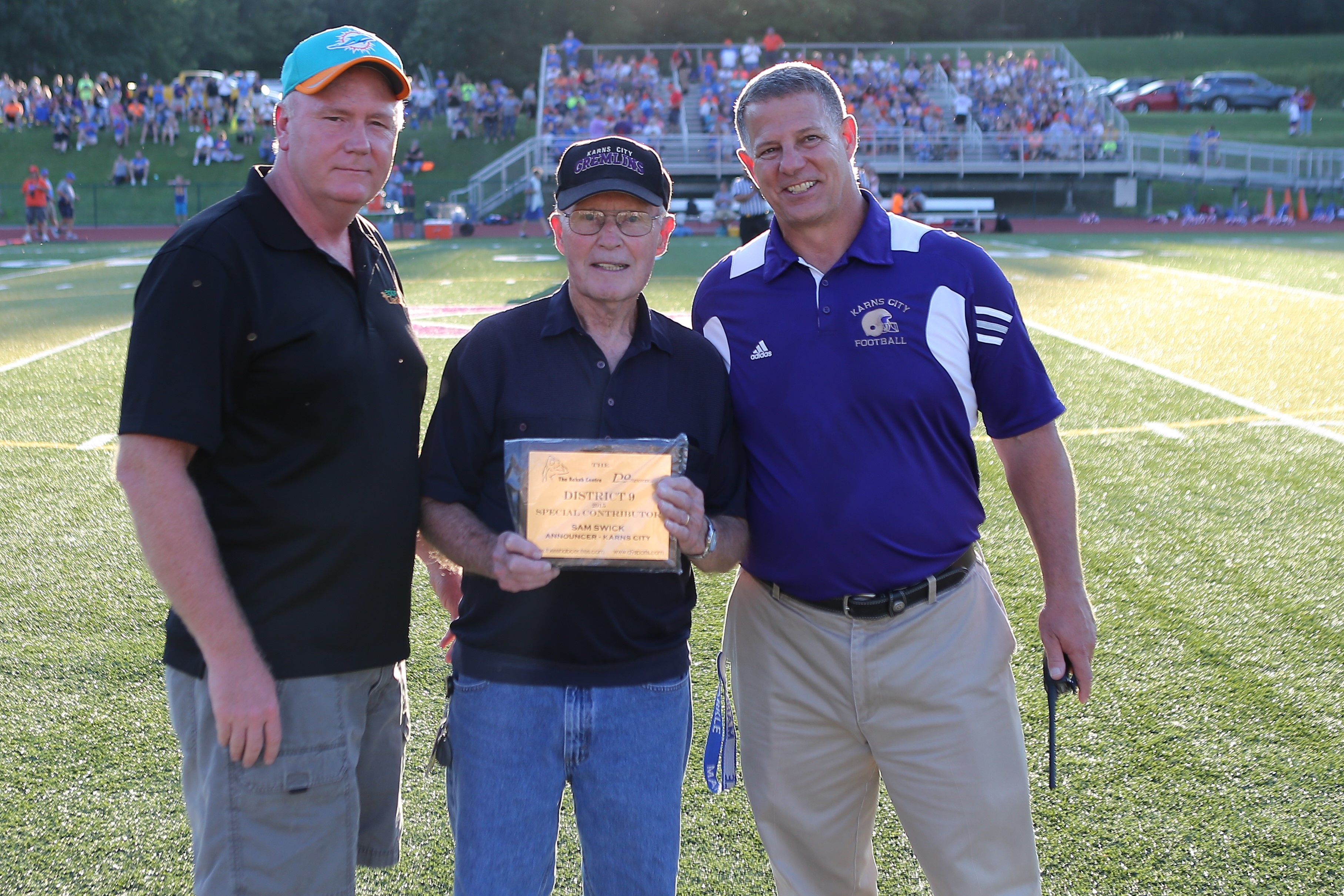 KARNS CITY, Pa. – Longtime Karns City public address announcer Sam Swick was presented with his 2015 The Rehab Centre D9Sports.com District 9 Football Contributor of the Year Award plaque prior to the Gremlins season opener against Armstrong Friday night.
(Cover photo of Swick (center) receiving his award from EYT/D9Sports.com's Bob Dunkle (left) and Karns City athletic director Brian Markle (right). Photo by Mike Schnelle. Check out more of Schenlle's work here)
Presenting Swick with the plaque was EYT Media/D9Sports.com announcer Bob Dunkle along with Karns City athletic director Brian Markle.
Swick is now in his 49th year of announcing District 9 football and basketball games. Swick got his start in 1968 announcing at East Brady High School where he announced for the football and basketball teams and was the announcer during the time Jim Kelly played for the Bulldogs as well as when East Brady won the PIAA Boys' Basketball title in 1980.
At some point during the 1970s when Karns City moved its football games to Friday nights and East Brady still played on Saturday afternoons, Sam announced for both teams. When East Brady closed its doors in the 1990s, Swick moved down the road full time to Karns City doing football and boys' and girls' basketball and was the announcer when the Lady Gremlins won the PIAA Girls' Basketball title in 2000.
A fixture in the press box and at the scorer's table, Sam probably has been as much District 9 history as anyone having announced for the two state championships as well as many District 9 championships in both football and basketball.