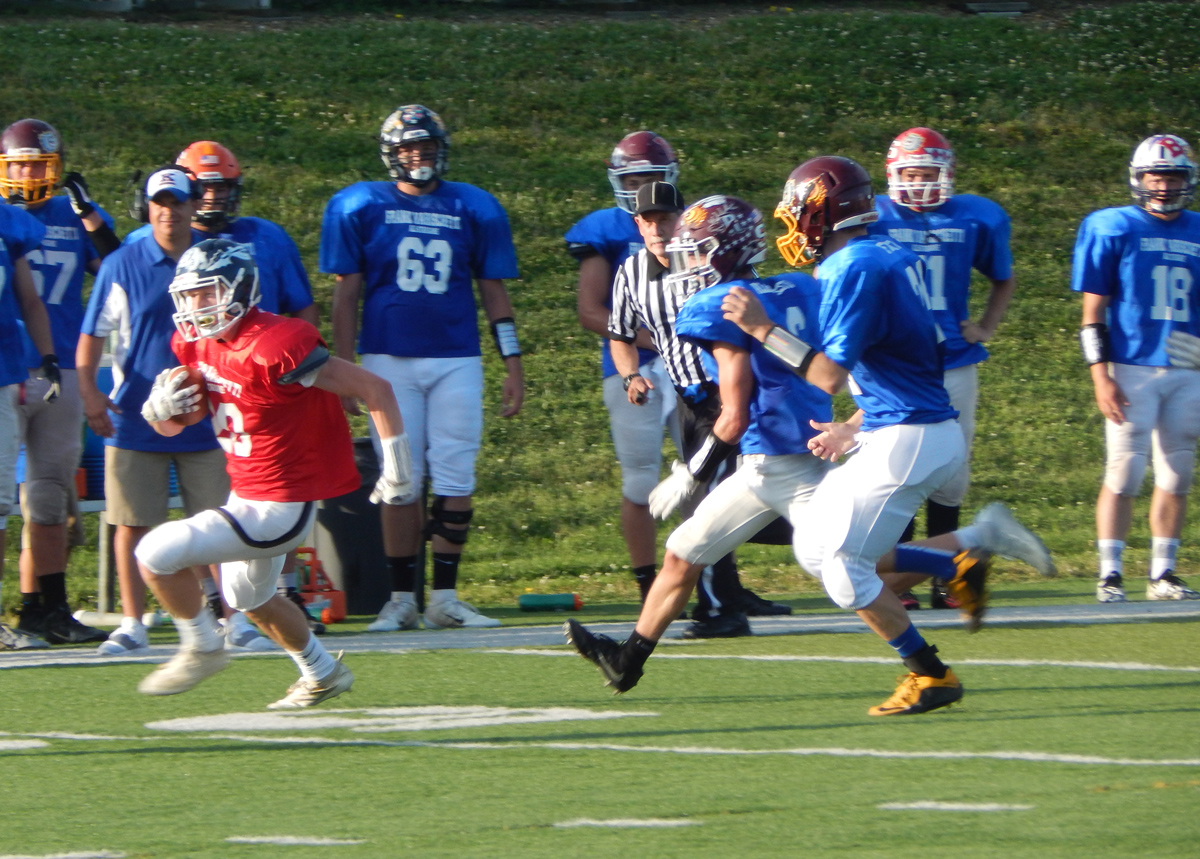 By Shane Lux
BROCKWAY, Pa. — The Keystone Shortway Athletic Conference finally scored their first victory in the 4th Annual Frank Varischetti All-star game by shutting down their Allegheny Mountain League foes 20-7 Friday night at Brockway High School.
Brookville's Bryan Dworek hauls in a pass during Friday's Frank Varischetti All-Star game in Brockway. Dworek was named the KSAC Offensive MVP in the KSAC's 20-7 win. (Photo by Shane Lux)
Brookville's Bryan Dworek had 178 yards receiving and a touchdown while the KSAC's defense limited the AML to just 117 yards of total offense.
"It feels great, we had a great group of kids this year, and they gave great effort all week," said former Clarion-Limestone head coach Dave Eggleton who was named head coach for the KSAC. "I can't say enough how much I enjoyed working with these kids and this coaching staff."
The KSAC scored on its first two possessions on a 2-yard run by Clarion's Logan Minich and Dworek's 60-yard reception from Punxsutawney's Dylan Ishman.
Ishman threw for a game-high 199 yards and three scores, all of which came in the first half.
"We're all looked at as smaller schools, we get looked down on, and it's nice to be able to show them who we are," said Ishman. "Everybody was here who should have been, and they all played great. Bryan is an excellent receiver, he's so talented that all you have to do is get him the ball. I gameplan against a lot of these guys during the season, so it's a lot nicer having them on my team."
Ishman and Dworek were in sync in the first half connecting on five completions for 178 yards and the touchdown.
"We had tremendous coaches, and the players went head over heels to play hard. It was awesome," said Dworek. "All week Dylan and I were getting it done. There were a couple of times I didn't even run the right route, but he still found me. He's a great quarterback. Our goal was a goose egg tonight, and we came close, it was fun playing with and against guys I know."
Defensively the KSAC gave up just 30 yards and two first downs in the first half.
"I told the guys before the game that our goal was to put up a zero," said Eggleton. "You say that every game, but I think our guys stepped up big tonight inside and out. We had great athletes and lineman to get after their quarterback."
Logan's twin brother Sam hauled in a 14-yard touchdown on 4th-down with 57 seconds to play in the first half to up the lead to 20-0 by halftime.
"Bryan and Dylan were on fire tonight, and as for Bryan I don't think I've seen a kid take a game over like he did tonight," said Eggleton. "It was a team effort and team win, but Bryan did a great job we those couple plays."
In a defense-dominated second half, the AML finally got on the board as Garrett McClintick intercepted a screen pass and returned it 40 yards for a touchdown late in the third quarter.
"It felt amazing, that was my third one this year," said McClintick. "This one was more special because it was my last game in my senior year. We all bonded well, we were excited for tonight and tried our best, but we couldn't put it together."
McClintick took home the defensive MVP for the AML.
"Usually it's not a defensive lineman, it's a safety or a cornerback, so I was surprised," said McClintick.
Things appeared to get interesting as it looked like Ridgway's Evan Furlong scored from six yards out in the fourth quarter. But the touchdown was called back due to a holding penalty.
Peter Downer led the AML with 54 yards of offense.
Sam Minich and Dworek took the MVPs for the KSAC. While Downer and McClintick for the AML.
Following the victory by the KSAC, the AML now leads the all-time series 3-1.
"It's a unique experience because all kids get a chance to come together and bond with one another," said Eggleton. "It was a team win, and everybody bought into being and playing like a team."
KSAC 20 AML 7 
Score by Quarters 
KSAC – 14 6 0 0 – 20
AML – 0 0 7 0 – 7
Scoring Summary 
First Quarter 
K – Logan Minich 2 yd run (Archer Mills pat), 5:41
K – Byran Dworek 60 yd pass from Dylan Ishman (Mills pat), 0:10
Second Quarter 
K – Sam Minich 14 yd pass from Ishman (kick failed), 0:57
Third Quarter
A – Garrett McClintick 40 yd interception return (Zane Puhala pat), 0:40
Individual Stats
Rushing – KSAC – Ayden Wiles 8-49, Hunter Jones 8-26, Mills 4-22, Logan Minich 9-18, Wiles 2-17, Cabe Park 2-7, Sam Minich 2-4, Ishman 2-(-3). Totals – 37-140. AML – Stephen Kelly 5-19, Blake Kinner 3-17, Evan Furlong 2-8, Peter Downer 10-8, Donny Pattison 4-7, Grant Ognen 3-4. Totals: 27-63.
Passing: KSAC – Ishman 7-for-15, 199 yards, 2 TD, 1 Int, Mills 1-for-1, 12 yards, Keaton Kahle 1-for-1, 35 yards. AML – Downer 7-for-14, 46 yards, Ognen 2-for-5, 8 yards.
Receiving: KSAC – Dworek 5-178, Sam Minich 2-50, Wiles 1-12, Carter Newcome 1-6. AML – Kinner 3-10, Isaac Schloder 1-22, Pattison 1-10, Daunte Allegretto 2-11, Hunter Cashmer 1-2, Noah VonGunden 1-(-1).
Interceptions: AML – Garrett McClintick.