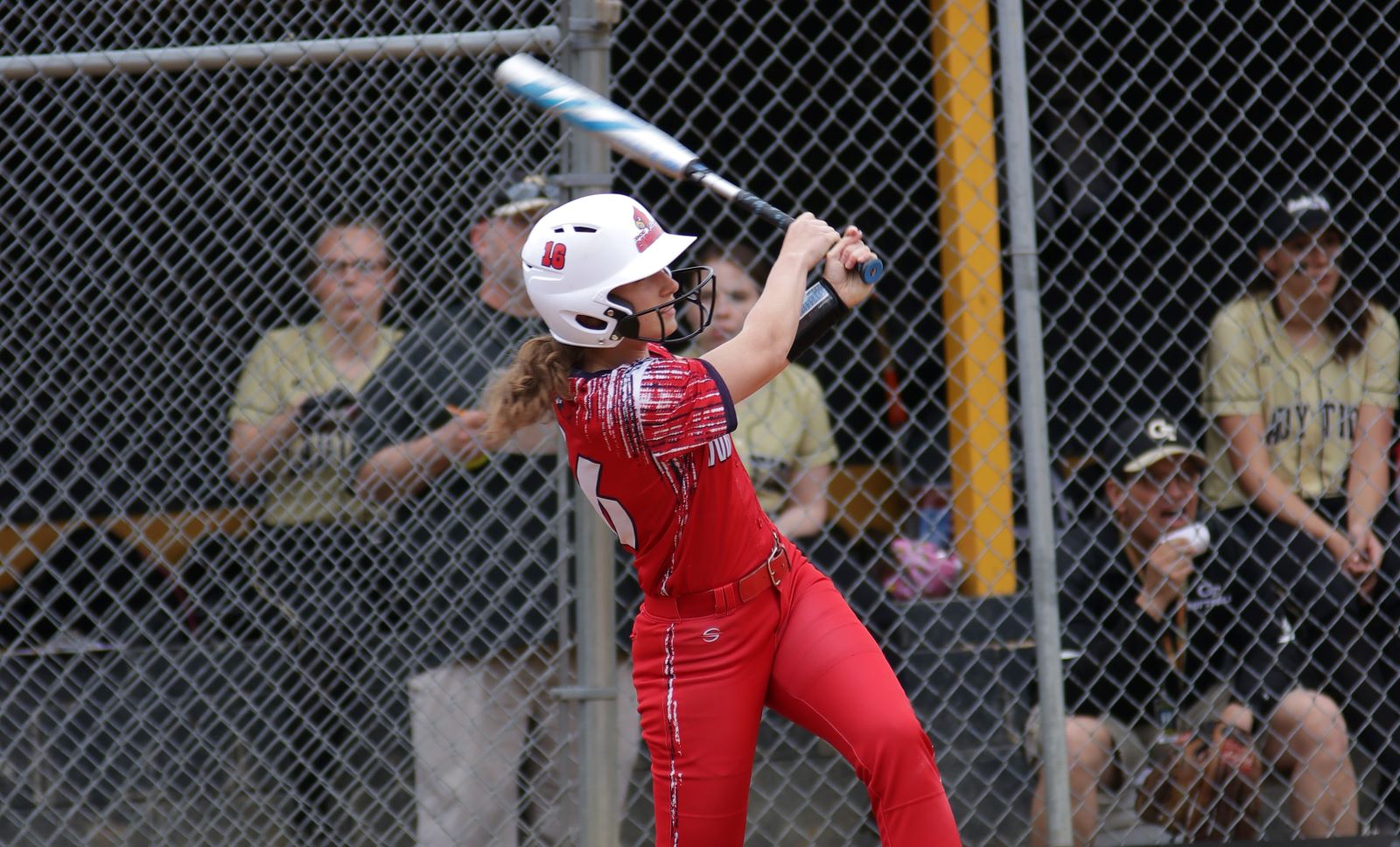 CRESSON, Pa. – Avery Sickeri's single to left with no out in the bottom of the ninth inning scored Shyanne Lundy from second to give DuBois Central Catholic a come-from-behind 6-5 win over Claysburg-Kimmel Thursday afternoon at Mount Aloysius College.
(Photo: Avery Sickeri's single in the bottom of the ninth gave DCC a walk-off win over Claysburg-Kimmel. Photo by Jared Bakaysa of JB Graphics. See more of Bakaysa's work here)
Relisten to the game (the game recording is broken into five parts. The seventh inning rally is in Part 4 and the ninth-inning walk-off and postgame interview is in Part 5) 
Part 1 • Part 2 • Part 3 • Part 4 • Part 5
"I was very nervous because I didn't want to mess it up," Sickeri said. "I always get scared before I hit. I was running, and I saw her (the shortstop) dive and saw the ball get through and everyone was going crazy."
Watch all of Sickeri's postgame interview.
DCC was down to its final strike in the bottom of the seventh down 5-3 with Ashley Wruble, the team's best hitter, facing an 0-2 pitch from Olivia Bushore, who had all but shut down the Lady Cardinals
But Wruble shortened up her swing and poked a single up the middle that scored Jordy Kosko from third and Lundy from second to tie the game at five.
"I was just trying to keep our team in this," Wruble said. "I knew I didn't want to be done yet. I just had to hit whatever was going to given. My first strike was a little low, so I knew that was where his strike zone was, and I had to take the ball where it was pitched.
I thought it was going to score the one. I didn't know if it was going to score the second one. When I got into second base, it was one of the best feelings honestly."
Watch Wruble's postgame interview.
DCC was able to rally in the seventh thanks to some less-than-stellar defense from Claysburg-Kimmel.
Kosko, whose home run leading off the fifth got the Lady Cardinals to within two, reached when second baseman Rebekah Claar's throw to first on a routine grounder to second was in the dirt and couldn't be picked by first baseman Madison Knisley.
Lundy followed with a ground ball right at shortstop Emily Claar. But Claar tried to get Kosko at second, and Kosko beat the throw putting the tying run at first.
"She (Kosko) started the rally in the seventh inning getting on base," DCC manager George Heigel said. "Then she slid hard into second base and avoided that force out at second. Speed is an interesting aspect in softball. If you have it, it is awesome. We don't have a whole lot of speed on this team. She is a key. She is our eight batter, and she is batting .440 and has I think four home runs. We are happy with her."
After Shay Gulvas popped out to right, Sickeri lofted a ball deep enough to center to allow Kosko to tag and go to third, and Lundy, the all-important run, moved to second when the throw inexplicably went to third.
That brought up Wruble, who quickly fell behind 0-2 before poking the single to tie the game.
"I was quite surprised they didn't put her on base," Heigel said. "Two outs, runners on second and third, anybody in District 9 would have known to put her on base. I couldn't have asked to have a better situation. She is the right person. These last four years she has been a clutch player. Boy, she clutched it up there. It was a great thing. It seemed like all the girls felt like she was going to do it. The coaches did too."
DCC led 2-0 early after a two-run third inning that featured an RBI single by Sickeri and a run-producing double to right-center by Wruble.
Claysburg-Kimmel got a run back in the fourth thanks in part to an error by pitcher Morgan Tyler, who replaced Wruble to start the inning after Wruble had tossed three scoreless frames.
After a one-out walk to Haleigh Reed, Corryne Weyant hit a comebacker to the circle. Tyler elected to try to get the lead runner at second, but her throw was wide and low going into center field allowing Reed to race to third.
The Lady Bulldogs then scored a run when Weyant tried to steal second and DCC elected to throw her out while allowing Reed to score.
Claysburg-Kimmel then needed just one big swing in the fifth to take the lead.
After the Lady Bulldogs loaded the bases with one out on a walk, an infield single, a fielder's choice and a single, Tyler got Jazmin Kennedy to foul out to the catcher Mia Meholick.
That brought up left-handed hitting catcher Harleigh Cavender, who came into the game with seven home runs. Cavender made it eight homers when she took a Tyler offering and hit a line-drive home run the other way to left field to put Claysburg-Kimmel ahead, 5-2.
Kosko got one of those runs back in the bottom of the inning when she led off with a home run to left.
"That was big," Heigel said. "Especially when were struggling a little bit at the plate. She squared one up."
Tyler kept the deficit at two by working around a leadoff single in the sixth and a two-out single in the seventh.
She then had to work out of two more jams in extra innings standing a runner at second after a two-out double in the eighth by Knisley and then leaving the bases loaded in the ninth following a pair of two-out singles and an intentional walk. To end the ninth, she got Reed to pop out to Sicekri, the third baseman.
"I think she got stronger as the game went on there," Heigel said. "I still think it is effective to go three (innings) and four and split the game up. They (Tyler and Wruble) are two totally different pitchers. I thought as the game went on, she (Tyler) was working ahead in the count. She was throwing strikes at the end a lot more efficiently than she was in the beginning of the game. I think that was the key. I think she could have gone another three or four innings easy."
Lundy then got things started in the bottom of the ninth with a single to left, and Shay Gulvas put down a bunt that Cavender, the catcher, decided to play rather than let go foul. Gulvas beat the wrap at first putting runners at first and second for Sickeri, the freshman who came into the game hitting over .600.
DCC will take on the winner of Friday's quarterfinal game between Clarion and West Greene. That game was slated for 2 p.m. Thursday at Slippery Rock but was postponed to Friday when the field at The Rock was deemed unplayable. It is DCC's third trip to the PIAA Class 1A semifinals in the past four years with the Lady Cardinals having lost to West Greene in the semifinals in 2016 and 2017. The semifinal game is scheduled for Monday, June 11.
"That has been our goal," Heigel said. "I haven't danced around that all year. That has been our goal. We won a district championship. That was a nice thing. That was one of our goals. That was the start of our goals. But I told the girls, mid-June you will be playing DuBois Central softball, plan on playing mid-June softball. We are going to be in mid-June my next week, and I think we have a chance. We have a chance."
DUBOIS CENTRAL CATHOLIC 6, CLAYSBURG-KIMMEL 5, 9 INNINGS
Score by Innings
Claysburg-Kimmel 000 140 000 – 5
DuBois Cent. Cath. 002 010 201 – 6
CLAYSBURG-KIMMEL – 5
Emily Claar ss 5120, Jazmin Kennedy rf 5020, Harleigh Cavender c 4124, Haileigh Reed 3b 4100, Correyne Weyant 4010, Madison Knisley 1b 4010, Bailey Garver pr 0000, Madison Frye dp 2000, Olivia Bushore p 0000, Rebeka Claar 2b 4110, Megan Hartman cf 3100, Sierra Walters ph 1000. Totals 36-5-9-4.
DCC – 6
Shay Gulvas ss 5010, Avery Sickeri 3b 5122, Ashley Wruble p/2b 3023, Mia Meholick c 3010, Carley Semancik rf 4000, Alyssa Bittner 1b 4000, Maia Cogley 2b/lf 4000, Jordy Kosko cf 3321, Shyanne Lundy dp 4220, Gabby Sabatose lf 0000, Morgan Tyler p 0000. Totals 35-6-10-6.
LOB: Claysburg-Kimmel 7. DCC 8. Errors: Claysburg-Kimmel 1. DCC 2. 2B: Knisley. Wruble. HR: Cavender (3 on 2 outs in 5th). Kosko (0 on 0 outs in 5th) SB: Kosko. CS: Weyant. Kosko.
PITCHING
Claysburg-Kimmel
Olivia Bushore 8 IP, 10 H, 6 R, 4 ER, 3 BB, 5 K
Bushore pitched to three batters in the ninth
DCC
Ashley Wruble 3 IP, 1 H, 0 R, 0 ER, 1 BB, 1 K
Morgan Tyler 6 IP, 8 H, 5 R, 4 ER, 3 BB, 8 K
Totals: 9 IP, 9 H, 5 R, 4 ER, 4 BB, 9 K
Winning pitcher: Morgan Tyler
Losing pitcher: Olivia Bushore