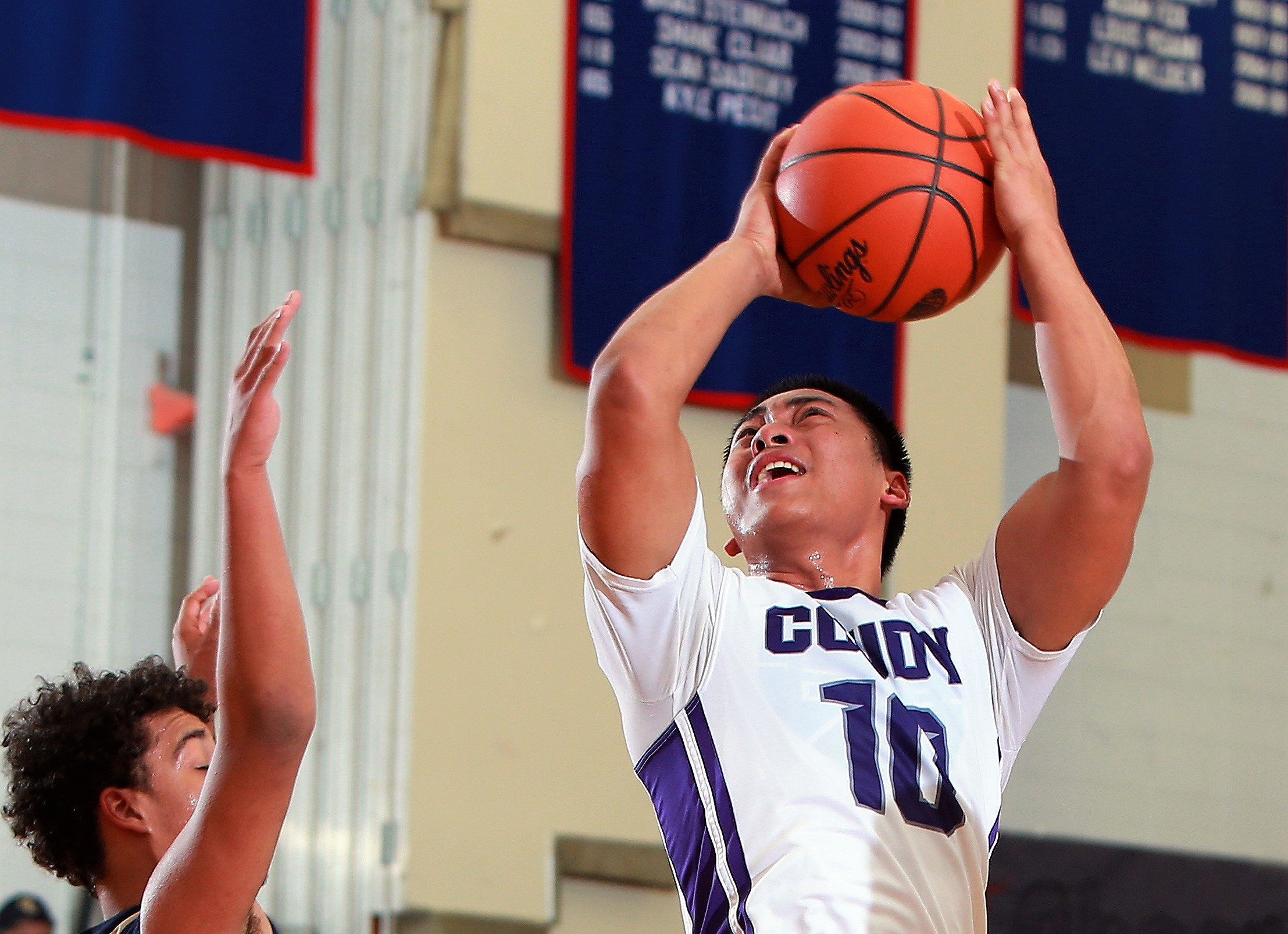 ST. MARYS, Pa. – Zach Layag scored 14 of his game-high 22 points in the fourth quarter to help top-seeded Coudersport pull away from fourth-seeded Clarion-Limestone, 69-57, in the District 9 Class 2A semifinals at St. Marys High School.
(Cover photo of Zach Layag. Photo by Paul Burdick. Check out more of Burdick's work here)
The Falcons (23-0), who hadn't played in 18 days, led by seven, 50-43, going to the fourth quarter after being up three, 32-29, at halftime.
For more District 9 recaps from Tuesday, click here
But things didn't look good for Coudy early in the fourth with leading-scorer Jared Green hobbled by an ankle injury, and they didn't get any better when another starter, Aaron Wolfinger, was ejected by referee Kevin Teribery for making contact with Teribery on his way to the bench after being whistled for his fourth foul.
There was some confusion on whether Wolfinger was ejected from the game, as he immediately went to the locker room before game manager Bud Brennan brought him back to the bench a few minutes later. It appears that a player in high school basketball who has been ejected cannot go to the locker room on his own and must be accompanied by either a coach or administrator or remain on the bench. If Wolfinger's ejection is upheld, and there may not even be an appeals process in the PIAA, he would be ineligible for Saturday's title game against either Brockway or Ridgway.
But with things looking on the downswing for Coudy, Layag stepped to the forefront hitting three of the Falcons four field goals in the fourth quarter while also going 8 of 9 from the free-throw line including hitting his final eight charity shots.
Free-throw shooting was big for Coudersport with the Falcons going 26 of 33 from the line on the night compared to 8 of 13 for C-L. Coudy was 11 of 15 from the free-throw line in the fourth quarter.
C-L (18-7) dug itself a hole early falling behind 17-7 after one quarter with Green scoring seven of his 14 points in the first quarter and Owen Chambers adding five of his 18.
But the Lions roared back in the second quarter aided in part by Green rolling his ankle.
Dan Callen scored nine of his team-high 21 points in the quarter. Ian Callen added six points in the quarter and finished with 12. Deion Deas also had 13 points for C-L.
Coudy righted the ship in the third quarter with Chambers scoring five points and Green and Wolfinger each adding four.
Coudersport will player either Brockway or Ridgway in the title game Saturday at Clarion University, while C-L meets the loser of the Brockway/Ridgway game in the winner-moves-on, loser-goes-home consolation game at a site, time and date to be announced.
COUDERSPORT 69, CLARION-LIMESTONE 57
Score by Quarters
Clar.-Limestone 7 22 14 14 – 57
Coudersport 17 15 18 19 – 69
CLARION-LIMESTONE – 57
Deion Deas 4 2-4 13, Julian Laugand 0 0-0 0, Sam Leadbetter 0 1-2 1, Ian Callen 5 2-2 12, Kyle Kerle 0 0-0 0, Chris Callen-Deal 1 0-0 2, Christian Smith 3 0-0 8, Dan Callen 9 3-5 21. Totals 22 8-13 57.
COUDERSPORT – 69
Zach Layag 6 8-9 22, Aaron Wolfinger 1 6-6 8, Owen Chambers 4 7-10 18, David Rigas 0 0-2 0, Derek Keglovits 2 0-0 4, Jared Green 4 5-6 14, Hunter Ricke 1 0-0 3. Totals 18 26-33 69.
Three-pointers: C-L 5 (Deas 3, Smith 2). Coudersport 7 (Chambers 3, Layag 2, Green, Ricke).