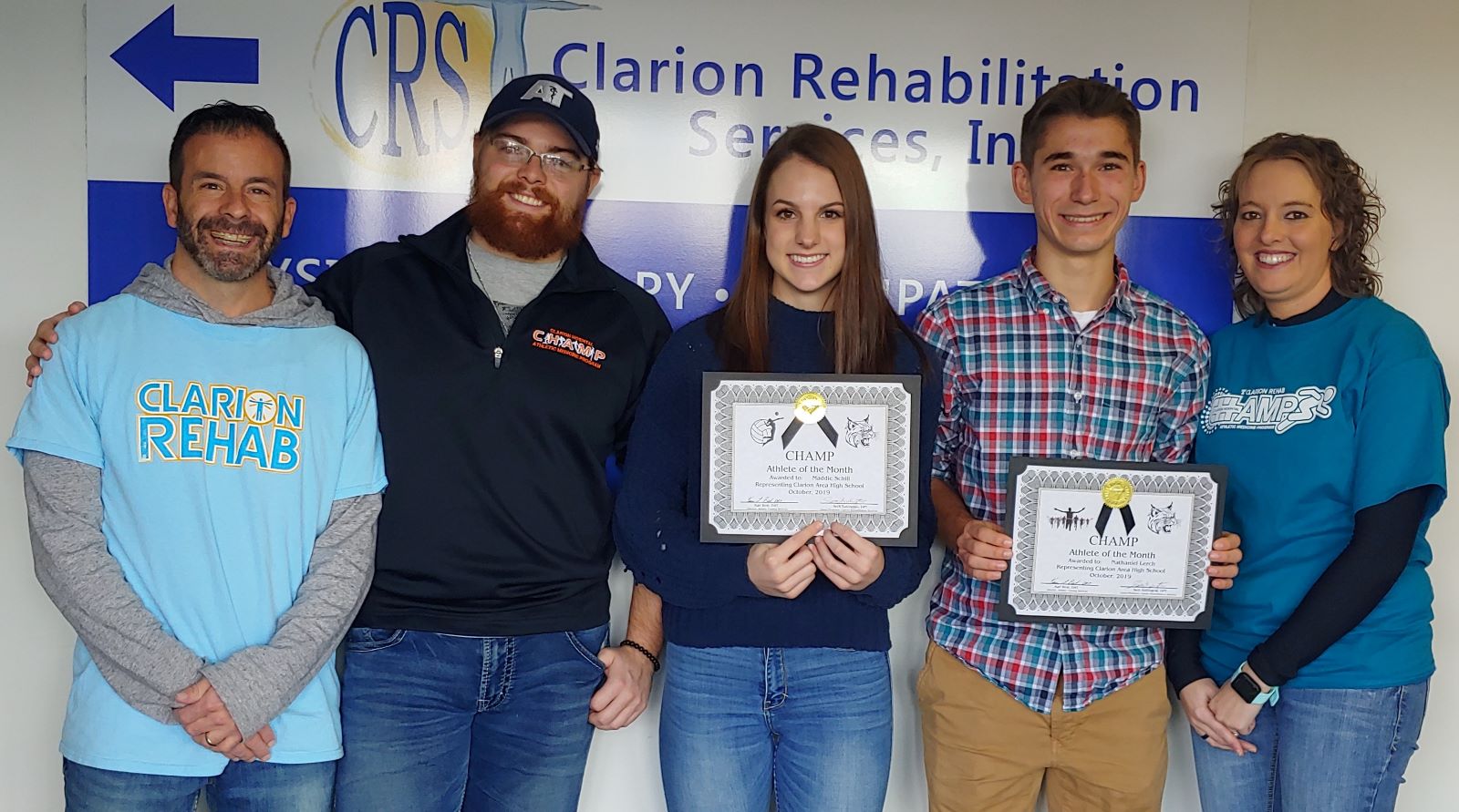 Editor's Note: The Clarion Rehab/CHAMP Athlete of the Month is chosen by the staff at Clarion Rehab/CHAMP
CLARION, Pa. – Clarion's Nathaniel Lerch and Maddie Schill were chosen as the Co-October Clarion Rehab Services and CHAMP (Clarion Hospital Athletic Medicine Program) Student-Athletes of the Month.
(Photo (from left): Seth Babington, Owner of Clarion Rehab; Steve Seifert, Clarion Athletic Trainer; Maddie Schill; Nathaniel Lerch; Kari Best, Director of Sports Medicine. Submitted photo)
Lerch is a senior at Clarion where he participates in cross country and track. He is also a member of the marching band, concert band, district and regional band, district jazz band, pit band, pep band, Student Council and National Honors Society. Outside of school he enjoys swimming, running, playing soccer, traveling, and playing the piano and violin. Nathaniel works as a dinner pianist and a soccer referee.
Nathaniel's future plans are to attend an undecided university to become a Veterinarian.
"Winning the District 9 (individual) champion is my favorite sports memory," Lerch said. "I finally found my summer training showing itself in my races. It was a grueling finish. So, when I won, everyone went crazy and it was awesome."
According to Lerch, the most inspiring people in his life are his mom and dad.
"Mom has inspired me to run despite whatever physical pain I experience, and dad has inspired me to shoot for the stars and expose myself as much as possible," Lerch said.
Lerch also said that running may not always seem rewarding but it always defines who you are.
"Persevering through pain in order to refine your abilities demonstrates true grit and dedication," Lerch said.
Schill is also a senior at Clarion where she was a member of the District 9 Class 1A champion and PIAA semifinal volleyball team.
She is also a member of the Student Council, Treasurer of National Honor Society, and participates in the school musicals. Outside of school, she enjoys hanging out with friends and family, traveling, hiking, skiing, participating in club volleyball, and attending mission trips. Maddie works at Pizza Pub.
Her future plans are to attend Duquesne University to become a Physical Therapist.
"My favorite sports memory is making to the state semifinals with my team and seeing the team grow through the season," Schill said.
The most inspiring people to her are the people she met in Jamaica on her mission trip.
"They are the happiest people I've ever met even though they have nothing," Schill said.
Both Lerch and Schill received gift certificates from the Pizza Pub and DE Sports, Inc.
For more information about CHAMP Student-Athlete of the Month please go to clarionrehab.com.