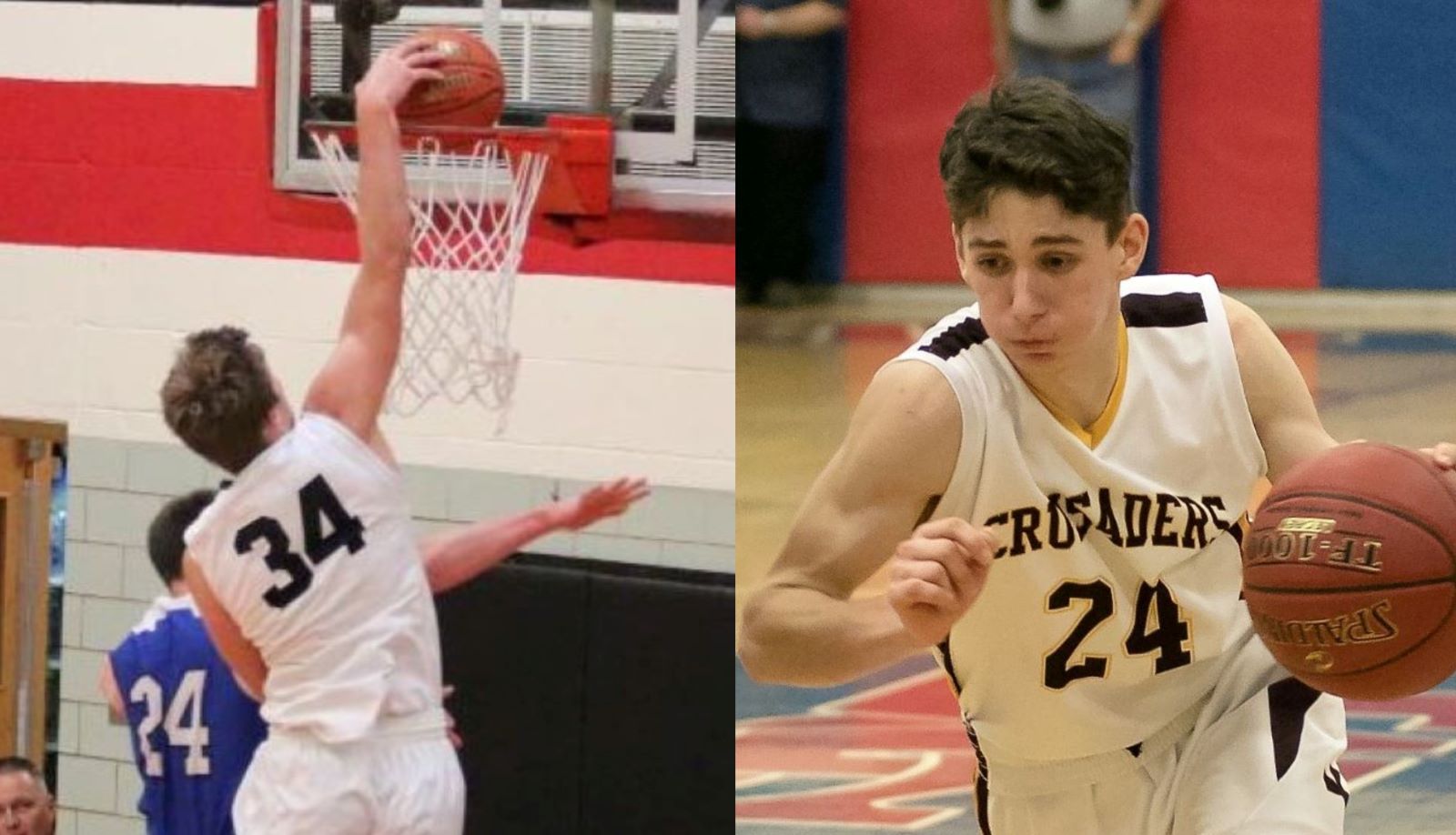 DUBOIS, Pa.  – First place in the D9 League is at stake when DuBois hosts Elk County Catholic Wednesday night, and D9Sports.com has all the action covered on Laurel Eye Clinic High School Basketball.
(Photo: Chase Husted of DuBois (left) and Regis Wortman  of ECC (right) lead their teams in action Wednesday night on Laurel Eye Clinic High School Basketball on D9Sports.com)
Tip-off is set for approximately 7:30 p.m. or 15 to 20 minutes after the junior varsity game. The Kerle Tire Pregame Show from DuBois High School will start at 7 p.m.
Chris Rossetti and Jess Quinn will have the call of the game with Jared Bakaysa making an appearance as well.
Rossetti and Quinn then have another edition of The Coach and The Scribe powered by the Rehab Centre with six locations serving you including in Clarion, Brookville and Kittanning. The Rehab Centre, chiropractors caring for health.
ECC enters the game unbeaten at 17-0 overall and 6-0 in the D9 League. DuBois is 14-2 overall and 4-1 in D9 League action.
The Crusaders won the first meeting this season, 47-40, Dec. 17, in St. Marys with Regis Wortman scoring 20 points and Carter Lindemuth 10 for ECC. Chase Husted had 16 points to pace DuBois.
ECC is coming off a 50-32 win over Johnsonburg Saturday in a game it trailed by five, 21-16, at halftime. But a 22-0 run at the start of the second half helped the Crusaders clinch their seventh straight AML North crown (ECC has dual membership in the AML and D9 League) and their 13th AML North title in the 16 years of the AML divisional format.
DuBois picked up a 68-37 win Monday over visiting Bellefonte and has won seven in a row since a 57-56 loss to Hollidaysburg Jan. 6.
ECC is a strong defensive team allowing just 35.2 ppg while averaging 56.6 ppg.
Regis Wortman is the leading scorer at 14.3 ppg with Mark Kraus, an outside threat, adding 10.2 ppg. After that, the scoring is balanced and includes Leo Gregory (6.2 ppg), Will Uberti (5.7 ppg) and Carter Lindemuth (5.6 ppg).
Husted, a 6-foot-8 senior, leads the DuBois charge by averaging a double-double of 17.3 ppg and 12.2 rpg. He also blocks nearly two shots per game and is shooting right around 63 percent from the floor.
Also playing a key role for the Beavers is Lennon Lindholm, who averages 13.1 ppg, while Nick Felix chips in 8.1 ppg. Other key players include Brady Woodward and Nick Farrell.
Special sponsors for tonight's game include:
DuBois Dermatology and Cosmetics
Swift Kennedy and Company in DuBois
LaBue Printing in DuBois
The following local sponsors have also signed on to make this year's Laurel Eye Clinic Games of the Week possible all season long: