DUBOIS, Pa. – Jared Lomenski's home run over the 333-foot sign in center field leading off the top of the seventh broke a tie game and gave Moniteau a come-from-behind 5-4 win over Coudersport in the District 9 Class 2A baseball title game Tuesday at Showers Field in DuBois.
"I have no clue (what kind of pitch I hit)," Lominski said. "All I knew was before that I was 0-for-3, and my coaches told me 'you have to stay back, you have to push it to the right side.' That's what I did, and it happened to be a home run to send us over the top."
The senior catcher said he realized he had hit the ball out of the park as he rounded second base.
"I realized right about the point almost touching second when the kid (centerfielder Eli Ayers) put up his hand," Lominski said. "It felt pretty good. I was pretty excited. I remember a lot of screaming and shaking my coaches hand. But other than that, not too much."
Watch Lominski's postgame interview.
Early on, it didn't look like Lominski or any Moniteau hitter was going to be the hero, as the Warriors well behind 4-0 after two innings thanks in large part to a three-run first by the Falcons who scored twice on a Kullen Crosby triple to right and added a third run on a single by Jackson Glover. In the second, Kolby VanWhy's two-out double to center made it 4-0.
But Moniteau took advantage of some Coudersport generosity in the third to tie the game.
The Falcons knuckleball pitcher Blake Burgett walked two batters in the inning and Coudersport's defense committed three errors.
Gage Neal nearly tied the game with what would have been a grand slam to the short porch in left field only to see the ball come up just short off the wall.
Lee DeMatteis scored easily from third, but it looked like the Warriors had blundered on the base paths when Hunter Fitzingo stopped at third and Chance Nagy was also at third.
Fitzingo, forced to break for the plate, did so and ended up scoring when Crosby, the third baseman, threw wild to the plate.
"It was a knuckleball," Neal said. "I got it timed up pretty well. It seemed to boost the confidence of the rest of the team."
Watch Neal's postgame interview.
Nagy scored when Lominski grounded out to third, and Neal came home on a wild pitch to tie the game.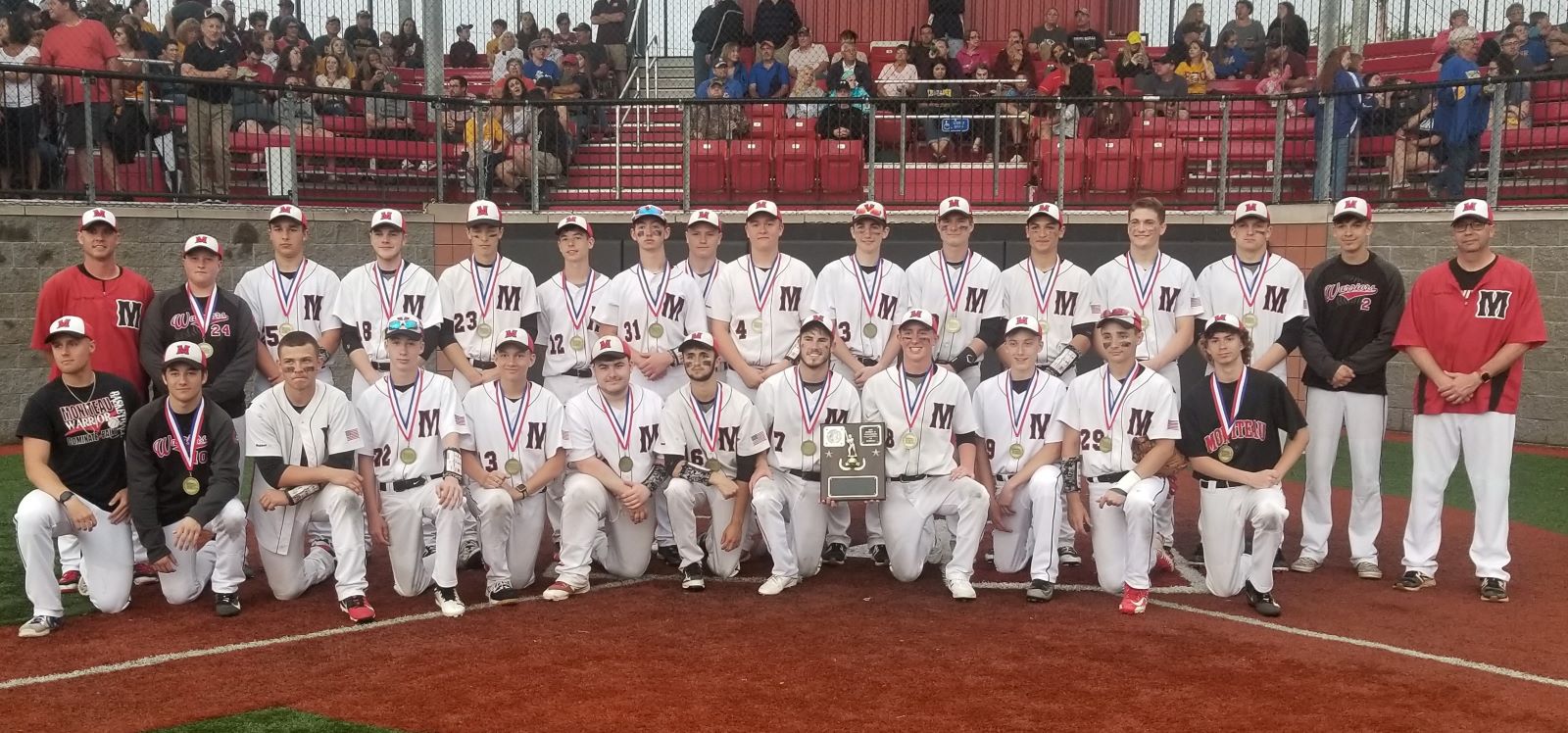 With the game tied, Fitzingo settled down on the mound. After the VanWhy RBI double in the second, he retired six in a row and 16 of the final 19 batters he faced.
"I told Hunter before the game, positivity is what is going to bring you through this game," Lominski said. "It's going to be a tough game. Both teams are very quality teams. Down 3-0, I could see he was being a little laid back. I told him stay up. That's what happened. He came out and threw harder. He realized this is it. We've got this."
The middle of the game was stopped on three different occasions because of either rain or lightning with the longest delay being a 20-plus minute delay after a bolt of lightning came right over the field and knocked out the power – some power later came back on but the lights and scoreboard never did.
"It affected (us) a little," Lominski said of the delays. "But our momentum was so strong I don't think anything was stopping us at that point."
Both teams had golden opportunities to tie the game in the middle innings.
Moniteau's chance came in the fourth when Fitzingo led off with a walk and went to third on a one-out double by Neal, who was 2-for-4 in the game with a pair of doubles and a run scored.
Following the Neal double, VanWhy relieved Burgett and got out of the jam by getting Lominski to tap back to the mound and Tyler McFadden to ground out to third.
The Warriors had another chance in the fifth when Mason Mershimer reached on an error leading off and moved to second on a wild pitch. But Mershimer tried to go to third on a grounder to shortstop Owen Chambers, and Chambers tossed to Crosby at third to erase the lead runner.
Coudersport's golden chance came in the bottom of the fifth when VanWhy, who was 3-for-3 with two double, a walk and a run scored, doubled to left leading off the inning.
Ayers put down a sacrifice bunt to move VanWhy to third, but Fitzingo struck out Crosby and Glover to end the threat.
Those three outs after the double started a string of eight in a row set down by Fitzingo, whose only blemish the rest of the game was a two-out walk to VanWhy in the seventh that didn't matter when he struck out Ayers to win the championship, Moniteau's second consecutive crown.
"Back-to-back years means everything," Lominski said. "This is our legacy. We wanted to carry this on. That is what we did."
Moniteau's 2018 title came in Class 3A as part of the District 5-9 subregion. The title this season marks the third in four years for the Warriors, who also won the Class 2A crown in 2016.
"It's awesome getting two in a row with pretty much the same group as last year," Neal said. "It's pretty special. This team feels like a family."
Moniteau (17-5) earns an automatic berth into the PIAA playoffs where it will face the WPIAL runner-up, either Seton-LaSalle or Serra Catholic. The WPIAL title game is set for 2:30 p.m. Wednesday at Wild Things Park in Washington, Pa. The first round of the PIAA playoffs is Monday, June 3.
Coudersport's season isn't over yet, although the Falcons' path to the PIAA playoffs becomes exceedingly difficult.
Coudy (15-4), which saw its six-game win streak snapped, will play off with the runners-up from District 4 and District 6 to decide a PIAA playoff berth.
The first game, between Coudersport and the District 6 runner-up, was supposed to be held Wednesday at Showers Field. But the D6 title game between West Shamokin and Bishop Guilfoyle was postponed until Wednesday meaning the game between Coudersport and the West Shamokin/Bishop Guilfoyle loser won't be played now until Thursday, most likely in DuBois. If the Falcons win that game, they would then have to play the District 4 runner-up, either South Williamsport or Sayre, which was also postponed until Wednesday. If Coudersport is playing in that game, it will also be in DuBois.
MONITEAU 5, COUDERSPORT 4
Score by Innings
Moniteau 004 000 1 – 5
Coudersport 310 000 0 – 4
MONITEAU – 5
Hunter Fitzingo p 2100, Chance Nagy cf 4110, Gage Neal ss 4121, Jared Lominski c 4112, Tyler McFadden 1n 4010, Mason Mershimer dh 4000, Dean Hershey 3b 0000, Tanner Williams 2b 2000, Lake Pry cr/ph 1000, Nathan Tack rf 3010, Lee DeMatteis lf 2100. Totals 30-5-6-3.
COUDERSPORT – 4
Owen Chambers 1b/ss 4000, Kolby VanWhy ss/p 3131, Eli Ayers cf 3110, Kullen Crosby 3b 3112, Jackson Glover 2b 3011, AJ Redmond dh 3000, Shea Osgood rf 0000, Dillon Keglovits cr/rf 0100, Jacob Pitcher lf/rf 3000, Blake Burgett p/lf 2000, Hunter Redmond c 3010. Totals 27-4-7-4.
LOB: Moniteau 8. Coudersport 5. Errors: Moniteau 0. Coudersport 4. 2B: Neal (2). VanWhy (2). 3B: Crosby. HR: Lominksi. SB: McFadden, Keglovits SAC: Ayers. HBP: Burgett by Fitzingo.
PITCHING
Moniteau
Hunter Fitzingo 7 IP, 7 H, 4 R, 4 ER, 1 BB, 10 K, 1 HP
Coudersport
Blake Burgett 3 ⅓ IP, 5 H, 4 R, 3 ER, 4 BB, 3 K
Kolby VanWhy 3 ⅔ IP, 1 H, 1 R, 1 ER, 0 BB, 4 K
TOTALS: 7 IP, 6 H, 5 R, 4 ER, 4 BB, 7 K
Winning pitcher: Hunter Fitzingo
Losing pitcher: Kolby VanWhy