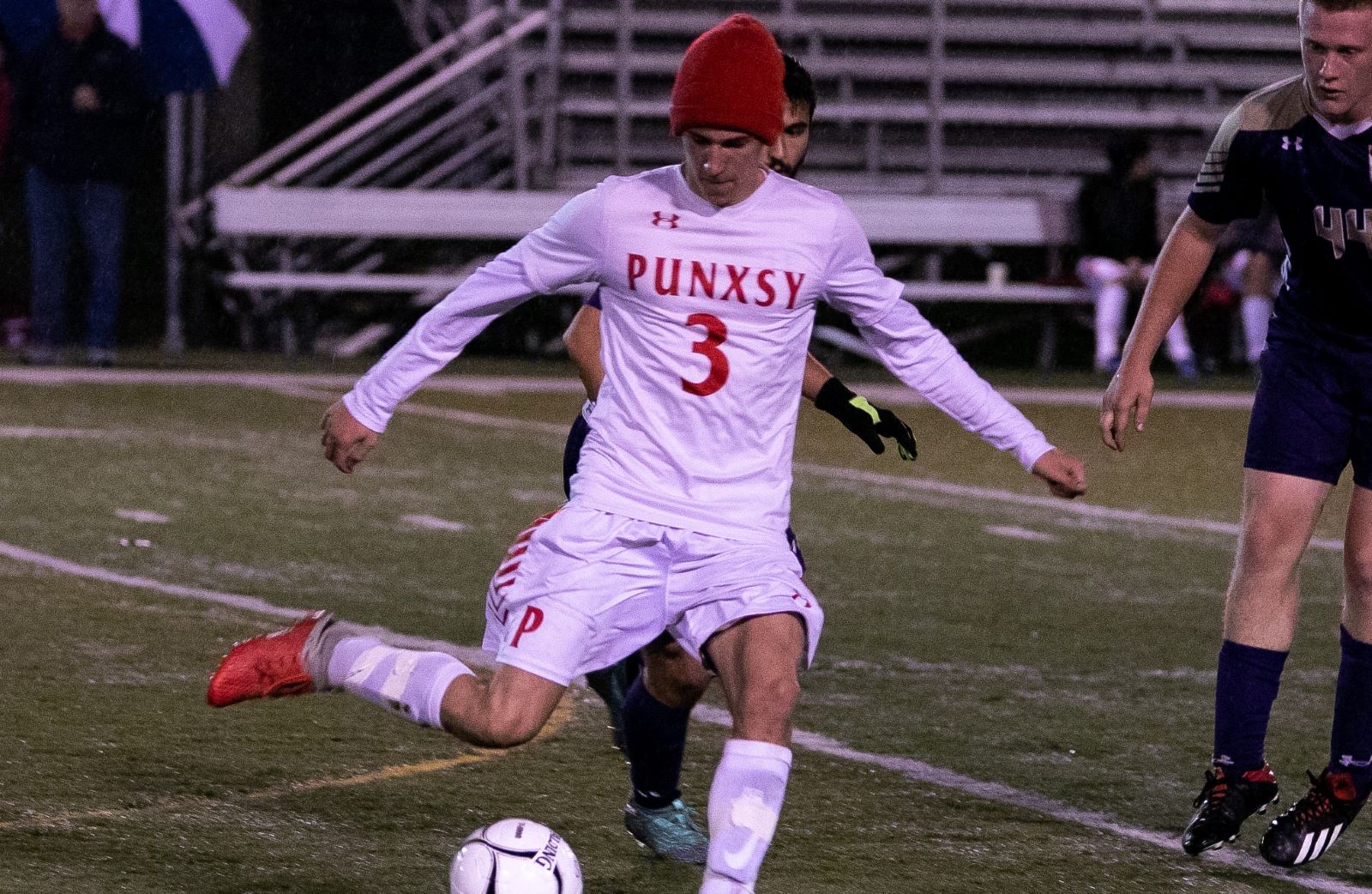 BOYS' SOCCER
(Photo of Vincent Gigliotti of Punxsutawney, whose overtime winner sent the Chucks into the PIAA Quarterfinals. Photo by Jared Bakaysa of JB Graphics. See more of Bakaysa's work here)
PUNXSUTAWNEY 1, SOMERSET 0, OVERTIME
WINDBER, Pa.  – Vincent Gigliotti scored with 12:55 left in overtime to lift District 9 champion Punxsutawney to a 1-0 win over District 5 champion Somerset at Windber High School in the opening round of the PIAA Class 2A tournament.
The Chucks will play WPIAL champion Quaker Valley in the quarterfinals Saturday at a time and place to be announced.
SPRINGDALE 3, BROCKWAY 0
HYDE, Pa. – A pair of goals in the second half put the game out of reach for District 9 Champion Brockway as they fell to WPIAL third-place Springdale, 3-0, in the PIAA Class 1A first round at Clearfield High School.
Springdale got on the board first with 11 minutes left in the first half on a goal from Michael Mitchell, who drove from the right side to the middle and got a shot up over the reach of Brockway keeper, Lewis Painter.
Six minutes into the second half, Alexander Barch netted a goal from about 15 yards out to help extend the Dynamos lead.
Mitchell put the game away five minutes later with a shot from the right sideline that just snuck by Painter.
Painter made eight saves on the night for Brockway.
FRANKLIN REGIONAL 6, BRADFORD 2
WEXFORD, Pa. – Anthony DiFalco scored twice to lead WPIAL champion Franklin Regional to a 6-2 win over District 9 champion Bradford in the opening round of the PIAA Class 3A tournament at North Allegheny High School.
Both of DiFalco's goals came in the first half, including the opener on a penalty kick, as the Panthers led 3-0 at halftime.
Alex Marrone got Bradford back in the game early in the second half with a header goal, but Franklin Regional scored three quick goals after that to thwart any comeback attempt with Blake Cooper, Garret Beaver and Colton Hudson scoring.
Isaiah Pingie rounded out the scoring for Bradford when he scored on a penalty kick late to set the final score.
GIRLS' SOCCER
GREENSBURG CENTRAL CATHOLIC 8, BROCKWAY 3
HYDE, Pa. – Samantha Nemeth and Sara Felder recorded hat tricks for WPIAL runner-up Greensburg Central Catholic in an 8-3 win over District 9 champion Brockway in the first round of the PIAA Class 1A playoffs at Clearfield High School.
Nemeth scored four goals in the game with two in the first half and two in the second while Felder scored all three goals in the first half.
Greensburg got on the board first with Nemeth and Sam Felder scoring back-to-back in a span of three minutes to go up 2-0.
Morrigan Decker scored her first of two goals in the first half to cut the deficit to 2-1.
The Centurions answered back scoring three straight goals, one from Nemeth and two from Sara Felder to go up 5-1.
Decker scored again to make it 5-2 before Felder added her hat-trick goal to make it 6-2 that would stick through halftime.
Chanell Britten used a free kick in the right corner to get the ball to Morgan Lindemuth, who headed the ball in to cut the deficit to 6-3 with 17 minutes left in the game.
The Centurions answered right back less than a minute later when Nemeth netted her third goal of the game.
Nemeth added one more goal with six minutes to put the game out of reach at 8-3.
BALD EAGLE AREA 2, KARNS CITY 1
BROCKWAY, Pa. – Despite a second-half goal from McKenna Martin, District 9 champion Karns City dropped a 2-1 decision to District 6 champion Bald Eagle Area at Varischetti Field in Brockway.
The Lady Gremlins fell behind 2-0 at halftime, and despite a strong second-half push, couldn't rally to tie the game.