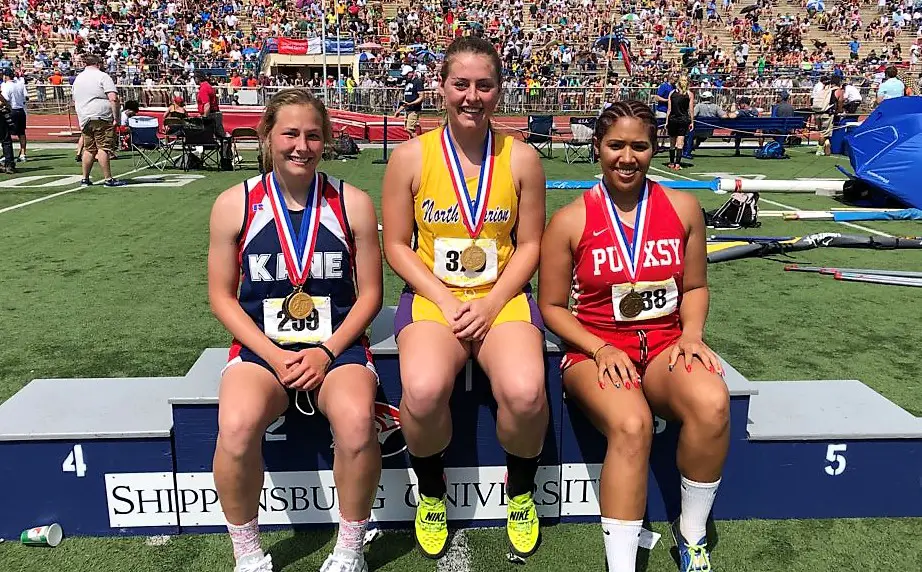 SHIPPENSBURG, Pa. – North Clarion's Tori Obenrader concluded one of the greatest high school careers by a District 9 female athlete by winning the PIAA Girls' Class 2A shot put title Saturday at Shippensburg University.
(Photo: Tori Obenrader (center) won the PIAA 2A Girls' Shot Put Title. She was joined on the podium in the event by Kane's Trinity Clark (6th) and Punxsutawney's Sam Dyson (7th))
Full Results (Once you click the link, scroll to the bottom)
Obenrader, an all-state performer in volleyball, basketball (where she was a 2,000-point career score) and track and field, was in third place going into her final throw but heaved the shot put 45-feet, 5 ¾ inches to win the title over Greenwood's Mallory Kauffman (44-5 ¾).
Two additional District 9 athletes joined Obenrader on the podium in the event with Kane's Trinity Clark, who Friday won the javelin title, finishing sixth with a throw of 39-11 ¾ and Punxsutawney's Sam Dyson taking seventh with a toss of 39-2 ½. Coudersport's Lanie Cobb gave D9 four shot putters in the top 13 taking 13 with a toss of 36-7.
Moniteau sophomore Kendall Grossman finished second in the state in 2A in the pole vault going over the bar at 11-feet, 6-inches, while Oswayo Valley's Sara McKean was fifth in the triple jump with a leap of 37-feet 1 ½-inches and Karns City's Rebecca Pennington was seventh in the 3,200-meter run in a time of 11:08.33.
McKean just missed qualifying for the finals in the 200-meter dash finishing fifth in her semifinal heat in a time of 26.12.
A pair of D9 athletes also saw their seasons end in the 100-meter hurdles semifinals with Brooke Quairiere of Brookville (16.28) and Emma Fox of A-C Valley (16.29) both finishing eighth in their respective semifinal heats.
Kane was the highest scoring girls' team in 2A for District finishing ninth with 17 points. Neumann-Goretti won the state title with 86 points. Moniteau and Punxsutawney both tied with Marian Catholic for 19th with 12 points, and thanks to Obenrader, North Clarion tied with Brownsville and Richland for 22nd with 10 points.