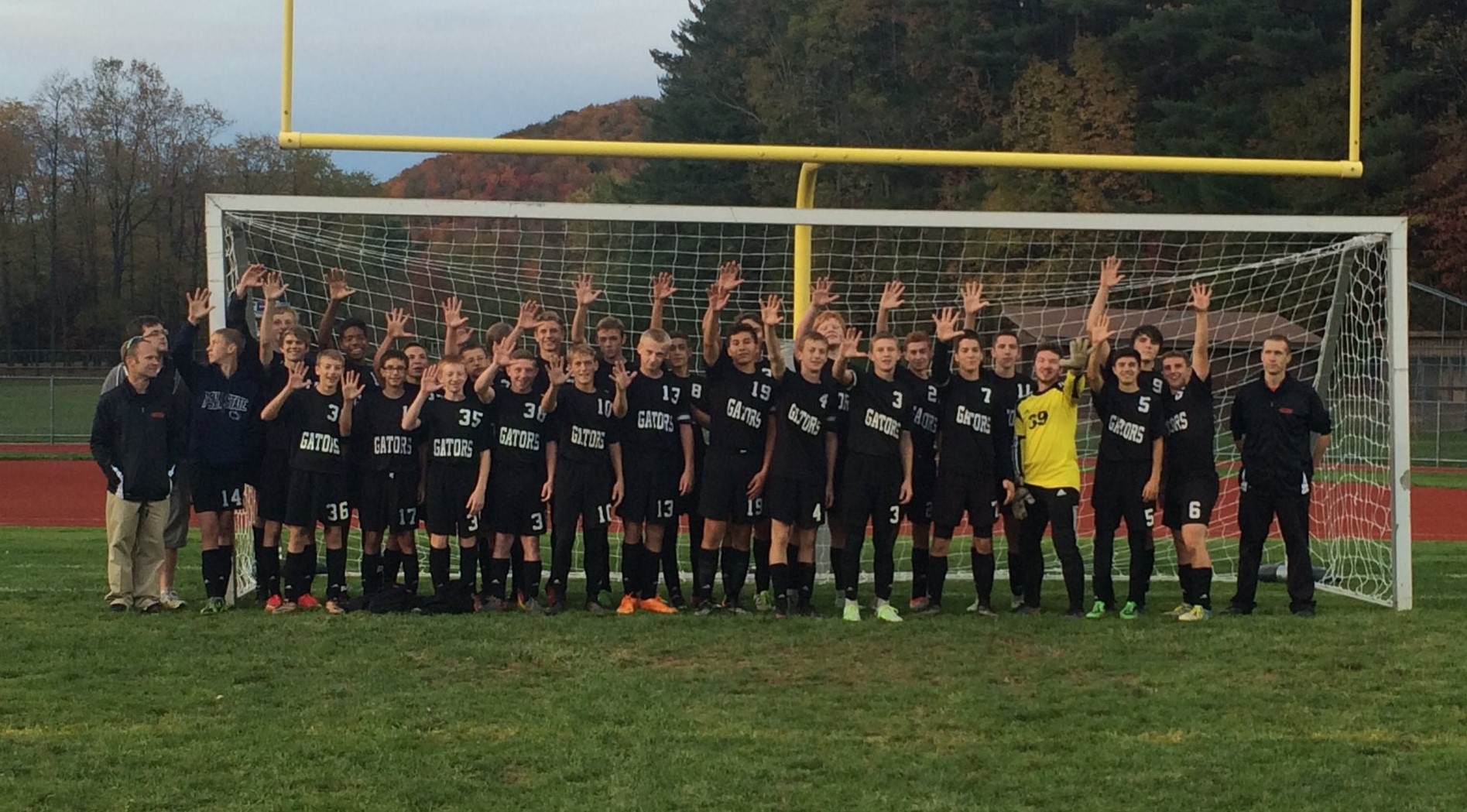 BOYS' SOCCER
PORT ALLEGANY 7, COUDERSPORT 5
COUDERSPORT, Pa. – Scoring four straight goals out of halftime, Port Allegany built on a one-goal lead at the break on its way to claiming the UAVSL North Division crown with a 7-5 win at Coudersport.
The Gators, thanks in part to a pair of MacKenzie Elliott goals, led 3-2 at halftime.
Then, after the break, Brandon McCaslin, David Talkington, Payton Caden and Calvin Burelson each scored to push the advantage to 7-2.
Coudersport fought back against the Gators backups tossing in three goals but got no closer once Port Allegany's starters went back in.
RIDGWAY 8, SMETHPORT 0
RIDGWAY, Pa. – Jake Sheldon and Logen McClain each had hat tricks, which Sheldon scoring four times and McClain three, to give Ridgway an 8-0 win over visiting Smethport.
Drew Ackers also scored for the Elkers.
ST. MARYS 6, KANE 2
KANE, Pa. – Nathan Schneider scored twice to help visiting St. Marys to a 6-2 win at Kane.
Noah Crissman, Travis Huff, Nobou Elder and Matt Krull also scored for the Dutch.
Bryce Shreckengost scored twice for Kane.
GIRLS' SOCCER
KANE 3, FOREST AREA 1
KANE, Pa. – Behind a pair of Mackenzie Thayer goals, Kane topped visiting Forest Area, 3-1.
Caitlin O'Hara also scored for the Lady Wolves.
BRADFORD 2, CORRY 1
CORRY, Pa. – Payton Kloss had a goal and an assist to lead visiting Bradford to a 2-1 win at Corry.
Brooke McGriff also scored for the Lady Owls with Regan Johnson adding a helper on the Kloss goal.
CLARION 5, KEYSTONE 1
KNOX, Pa. – Forest Mills scored three goals and added an assist to lead visiting Clarion to a 5-1 win at Keystone.
Alexa Kriebel and Megan Stahlman also scored for the Lady Cats with Lauren Troutman, Hannah Phillips, Courtney Schonbachler and Lindsey Kemmer adding helpers.
Rachel Keth scored an unassisted goal for Keystone.
VOLLEYBALL
JOHNSONBURG 3, BROCKWAY 2
BROCKWAY, Pa. – Visiting Johnsonburg rallied from a two-set deficit to beat upset-minded Brockway, 3-2 (22-25, 20-25, 25-22, 25-13, 15-6).
Lindsey Kocjancic led the Ramettes with 14 kills, three digs and 2 aces, Jensen Furlong added 12 kills and Emily Dillinger six kills. Also for Johnsonburg, Rylie Casilio had six set assists, two digs and two aces, Skylar Sherry, 12 set assists, four aces and two digs, Emily Cardoni 10 set assists, Brianna Quiggle nine digs and Amanda Williams four aces.
CLARION 3, VENANGO CATHOLIC 0
OIL CITY, Pa. – Clarion used a balanced effort to beat Venango Catholic, 3-0 (25-2, 25-7, 25-8) in Oil City.
The Lady Cats scored 26 points on aces and added another 16 kills.
Alexis Constantino led the way with 15 aces, while Devon Quinn added seven aces.
Olivia Burns had a team-best four kills, and Maya Thornton, Gloria Kroh and Hailey Sintobin each added three kills. Kroh also had five set assists with Burns adding four set assists and Quinn and Kaylie Lutz three each. Burns also had a pair of digs.
ELK COUNTY CATHOLIC 3, ST. MARYS 0
ST. MARYS, Pa. – Thanks to 14 kills from Cassidy Cunningham, visiting Elk County Catholic beat crosstown rival St. Marys, 3-0 (25-22, 25-17, 25-22).
Taylor Newton added six kills and Ramsey Struble five for the Lady Crusaders who also got four blocks and six aces from Jordyn Fox.
AUSTIN 3, CAMERON COUNTY 1
EMPORIUM, Pa. – Thanks in part to the play of Jade McKiernan, Jordan Brewer and Angie Watson, Austin picked up its first win of the season with a 3-1 (19-25, 25-22, 26-24, 25-15) win at Cameron County.
McKiernan had 12 set assists for the Lady Panthers with Brewer adding three kills and eight digs and Watson four aces.
Taylor Britton led Cameron County with six kills, Alyvia McKimm added 12 set assists and Payton Bloom had five digs.
KARNS CITY 3, MONITEAU 0
WEST SUNBURY, Pa. – Behind 10 combined kills from Emily Hegedus and Mackenzie Craig, visiting Karns City swept past rival Moniteau, 3-0 (25-19, 25-13, 25-17).
Hegedus led the Lady Gremlins with six kills with Craig adding four kills and seven set assists. Brooke Moore also had seven set assists for Karns City.
COUDERSPORT 3, NORTHERN POTTER 0
ULYSSES, Pa. – Ally and EmmaRae Easton combined for 19 kills to lead visiting Coudersport to a 3-0 (25-18, 25-11, 25-17) win at Northern Potter.
Ally Easton had 10 kills, two blocks and an ace, while EmmaRae Easton added nine kills and an ace. Haley Keck ran the offense for the Lady Falcons with 32 set assists and also added two kills.
Gracie Hamilton had 14 digs, three blocks, two kills and an ace for Northern Potter with Bobby Jo Tubbs chipping in seven digs, three set assists and two aces.
A-C VALLEY 3, UNION 0
RIMERSBURG, Pa. – Kylee Eaton's 11 kills, six digs, five aces and three blocks paced a 3-0 (25-9, 25-9, 25-14) win for visiting A-C Valley over Union.
Josey Terwilliger added a kills/digs double-double with 10 kills and 19 digs, while Olivia Boocks chipped in 10 kills, four digs and two aces for the Lady Falcons. Also for A-C Valley, Emily Wetzel had 16 set assists and 12 digs and Sydney Rankin added 13 set assists, 11 digs and six aces.
BRADFORD 3, SHEFFIELD 0
SHEFFIELD, Pa. – Thanks to 13 kills, 4 blocks and an ace from Kam Piscitelli and 10 kills from Ashton McGriff, visiting Bradford swept Sheffield, 3-0 (25-18, 25-12, 25-18).
Morgan Roggenbaum ran the offense for the Lady Owls with 30 set assists and added four kills and two aces, Brinya Moffett contributed three kills and seven blocks and Bryn Manion had six kills, four set assists and two aces.
Clair Pierson had six kills for Sheffield with Rachel Lemay adding nine set assists.
DUBOIS 3, BROOKVILLE 0
BROOKVILLE, Pa. – Danessa Allison and Kelli Hoffer paced DuBois to a 3-0 (25-13, 25-11, 25-16) win at Brookville.
Allison had 10 kills for the Lady Beavers with Hoffer adding nine. Ashley McCluskey fed the duo and finished with 23 set assists, while Hoffer also had five aces. Erin Crawford added five aces of her own, and Kylee Bundy had a team-best 13 digs.
REDBANK VALLEY 3, NORTH CLARION 1
NEW BETHLEHEM, Pa. – Josie Rupp and Heather Traister made sure Redbank Valley's match at Clarion Thursday will involved a pair of unbeaten teams, as the duo helped the Lady Bulldogs shake off a slow start and beat visiting North Clarion, 3-1 (19-25, 25-15, 25-18, 25-9).
Rupps led Redbank Valley with 12 kills with Traister adding 11 kills and three blocks. Macy King contributed six kills and three aces to the win with Emily Gourley adding three kills and three blocks, Hannah Adams 17 digs and Carissa Rearick 34 set assists and three aces.
North Clarion, which became the first team to beat Redbank Valley in a set this season, got eight kills and 11 digs from Tori Obenrader, six kills, five blocks and 13 digs from Cassie Wagner, 15 digs and four aces from Abby Karg and 12 set assists from Paige Sherbine.
OTTO-ELDRED 3, SMETHPORT 0
DUKE CENTER, Pa. – Otto-Eldred used a balanced effort to sweep past visiting Smethport, 3-0 (25-17, 25-21, 25-13).
Alyssa Shelander led the Lady Terrors with eight kills and nine digs, while Camryn Thomas added six kills and four aces, Ali Cousins seven kills, four aces and 12 digs and Emily Smith 24 set assists and two aces.
It was the second win in two days for Otto-Eldred, which beat Oswayo Valley, 3-0 (25-16, 25-13, 26-24) Monday.
Smith had 36 set assists and four aces in Monday's win and went over 1,000 career assists.
Thomas led the way for the Lady Terrors with 18 kills and 13 digs with Cousins adding nine kills, seven digs and two aces.
KANE 3, CURWENSVILLE 1
KANE, Pa. – Trinity Clark's 13 kills helped Kane beat visiting Curwensville, 3-1 (25-23, 21-25, 25-16, 25-2).
Alyssa Zampogna added nine kills and Ella Marconi and Camryn Cummings had six each for the Lady Wolves.
Ashley Jordan and Hannah Buhl each had 20 set assists, and Marcie Stanish eight digs for Kane.
PUNXSUTAWNEY 3, KEYSTONE 0
KNOX, Pa. – Visiting Punxsutawney picked up a 3-0 (25-21, 26-24, 25-10) win at Keystone.
Leading the way for the home team were Mackenzie Byerley with three kills and four set assists, Kaci Weaver with two kills, Danica Hurrelbrink with four set assists and a kills and Mckenzie Hovis with two kills.
Punxsutawney stats weren't available.