Oct. 9 volleyball/soccer recaps.
(Photo: The joy of victory. Clarion celebrates beating Maplewood in an epic five-set battle Wednesday night. Photo by Kim Constantino)
VOLLEYBALL
CLARION 3, MAPLEWOOD 2
CLARION, Pa. – A monster match from Korrin Burns helped Clarion secure a 3-2 (25-23, 15-25, 23-25, 26-24, 15-13) come-from-behind victory against DIstrict 10 power Maplewood at Clarion.
Burns had 28 kills while hitting .423. She added a team-best 13 digs and also had a block.
Kait Constantino, meanwhile, chipped in 14 kills and 12 digs for the unbeaten Lady Cats who handed Maplewood just its second loss, while Maddie Schill had four kills, a team-high six blocks, three digs and two aces.
Brenna Campbell ran the offense with 42 set assists and added eight digs and three aces, KK Girvin had 12 digs and three aces, Jordan Best chipped in six digs and Aryana Girvan had four kills and a dig.
WILMINGTON 3, KARNS CITY 2
KARNS CITY, Pa. – Visiting Wilmington rallied past Karns City, 3-2 (13-25, 16-25, 25-23, 25-19, 15-13).
Mackenzie Dunn led Karns City with 15 kills and 14 digs with Emma Clark adding eight kills, six blocks and three digs and Emily Huff four kills, 18 digs and two aces.
Ashley Fox paced the Lady Gremlins defense with 26 digs and added seven aces, while Peyton Turner had 20 set assists, five digs and a kill and Rosalie Carden added nine set assists, 11 digs and a kill.
OSWAYO VALLEY 3, GALETON 0
ULYSSES, Pa. – Jaclyn Brabham racked up 20 kills,14 digs and three blocks as Oswayo Valley swept visiting Galeton, 3-0 (25-18, 25-21, 25-16).
Avaree Kellert added 12 kills, 12 digs and two blocks for the Green Wave while Mackenzie George tallied two kills, six digs and a team-high 21 assists. Johanna Dickerson added a pair of kills and six blocks.
For Galeton, Alli Macensky had 11 kills and a block while Kate Kulish ran the offense with 11 set assists and eight digs.
OTTO-ELDRED 3, CAMERON COUNTY 2
DUKES CENTER, Pa. – Thanks to 13 kills, 11 digs and three blocks from Riley Raught, Otto-Eldred hung on to defeat Cameron County, 3-2 (25-20, 25-22, 15-25, 15-25, 15-8).
Jaelyn Spinney totaled four kills, 14 digs and a block for the Lady Terrors while Morgan Dalton added six kills, nine digs and five blocks. Hayley Cousins chipped in five kills and 14 digs with Emmalee Sheeler racking up 24 set assists, one kill and six digs.
Kaelee Bresslin paced the Lady Raiders with nine kills. Hailey Hilfiger and Morgan Lorenzo each had seven kills. Reggie Goodrow ran the offense with 18 set assists.
SMETHPORT 3, PORT ALLEGANY 2
SMETHPORT, Pa. – Mykayla Deyarmin had 12 kills, 15 digs and four blocks to help Smethport defeat visiting Port Allegany, 3-2 (25-19, 25-19, 19-25, 18-25, 15-8).
Alexis Shall added 14 kills, six digs and five blocks for the Lady Hubbers while Baylee Fitzsimmons ran the offense with 16 set assists and added 13 digs.
RIDGWAY 3, ST. MARYS 2
RIDGWAY, Pa. – Ridgway rallied to pick up a 3-2 (21-25, 25-10, 16-25, 25-5, 15-8) win over visiting St. Marys.
Allison Schlimm had six kills and Tessa Reed five kills for St. Marys, while Payton Bauer added seven blocks and Lindsey Reiter ran the offense with 17 set assists.
Ridgway stats were not available.
BOYS' SOCCER
PORT ALLEGANY 4, COUDERSPORT 1
PORT ALLEGANY, Pa. – Behind four goals from Howie Stuckey Port Allegany beat visiting Coudersport, 4-1.
Shawn McNeil had one assist for Port Allegany, while Simon Burleson, Adian Emerick and
Ricky Phillips each record an assist.
Scoring for Coudersport was Aristotle Smith.
Ty Guilds had 11 saves for Port Allegany, while Roz Page had 10 saves for Coudersport
GIRLS' SOCCER
BROCKWAY 8, PUNXSUTAWNEY 0
PUNXSUTAWNEY, Pa. – Chanell Britten recorded the hat trick to give her 150 career goals, the most by a boy or girl in Brockway school history, as the Lady Rovers rolled to an 8-0 road win over Punxsutawney.
Britten also split time in net with Mackenzie Overbeck and Brianna Thomas to record the shutout for Brockway, who also got two goals and an assist from Danielle Wood, a goal and two assists from Morgan Lindemith and a goal each from Emily Botwright and Overbeck.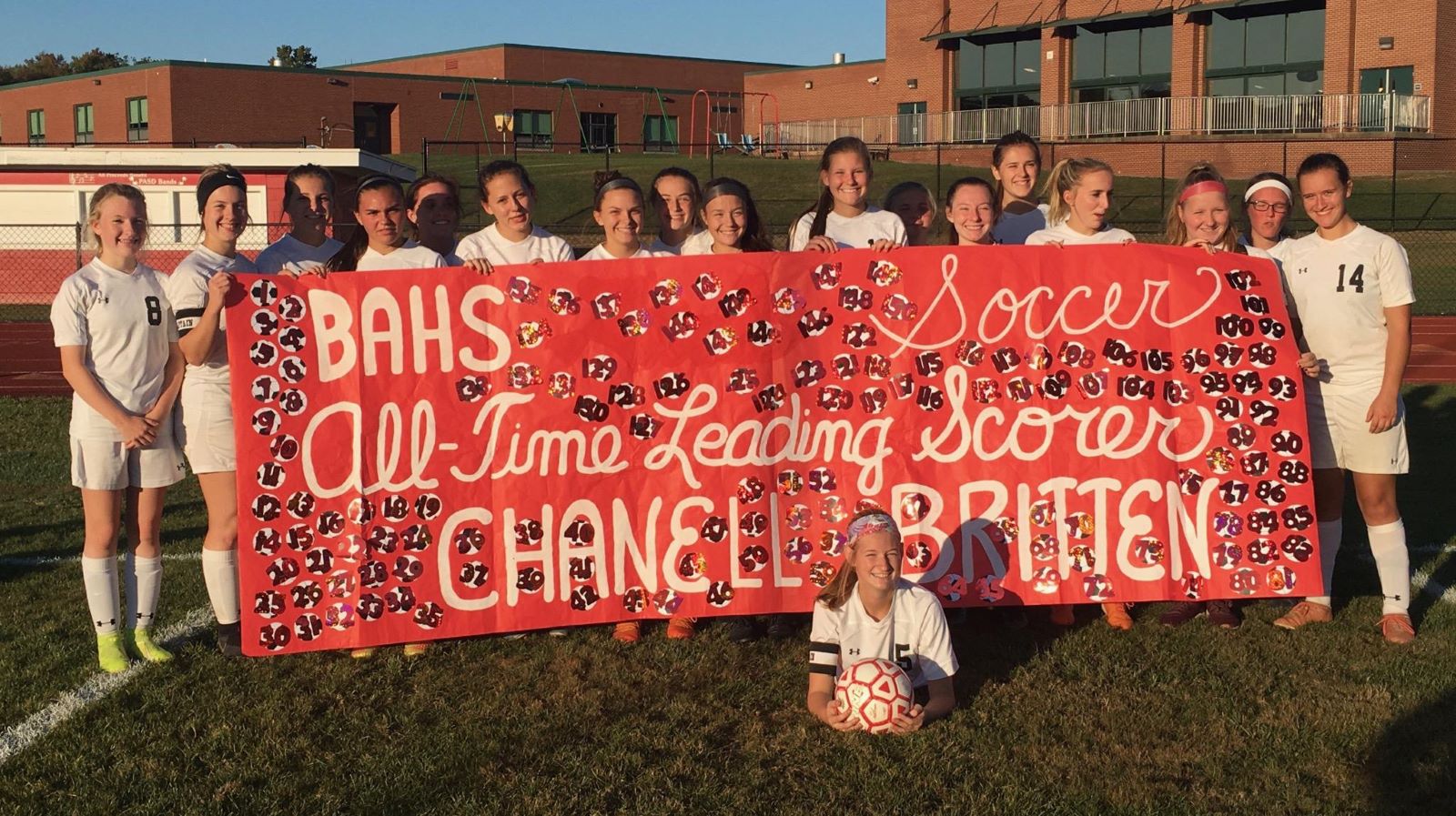 CLEARFIELD 5, BELLEFONTE 3
HYDE, Pa. – Lydia Brown and Elle Smith combined for four goals to lift Clearfield over visiting Bellefonte, 5-3.
Brown and Smith each netted a pair of goals for the Lady Bison with Riley Ryen also adding a goal. Emma Hipps tallied three assists.
Mallorie Smith paced the Lady Raiders with a pair of goals. Mackenzie Hubbs also netted a goal.
Hayley Moore stopped three shots for Clearfield while Emily Culp made 11 saves.
KARNS CITY 2, SLIPPERY ROCK 2
KARNS CITY, Pa. – Thanks to a pair of goals from McKenna Martin, Karns City tied Slippery Rock, 2-2.
Alexis Moore got the assist on the first Martin goal.
BRADFORD 3, HICKORY 0
HERMITAGE, Pa. – Behind three goals from Maddi Cowburn Bradford beat Hickory, 3-0.
Regan Johnson had three assists for Bradford.
BROOKVILLE 2, RIDGWAY 1
BROOKVILLE, Pa. – Madison McAninch scored twice to lead Brookville to a 2-1 win over visiting Ridgway.
Kara Foster assisted on both goals for the Lady Raiders.
WHITESVILLE (N.Y.) 2, PORT ALLEGANY 1
BOLIVAR, NY. – Behind goals from Alexys Palmatier and Zoey Lee Whitesville (N.Y.) beat Port Allegany, 2-1, in the opening round of the Bolivar-Richburg Tournament.
Evin Stauffer had an unassisted goal for Port Allegany.