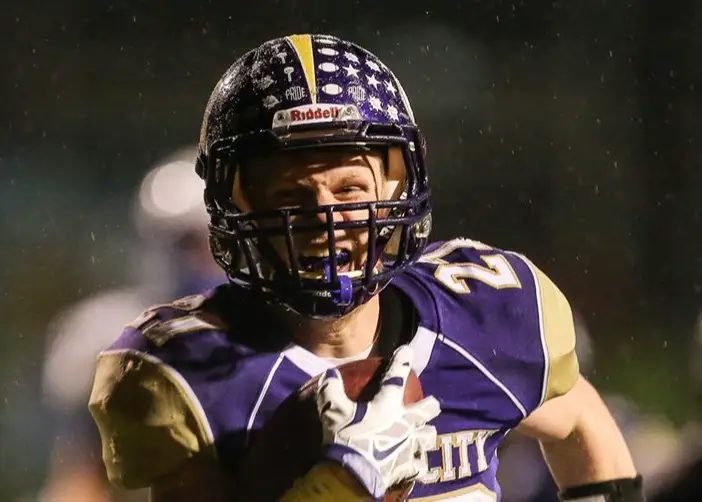 BEAVER FALLS, Pa. – Oh so close.
With 10 minutes to play, Karns City led heavily favored Aliquippa by three, 11-8, and looked poised to pull perhaps the biggest upset in school history.
But the WPIAL champion Quips (14-0) showed why they are so good rolling off 19 points in a span of five minutes to hold off the Gremlins, 27-17, in the PIAA Class AA quarterfinals Friday night at Geneva College in Beaver Falls.
The game was a slugfest throughout with Karns City playing a more physical brand of football than Aliquippa for most of the night.
The teams traded first-quarter touchdowns – a 13-yard run for Collin Dunmyre for Karns City and a 4-yard scamper by Kaezon Pugh for Aliquippa – and the game remained that way into the fourth quarter when the Gremlins took the 11-8 lead on a 24-yard Kaiden Powers field goal with 10:04 to play.
But the field goal could be seen as a win for the Aliquippa defense after Karns City had a first-and-goal at the 4-yard line following an encroachment penalty against the Quips when Powers was lined up to kick a 26-yard field goal.
Aliquippa's offense quickly took advantage of the defensive hold, and took the lead on a 10-yard Pugh scoring run with 8:26 to play.
Things then started to unravel for Karns City, as an Aliquippa interception set up another touchdown, this time on a 1-yard pass from Sheldon Jeter to Thomas Perry with 4:23 to play to put the Quips ahead 21-11.
Darnell Garner then put the dagger into the Gremlins hearts with a 49-yard interception return for a score at the 3:27 mark.
Karns City wasn't about to let its season end quietly, though.
The Gremlins answered back with a 1-yard Cullen Williams touchdown run with 1:18 to play to make it 27-17. But Aliquippa stopped the all-important two-point conversion leaving it at a two-score game.
Karns City, though, still fought recovering the onside kick before a final interception by the Quips ended the game and Karns City's season at 12-1.
Kaiden Powers led Karns City with 64 yards, 60 of it coming in the first quarter. Dunmyre and Chandler Turner each added 46 uards on the ground, while Williams was 3 of 11 passing for 67 yards and two interceptions. Turner had one catch for 34 yards and Evan Stitt two for 33.
Pugh had a monster game for Aliquippa rushing for 182 yards on 28 carries. Jeter was 9 of 12 passing for 130 yards with Jasir Jordan catching seven of those for 108 yards.
A full box score will be posted later.