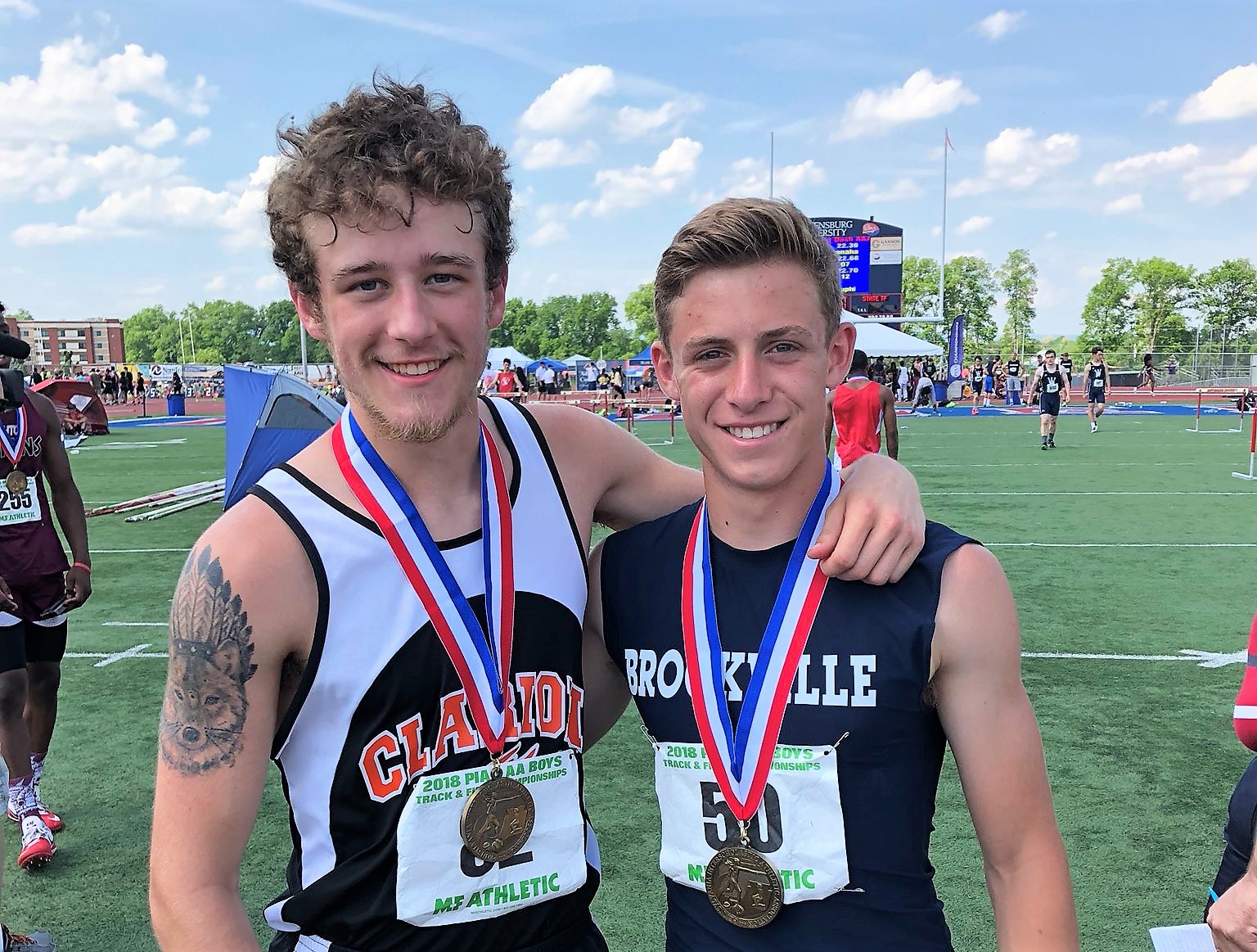 SHIPPENSBURG, Pa. – Moniteau's Jacob Patton and Clarion's Brendan Zerfoss both took home a pair of individual medals Saturday at the PIAA Class 2A Boys' Track & Field Championships at Shippensburg University.
(Photo: Clarion's Brendan Zerfoss (left) and Brookville's Ian Thrush)
Full Results (Once you click on the link, scroll to the bottom)
Meanwhile, Brookville's Ian Thrush ended up with three total medals on the day, including two in the relays.
Patton finished third in the 110-meter hurdles in a time of 15.09 after qualifying for the finals by running a 14.96 in his semifinal heat. He then finished sixth in the 300-meter hurdles in a time of 39.27.
Zerfoss was fifth in both the 400-meter dash (50.19) and the 200-meter dash (22.94). He qualified for the finals in the 200 by running a 22.59 in his semifinal heat.
Thrush joined Zerfoss on the medal stand in the 200 finishing sixth in a time of 23.04 after qualifying for the finals with a semifinal heat time of 22.55.
Thrush was also part of two medal-winning relays joining Bryan Dworek, John Frank and Jack Krug to take fifth in the 4×100-meter relay in a time of 43.23 and also teaming with Frank, Krug and Dillon Olson to take eighth in the 4×400-meter relay in a time of 3:25.91.
Keystone's Brody Coleman also came home a state medalist finishing fourth in the triple jump with a leap of 44-feet, 7 ½-inches, while Kane's Bailey Blint was fourth in the shot with a toss of 51-feet, 4 ¾-inches.
The Elk County Catholic 4×800-meter relay team also medaled taking fifth in a time of 8:02.26. Team members were Jacob Carnovale, Matt Dippold, Logan Hoffman and Ben Hoffman.
Thrush and Jacob Koss both say their days in the 100-meter hurdles end in the semifinals with Thrush taking fifth in his heat in a time of 11.28 and Koss sixth in his heat in a time of 11.31.
Moniteau was the highest scoring District 9 team finishing in a tie for 13th with Winchester Thurston with 14 points. Brookville finished in a six-way tie for 18th with 10 points.