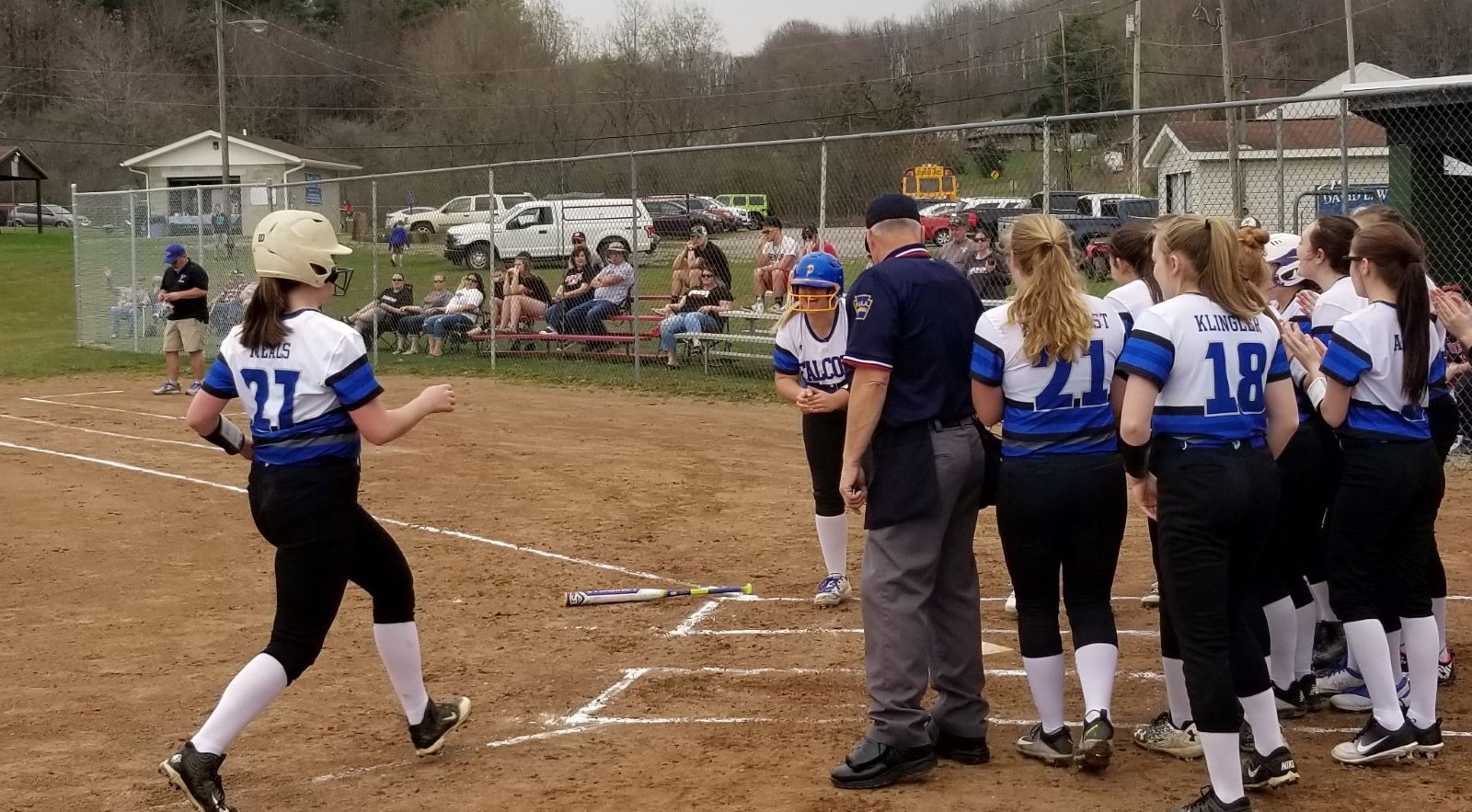 D9Sports.com/EYT Media is doing a series of player profiles on returning high-school athletes this summer. The year in school listed by the athlete is the year the athlete is entering this fall.
(Photo by Chris Rossetti)
ANDREA MEALS – JUNIOR – A-C VALLEY
Daughter of: Michael and Karen Meals (dad is the assistant basketball coach at A-C Valley)
Sports Played: Volleyball, Basketball, Softball
Family Members Playing/Played Sports: Her dad, Mike Meals, played golf and ran cross country. Her uncle, Patrick Meals, played football, basketball, and was in track. Her aunt, Dalene Bickel, played volleyball, basketball, and also did track.
2018-19 Highlights: She achieved second-team all-conference for softball at first base after hitting .436 with three home runs, eight doubles, a triple and 17 RBIs. Helped the Lady Falcons to the District 9 Class 1A softball semifinals … Also helped A-C Valley to the D9 Class 1A volleyball semifinals as a starter and to a second-place finish in D9 Class 2A basketball and the PIAA quarterfinals, a first for an A-C Valley girls' basketball team … Averaged 6.3 ppg in basketball … The Lady Falcons won the KSAC title in basketball for the first time in school history.
Post-High School Plans: She wants to go to college to become a history teacher. she still doesn't know if she would like to play college sports.
Q&A With Andrea Meals
D9Sports: What is your favorite sport to participate in and why?
AM: My favorite sport is softball by far because I feel that it's my best sport and I have so much fun while playing it.
D9Sports: What is your favorite memory, moment, game from playing high school sports?
AM: My favorite memory from high school sports has to either be winning the KSAC this year in basketball or beating the WPIAL Champions, OLSH and moving on to the Elite 8.
D9Sports: Why do you play high school sports?
AM: I play high school sports because it gives me an opportunity to stay active and sports always allow me to see my friends.
D9Sports: Who has had the most influence on your athletic career and why?
AM: My dad has the biggest influence on my athletic career because he tries to involve himself in any way possible. (He is literally my coach for every sport I play, in high school and out.) He also puts in the extra time and effort when it comes to helping me improve.
D9Sports: If you could change one thing about high school sports, what would it be and why?
AM: I would make it so that the players that put in the most work and effort get the most benefits and playing time. It hasn't always worked like that.
D9Sports: If you could be president for a day, what would be the one major thing you would do?
AM: If I was president for a day, I'd try to create world peace and make sure all people are treated equally.
D9Sports: What is your ideal place to live? County, City, Suburb? Why?
AM: When I grow up I want to live in a mansion that's in a rural area, but decently close to a city.
D9Sports: What would someone who doesn't know you be surprised to find out about you?
AM: I'm still obsessed with One Direction.
D9Sports: What is your strongest subject in school?
AM: My strongest subject in school is probably history because I find it the most interesting out of all subjects.
D9Sports: If there was one period in history or one event in history you could go back to, what would it be?
AM: I would definitely go back to the 80's because I love the music from back then and the fashion was really wild.
D9Sports: What question do you wish I would have asked you? And what is the answer to it?
AM: What is another sport you'd be interested in playing that your school doesn't offer?
Answer: Lacrosse