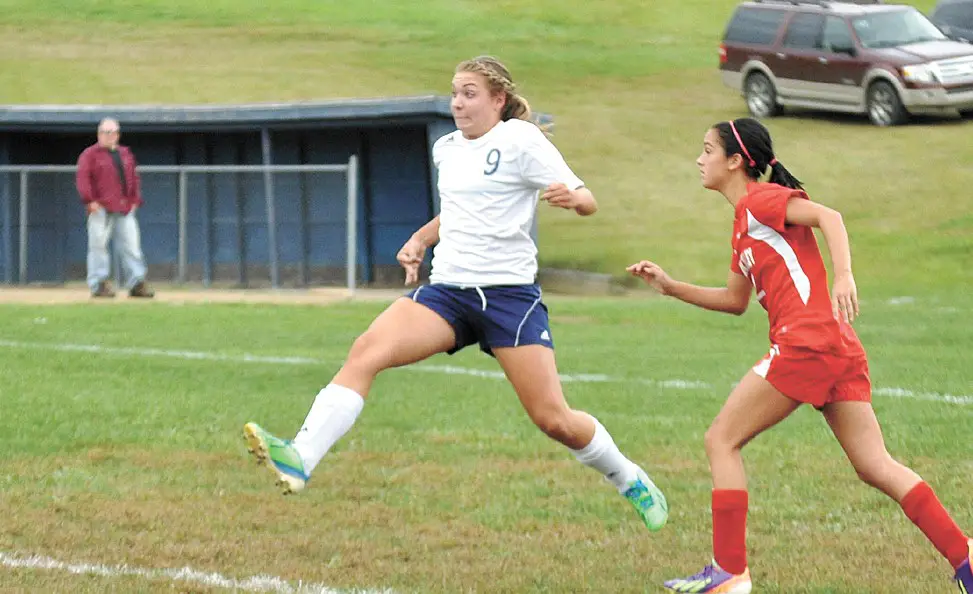 D9Sports.com and EYT Media are doing a series of player profiles on returning high-school athletes this summer. The year in school listed by the athlete is the year the athlete is entering this fall.
BROOKE SHATTENBERG – Senior – Brookville
Daughter of: Kirk and Sharon Shattenberg
Sports Played: Soccer, Basketball and Track & Field
2015-16 Highlights: She scored five goals and had an assist for the Lady Raiders soccer team last season giving her nine goals in two years. In basketball, she was Brookville's third-leading scorer averaging 7.6 points per game. In track and field, she ran a leg on Brookville's District 9 second-place 4×100-meter relay team that ran in a time of 50.72 and qualified for the PIAA meet. She also ran a leg on the fourth-place 4×400-meter relay (4:14.55) and finished fifth in the 400-meter dash (1:02.28).
Post High School Goals: Brooke plans on attending college and going into the medical field. She doesn't plan on playing sports in college because she wants to put all of her efforts into her schoolwork.
Q&A With Brooke Shattenberg
D9Sports: Do you have a favorite sport, and if so why?
BRS: Ever since I was a little kid my favorite sport has always been basketball. I love the adrenaline I get when I play and when I watch it.
D9: What is your best high-school related sports memory and why?
BrS: My favorite memory was getting first at districts with the 4×100-meter team my sophomore year.
D9: Has there been a coach and/or teacher who has influenced you the most in your high-school career to this point, and if so, why?
BrS: Coach Mark Powell (Brookville's girls' basketball coach) has influenced me the most. From day one he has continuously motivated me and pushed me to my fullest potential.
D9: What do you like best about playing sports in high school?
BrS: The memories and relationships you get to make with people.
D9: What is the hardest part about playing sports in high school?
BrS: The hardest part is balancing both school and sports. I take pride in my schoolwork and sports so it's difficult to balance them both at times.
D9: How much offseason work do you put into your sports?
BrS: During the offseason I lift and workout on my own. I also attend summer league basketball games and shoot on my own.
D9: What is your favorite subject in school?
BrS: Biology
D9: What do you like to do for fun when you aren't playing sports?
BrS: I like to travel and hangout with my friends and family.
D9: What are your goals for the upcoming school year both sports wise and academically?
BrS: My goal is to become a better athlete this year but also become a better student before I go off to college.