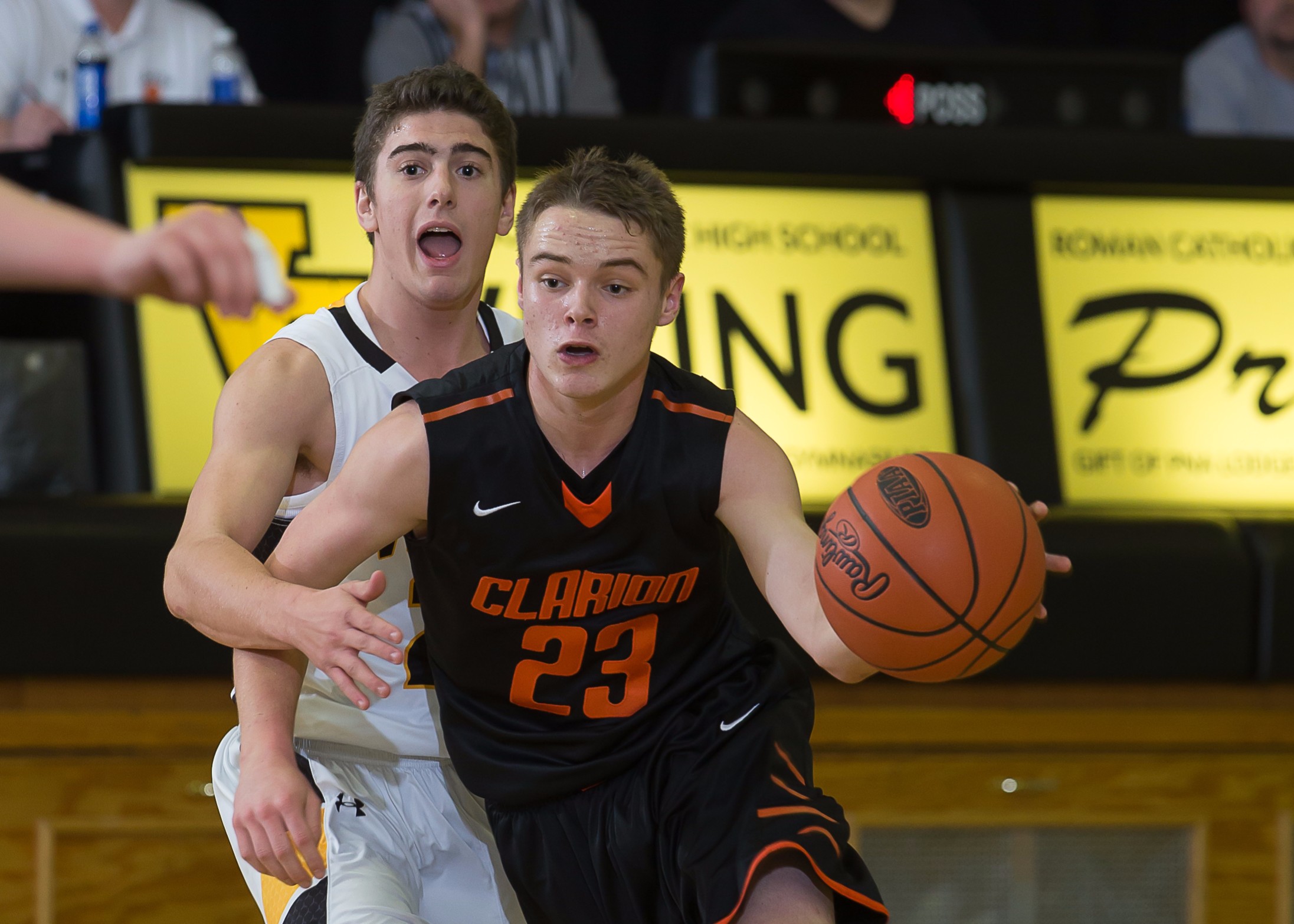 D9Sports.com and EYT Media are doing a series of player profiles on returning high-school athletes this summer. The year in school listed by the athlete is the year the athlete is entering this fall.
CAMERON CRAIG – Junior – Clarion Area
Son of: Jason and Tracy Craig
Sports Played: Golf, Basketball, Baseball
2015-16 Highlights: Craig was the starting point guard for the Bobcats basketball team that reached the District 9 quarterfinals and a 17-7 record. He averaged 12.1 ppg, 3.8 apg, 3.7 rpg and 1.3 spg while shooting 47 percent from the field. In baseball, the second baseman hit .294 with two doubles, 10 runs scored and nine RBIs while helping Clarion to the quarterfinals. He also pitched in six games with a save and an ERA of 0.62 11 1/3 innings pitched. He struck out 11.
Post High School Goals: He plans to study pre-veterinary medicine and become a veterinarian. He would love to play a sport in college and is hoping for the opportunity to play either basketball or baseball. In order to achieve that goal, Craig has attended recruiting camps and talked to coaches there but being that he is just headed into his junior year the recruiting process is just really starting for him.
Q&A With Cam Craig
D9Sports: Do you have a favorite sport, and if so why?
Cam Craig: Basketball has always been my favorite sport. I love the intensity and speed of the game. I love how it's a team sport and we have to work together but I can keep pushing myself to improve
D9: What is your best high-school related sports memory and why?
CC: Coming back from injury last basketball season for the playoffs and having two of my best games against Johnsonburg and Coudersport. Also, being selected a captain of varsity basketball as a sophomore by my teammates.
D9: Has there been a coach and/or teacher who has influenced you the most in your high-school career to this point, and if so, why?
CC: Coach (Jess) Quinn (Clarion's head basketball coach) and Roger Laugand (AAU coach). I feel very fortunate to have both coaches who always push me to try and reach my full potential and have a better basketball IQ. Coach Tom Lewis (an assistant coach for Clarion basketball) is another coach. He never stops pushing me. I know I can depend on him to give it to me straight and always be in my corner.
D9: What do you like best about playing sports in high school?
CC: I love the atmosphere that surrounds myself and the team while playing in big games against rival opponents or playoff games. I love the thrill you get when you hear the crowd road and to experience it with your friends and teammates is something special.
D9: What is the hardest part about playing sports in high school?
CC: Grades are the No. 1 priority. So, I have to manage my time and schedule around practices and games to complete homework and study for tests. Without grades, there are no sports, I'm thankful I have a family who keeps reminding me that and helps me when I'm in need.
D9: How much offseason work do you put into your sports?
CC: I'm starting to work out more often, and I play all three sports when I have the chance. But, basketball is all-year round. I never stop playing basketball. I have a membership at Clarion Oaks to practice golf and play Big League over the summer to keep playing baseball.
D9: What is your favorite subject in school?
CC: It's a mix between math and all sciences
D9: What do you like to do for fun when you aren't playing sports?
CC: I like to spend time with my family and my girlfriend. I also like to watch sports.
D9: What are your goals for the upcoming school year both sports wise and academically?
CC :My goal for sports is to win at least a championship in one sport, and I know we have the capability to do so. Academically, my goal is to maintain a 4.0 GPA.