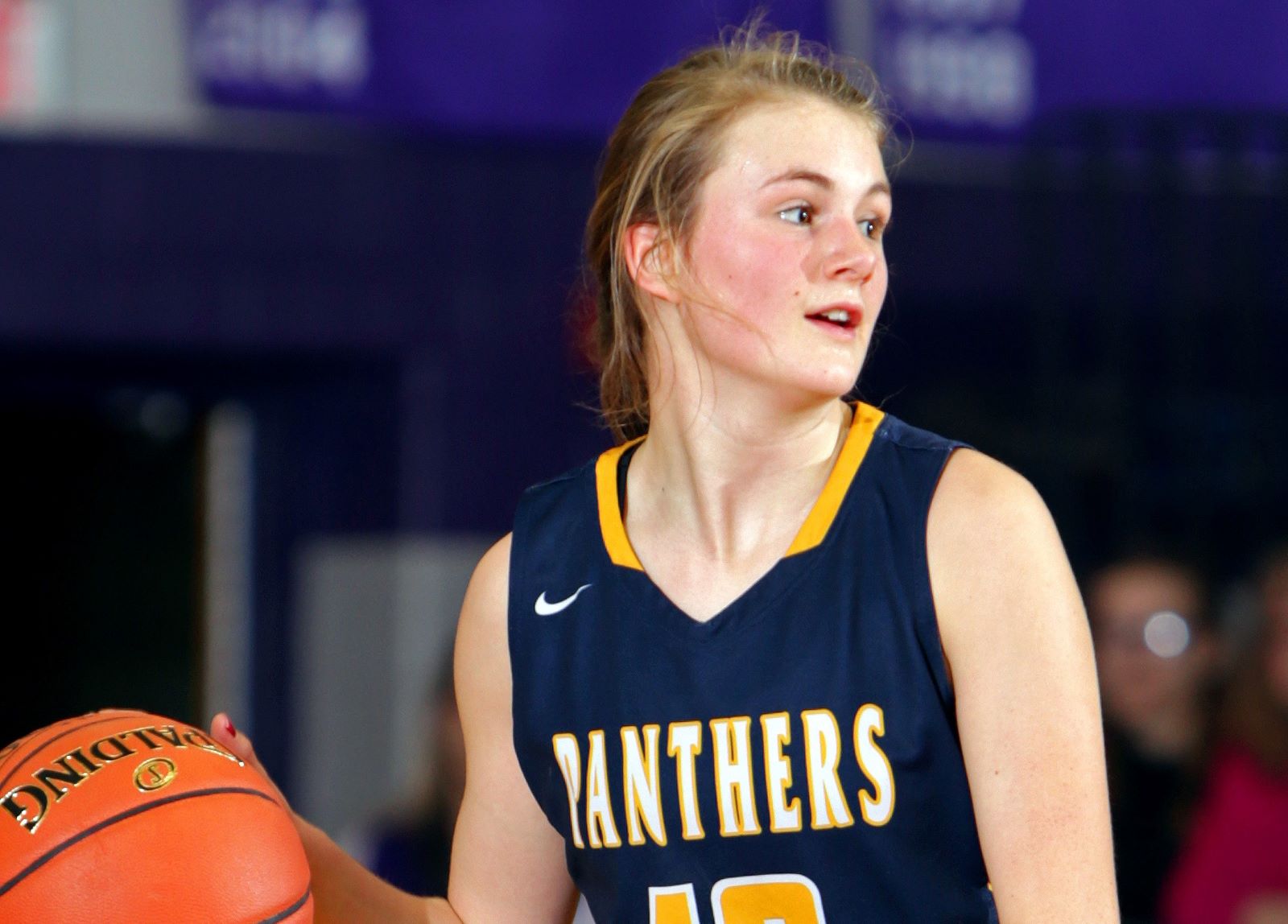 D9Sports.com/EYT Media is doing a series of player profiles on returning high-school athletes this summer. The year in school listed by the athlete is the year the athlete is entering this fall.
(Photo by Paul Burdick. Check out more of Burdick's work here)
COURTNEY MARTIN – SOPHOMORE – NORTHERN POTTER HIGH SCHOOL
Adam and Angela Martin
Sports Played: She participated in cross country, volleyball, basketball, track and softball and plans to do so again this upcoming season.
Family Members Playing/Played Sports: All of her aunts, parents and grandparents did sports.
2018-19 Highlights: She placed in many cross country invitationals, 2nd at the NTL in XC, 3rd at districts in XC, and 41st at states. Her basketball team made it to the first round of D9 playoffs despite having half the team being freshmen and she averaged 8.1 ppg, second-most on the team … She placed at many track invitationals, 1st in the 4×800-meter relay team at the NTL, 3rd in the 1,600-meter run at the NTL, 2nd in the 3,200-meter run at the NTL, 4th at districts in the 3,200 for track. She qualified for districts in the javelin and qualified for districts in the 1 mile.
Post-High School Plans: She plans to attend college possibly in childhood education or agriculture education. It has always been her dream to play basketball in college but is open to playing other sports in college as well. After college, she plans to get a job, settle down, and raise a family.
Q&A With Courtney Martin
D9Sports: What is your favorite sport to participate in and why?
CM: My favorite sport is basketball. I love to play basketball because it gives me an adrenaline rush to fly up and down the court and score on the other team. Another reason is I am very competitive and aggressive. I love it when a game gets very physical because then your instincts kick in and your playing to the best of your potential.
D9Sports: What is your favorite memory, moment, game from playing high school sports?
CM: My favorite memory is playing basketball with Abbi Anderson, my favorite moment would be when I made my first 3-pointer, and my favorite game would be when we played Coudersport at the district game.
D9Sports: Why do you play high school sports?
CM: I play high school sports because sports run in my family but also because it teaches you responsibility, character, motivation, and many other skills that you will need for your future.
D9Sports: Who has had the most influence on your athletic career and why?
CM: The person that has had the greatest impact on me in sports would be my dad. He always pushes me to work harder and to never give up when it seems impossible. He also listens to me rant about the problems that I'm having and always gives me advice like ''Try Harder''. He is the one who started my sports career by playing catch when I was little, passing to me on the court, telling me to run because if he didn't I probably wouldn't be the runner I am today, to playing one on one with me after working at the barn all day. I also would like to thank my mom and grandma especially for taking me to all my practices and events and the support from my aunts, uncles, and grandparents for coming to my events to cheer me on. Thank you.
D9Sports: If you could change one thing about high school sports, what would it be and why?
CM: If I could change one thing it would be at districts last year in track. I would have pushed past the pain and ran harder during the 3,200.
D9Sports: If you could be president for a day, what would be the one major thing you would do?
CM: If I could be president for a day I would make it so farmers would get paid for all the back-breaking work they put in to feed and clothe our country because without farmers there would be nothing.
D9Sports: What is your ideal place to live? County, City, Suburb? Why?
CM: I would like to live in the country because everyone knows everyone, the country is beautiful, and it's a great place to raise a family.
D9Sports: What would someone who doesn't know you be surprised to find out about you?
CM: If someone didn't know me they would not know that I live on a dairy farm.
D9Sports: What is your strongest subject in school?
CM: My strongest subject would be writing.
D9Sports: If there was one period in history or one event in history you could go back to, what would it be?
CM: If I could go back in time I would go back to when I fractured my wrist during basketball and avoid fracturing it.