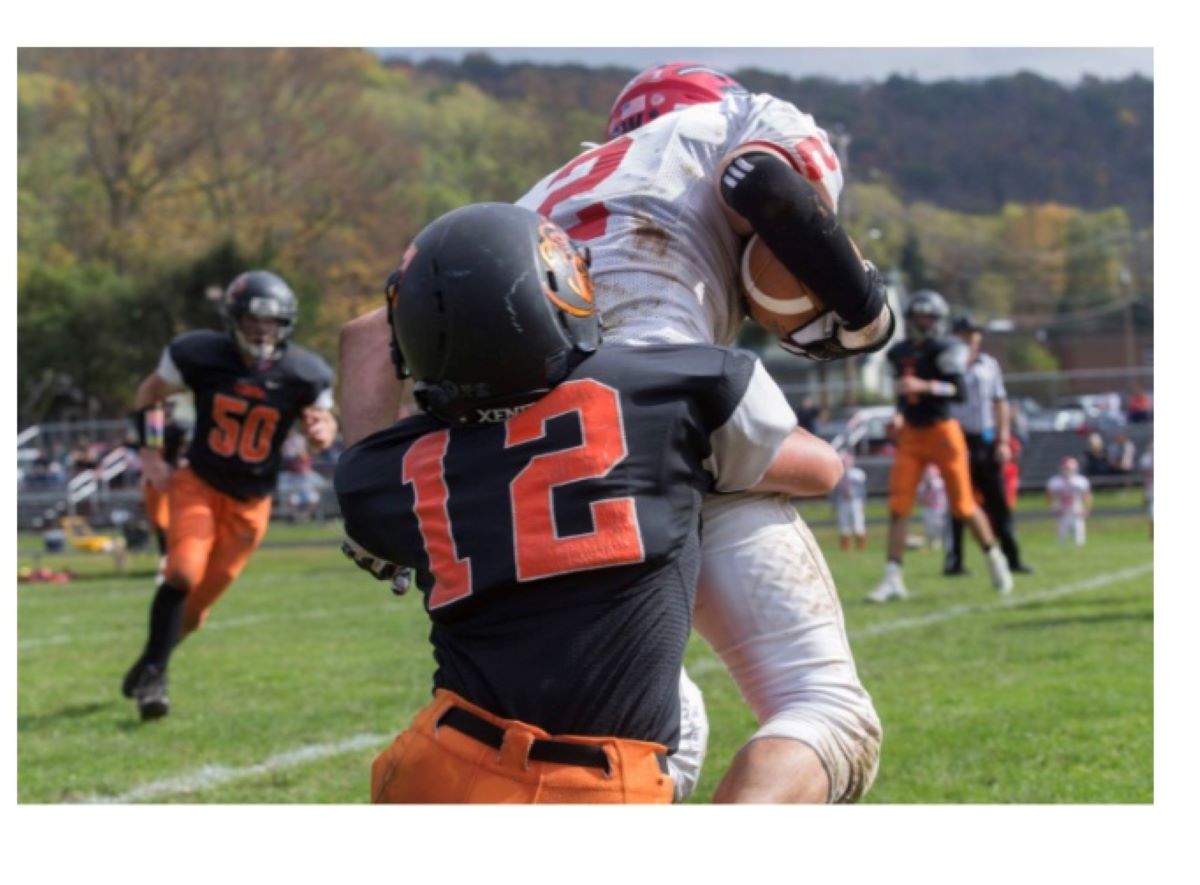 D9Sports.com/EYT Media is doing a series of player profiles on returning high-school athletes this summer. The year in school listed by the athlete is the year the athlete is entering this fall.
(Photo by Patrick Crants. See more of Crants work here.)
ELI PETRUZZI – SENIOR – PORT ALLEGANY
Son of: Josh and Erica Petruzzi
Sports Played: As a junior he played soccer, football, wrestling, track and cross country. As a senior he is going to do football, wrestling and track
Family Members Playing/Played Sports: His mom was a cheerleader and my Dad wrestled, did cross county and track. He has a deep-rooted history with football where my grandpa played and also his great-grandfather with his family making up the backfield in the 1930s
2018-19 Highlights: He finished third in District 9 at 132 pounds … 22 of his 29 wins came via win … In track he dropped his mile time my a minute and scored the second-most points on the team
Post-High School Plans: He is currently in the process of joining the Air Force and would like to try out for sports not sure which ones yet or if he will just try to focus on being in the military
Q&A With Eli Petruzzi
D9Sports: What is your favorite sport to participate in and why?
EP: My favorite sports are football and wrestling they're the toughest sports in my opinion I've always loved to get dirty on the field. My coaches have taught me how to properly watch game film and even meet with them once a week off of the field one-on-one to solely study the opponent and how to do my job on defense against their offense. I love wrestling just because like football I find enjoyment in pushing my self to my limits and getting beaten up. I love every one of my coaches and have more gratitude for them than they will ever know. I think the main reason I love all my sports, including track even though it is not my favorite sport, but because I'm blessed with very good coaches who are always willing to feed my ambition and determination.
D9Sports: What is your favorite memory, moment, game from playing high school sports?
EP: Currently, I honestly think my favorite memory of my sports careers are getting yelled at. I enjoy the achievements I've had but the work I put in, comes from all the many many times I've had to be critiqued and sometimes yelled at to fix my mistakes so I can enjoy a few achievements.
D9Sports: Why do you play high school sports?
EP: I play high school sports because I'm in love with the competition, seeing how far I can go, making everyone who cares about me proud, and working hard and seeing it pay off.
D9Sports: Who has had the most influence on your athletic career and why?
EP: I would say my coaches, grandparents and parents have the most influence on my sports.
D9Sports: If you could change one thing about high school sports, what would it be and why?
EP: If I could change one thing I wish I could go back and change my mentality and a lot of situations because too many time I've hesitated or not proved myself enough.
D9Sports: If you could be president for a day, what would be the one major thing you would do?
EP: If I could be president for a day I would give back the people as much as possible.
D9Sports: What is your ideal place to live? County, City, Suburb? Why?
EP: The most ideal place to live is right here in Port Allegany. I love the woods and outdoors and do not want anything to do with the city.
D9Sports: What would someone who doesn't know you be surprised to find out about you?
EP: Someone who doesn't know me would be surprised to find out that I am always worried about leaving a big enough footprint.
D9Sports: What is your strongest subject in school?
EP: My strongest subject is math or literature depending on the day.
D9Sports: If there was one period in history or one event in history you could go back to, what would it be?
EP: I would go back to anywhere between the 30s-60s because I admire no high-end technology and where things seemed a little simpler.
D9Sports: What question do you wish I would have asked you? And what is the answer to it?
EP: I wish you would have asked how sports and the people involved will affect my life and the answer is sports and my coaches pushed me to work out they've taught me how hard work pays off, staying in the best positive mindset, and the less you complain the more you get done
.