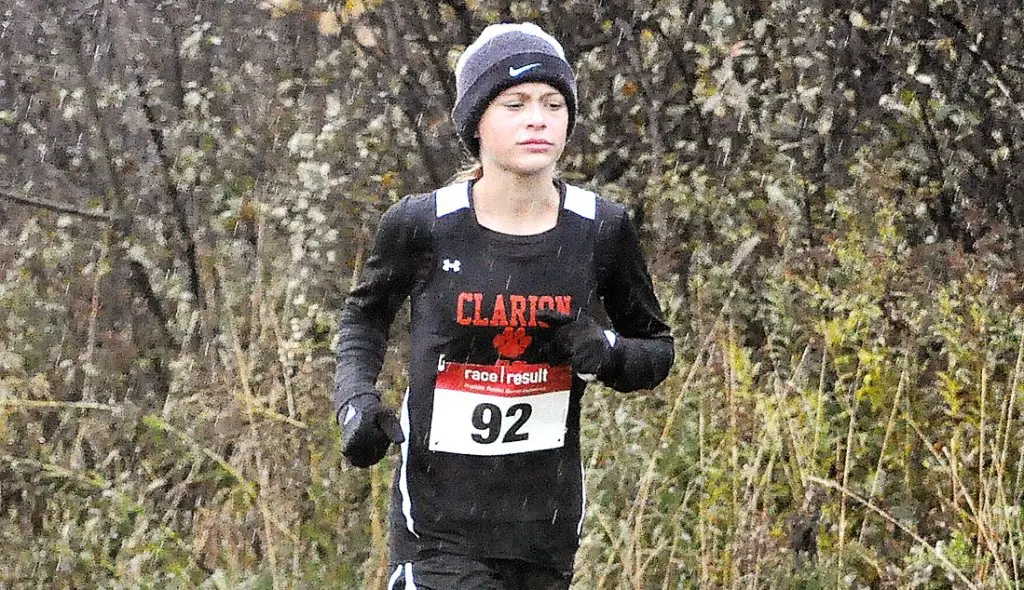 D9Sports.com/EYT Media is doing a series of player profiles on returning high-school athletes this summer. The year in school listed by the athlete is the year the athlete is entering this fall.
(Photo by Matt Lerch)
EVELYN LERCH – SOPHOMORE – CLARION
Daughter of: Matt and Tammy Lerch
Sports Played: Cross Country, Basketball, Track & Field. She is thinking about playing soccer this year.
Family Members Playing/Played Sports: Her mom and dad both ran cross country and track in high school. Her mom also played volleyball and basketball and her dad also played lacrosse. Her brother Nathaniel runs track and cross country for Clarion. Her cousin, Josh Mitchell plays football and runs track. Her grandma, Donna Cossel, played basketball.
2018-19 Highlights: She won the District 9 cross country championship and finished 15th at the PIAA meet while also winning the KSAC Championship … She was District 9 champion in the 400-meter championship and finished 13th at the state meet. She also qualified for the D9 championships in track in the 100-meter dash, 200-meter dash and 1,600-meter run … She also played 23 games for the D9 Class 2A third-place finishing Lady Cats basketball team that qualified for the PIAA playoffs scoring 41 points.
Post-High School Plans: She would like to go to college to run track and possibly play soccer.
Q&A With Evelyn Lerch
D9Sports: What is your favorite sport to participate in and why?
EL: My favorite sport is probably track because I like to use my speed in short distance and I like how it's just you competing against the clock.
D9Sports: What is your favorite memory, moment, game from playing high school sports?
EL: My favorite memory from sports last year was seeing my cross country teammate Grace Adams cheering on our Clarion boys running in the State Cross Country meet in Hershey holding the "Assert the Murt" flag (along with our Coach Murt's face on the flag) and getting some people to stare at her.
D9Sports: Why do you play high school sports?
EL: I play high school sports because I love sports. I love the competitive aspect and I use sports as an outlet for any stress or anger that I have.
D9Sports: Who has had the most influence on your athletic career and why?
EL: My parents have the most influence on my athletic career. My parents always want the best for me and will create any opportunity for me to grow as an athlete either if that means going to a camp or staying a little later after a practice to coach me and train me more. They always drove me to practices when I used to play on a travel soccer team in Cranberry Township in Butler County two times a week and weekends for games.
D9Sports: If you could change one thing about high school sports, what would it be and why?
EL: One thing I would change about high school sports would be flexibility with dual sporting in one season. Last year I wanted to dual sport with soccer and cross country. I knew that it was going to take a lot of hard work, dedication and time. I was going to see how the practices were in the pre-season and then see how they were in the school year. During pre-season my schedule was soccer conditioning from 7 a.m. to 8:30 a.m., cross country running, weight training, swimming, core workouts from 9 a.m. to 3 p.m. and then soccer drills and practice from 5:30 p.m. to 7 p.m. I could barely keep up with it all during pre-season so I decided not to dual sport last year. I had a meeting with our athletic director and both coaches for both sports and I got a practice calendar for each month I was in those sports. I don't think any human could function after a month with that and school work.
D9Sports: If you could be president for a day, what would be the one major thing you would do?
EL: If I was President for a day, I would create a new federal agency that would be focused on finding a cure for cancer.
D9Sports: What is your ideal place to live? County, City, Suburb? Why?
EL: My ideal place to live is somewhere south where it is actually warm, probably Florida.
D9Sports: What would someone who doesn't know you be surprised to find out about you?
EL: People who don't know me probably don't know that I can whistle really loudly with my two fingers.
D9Sports: What is your strongest subject in school?
EL: My strongest subject in school is math.
D9Sports: If there was one period in history or one event in history you could go back to, what would it be?
EL: I would like to go back to the 1980s when my parents were teenagers. Back then teenagers socialized in person to have a good time instead of being on their devices.
D9Sports: What question do you wish I would have asked you? And what is the answer to it?
EL: Another question could be if you could pick one sport to add to Clarion what would it be? I would like lacrosse.