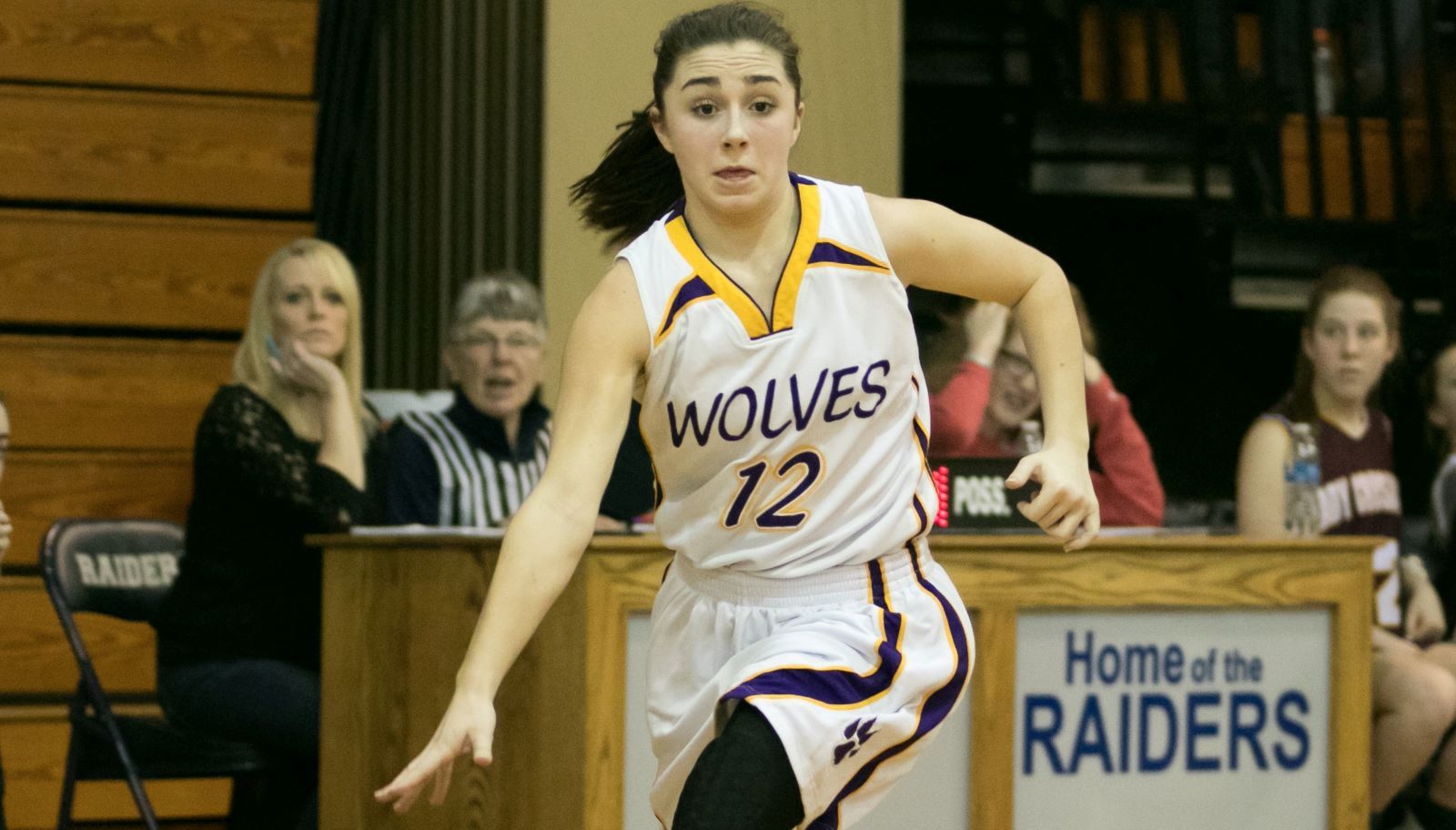 D9Sports.com/EYT Media is doing a series of player profiles on returning high-school athletes this summer. The year in school listed by the athlete is the year the athlete is entering this fall.
(Photo by Jared Bakaysa of JB Graphics. See more of Bakaysa's work here)
GABRIELLE (GABBY) SCHMADER – SENIOR – NORTH CLARION
Daughter of: Kyle and Heather Schmader
Sports Played: She played volleyball and basketball as a junior and plans to add track & field during her senior season as well
Family Members Playing/Played Sports: She is one of many in my family to play sports. She believes all of her closest relatives have played a sport at one point in their lifetime.
2018-19 Highlights: She hit the game-winning shot with less than a minute to play to lift North Clarion to its third consecutive District 9 Class 1A basketball title. Also helped the She-Wolves to the KSAC North title for the fourth straight year and a second-place KSAC finish. Averaged 6.8 points per game and scored in double figures six times hitting a season-high 12 points on two different occasions vs. Clarion-Limestone.
Post-High School Plans: She thought a lot about playing sports in college but decided it wasn't for her. She plans on attending either Clarion University or Carlow University and going for a BSN in nursing.
Q&A With Gabby Schmader
D9Sports: What is your favorite sport to participate in and why?
GS: I'm very competitive and I love all the sports I participate in but if I had to choose I would have to say basketball. Not only is the sport amazing but we have this bond as a team that loves to be together and fight together. Not only that, we have the most amazing coaches that make us laugh and push us to do better and not give up and never say we can't do it. They are the reason we've won the titles we have, they make us stronger and help us reach our goals.
D9Sports: What is your favorite memory, moment, game from playing high school sports?
GS: There have been so many amazing moments in the three years I have been playing, but my favorite one has to be winning the D9 1A title for the 3rd year proving that even when we lose an important player we have girls that step up and play the role they are given.
D9Sports: Why do you play high school sports?
GS: I play sports not just to stay fit but to share a bond with my friends doing something we love together and pushing each other along the way.
D9Sports: Who has had the most influence on your athletic career and why?
GS: My dad has had the most influence on my athletic career. Ever since I was young he was there to help me practice and he was there to coach me but the one thing I know he's always done for me is that when I'm down on myself he's told me I'm stronger than I think and that I can't give up.
D9Sports: If you could change one thing about high school sports, what would it be and why?
GS: High school sports today are giving kids participation trophies and equal playing time which isn't how it should be. It's always been if you prove you deserve to play that's how it should be and parents shouldn't be allowed to affect coaches. We are lucky enough to have coaches put so much devotion and time into us kids we should allow them to coach.
D9Sports: If you could be president for a day, what would be the one major thing you would do?
GS: If I could be president for a day I would tell the country to start cleaning up after themselves and their community. I would travel and help areas restore.
D9Sports: What is your ideal place to live? County, City, Suburb? Why?
GS: I would say the suburbs because not only is it a more open space but also fewer people and more privacy.
D9Sports: What would someone who doesn't know you be surprised to find out about you?
GS: Someone who doesn't know me would be surprised that I use to play gymnastics and cheerlead.
D9Sports: What is your strongest subject in school?
GS: My strongest subject is Math
D9Sports: If there was one period in history or one event in history you could go back to, what would it be?
GS: The roaring 20s or the 1980s
D9Sports: What question do you wish I would have asked you? And what is the answer to it?
GS: I wish you would've asked how it feels to win when the odds are against you. I would've said that proving that you're stronger than what it appears to others, feels amazing because not only do you feel like you are living a dream, but you've proved everyone wrong.