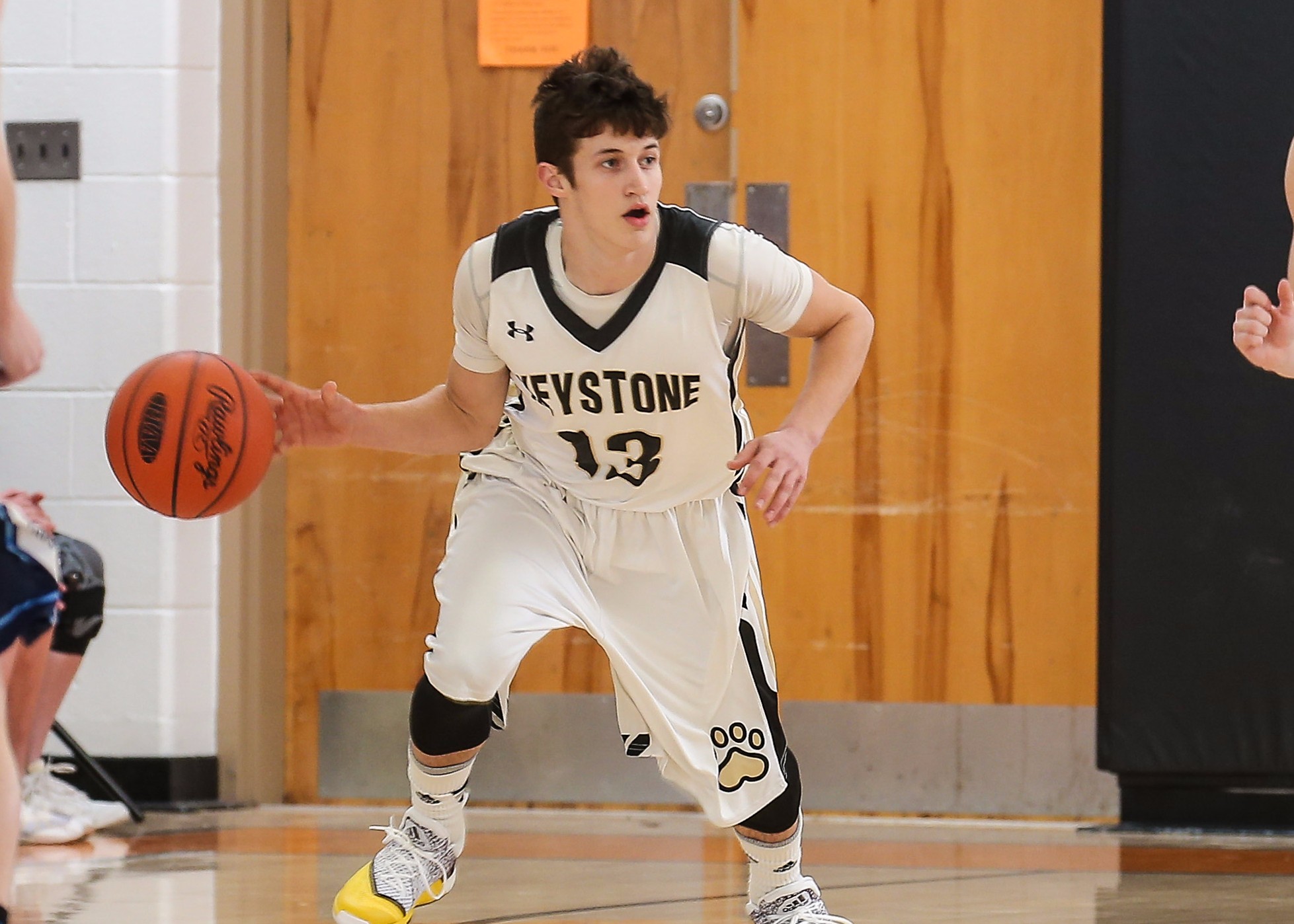 D9Sports.com and EYT Media are doing a series of player profiles on returning high-school athletes this summer. The year in school listed by the athlete is the year the athlete is entering this fall.
TANNER WILSON – Senior – Keystone
Son of: Mike Wilson and Gina Clark
Sports Played: Football and Basketball
2015-16 Highlights: Tanner was the third-leading scorer for the District 9 Class AA semifinalist Panthers averaging 7.0 points per game. In football, he was the third-leading receiver for Keystone with 22 catches for 255 yards while also returning punts. He was also second on the team with 70 tackles while recovering two fumbles, picking off a pass and blocking a kick.
Post High School Goals: Tanner plans on attending college and is hoping to play basketball somewhere. He has had some college coaches contact him through a recruiting website where he posts games performances.
Q&A With Tanner Wilson
D9Sports: Do you have a favorite sport, and if so why?
TW: 6. Although football is fun, basketball is my favorite because it's just what I do. I play all the time.
D9: What is your best high-school related sports memory and why?
TW: One of my favorite memories is the Karns City football game that went into double overtime. Even though we lost, It was a great game, and we played very well as a team against a great opponent.
D9: Has there been a coach and/or teacher who has influenced you the most in your high-school career to this point, and if so, why?
TW: Coach (Greg) Heath (Keystone's legendary basketball coach) has a ton of influence on me and the entire team. He's a great coach and tells us what we need to hear not what we want to.
D9: What do you like best about playing sports in high school?
TW: My favorite part of playing high school sports is proving people wrong when they doubt me. Also, I love the competition between athletes that I know from other schools and myself.
D9: What is the hardest part about playing sports in high school?
TW: Balancing schoolwork, social life and the sport.
D9: How much offseason work do you put into your sports?
TW: I can't lift with my team often, because of work. I do go to the CUP rec center and do drills on my own or play with others if they're there. I play in a lot of AAU tournaments with Rising Stars
D9: What is your favorite subject in school?
TW: Anything math or science related
D9: What do you like to do for fun when you aren't playing sports?
TW: When I'm not playing sports, I'm either eating, sleeping or with friends.
D9: What are your goals for the upcoming school year both sports wise and academically?
TW :I am hoping to maintain a 4.0 GPA academically. Athletically, I hope to improve my game and be a good teammate.