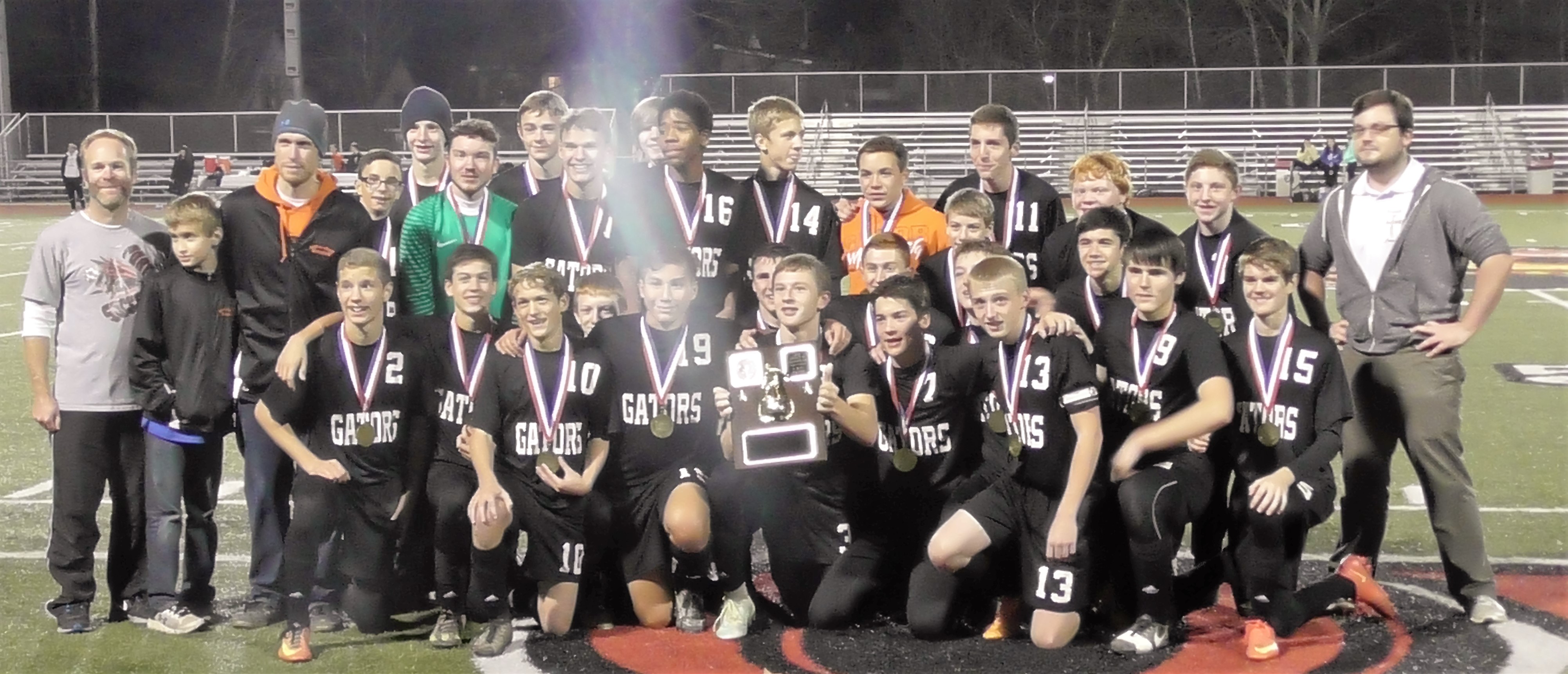 By Scott Shindledecker
BRADFORD, Pa. — The Port Allegany Gators are District 9 champions for the first time after a 2-0 win over top-seeded Brockway Thursday night in the 1A title game at Bradford.
The Gators receive their championship medals.
Gators junior Payton Caden scored two second-half goals to help lead his team to the championship.
Caden talks about the victory.
Port Allegany, which started its soccer program just 11 years ago in 2005, climbed near the top of the mountain three years ago when they lost to Brockway.
But as head coach Aaron Clark said after the win, the tears that spilled from his Gators players Thursday night were much different than the ones that fell after the 2013 title game.
"We've got a real special group of kids on this team," Clark said. "When I was putting the silver medals around their necks, some of the kids were crying and tonight when I was putting the medals around the necks and to see 'em crying for a different reason, it was great."
The Gators (18-2) still haven't lost a game to a team from District 9. Their defeats were to a team from New York, Allegany -Limestone and to Eisenhower, a District 10 school in Warren County.
Port beat Brockway, 1-0, Oct. 13 at home.
Port goalie Josh Mealy talks about the victory.
Some thought the result would be different playing on the turf field at Bradford High School and Clark acknowledged that the Gators home field is a big advantage for his squad.
"Our home field, it's a huge advantage for us," Clark said. "We're practically unbeatable and we're at a disadvantage playing on a turf field, but we had to stay patient, play defense and make the most of our chances."
The Gators did just that while junior keeper Josh Mealy made some outstanding saves in the first half and the Rovers missed on some excellent scoring chances.
"Josh is so important to us," Clark said. "Some people say the keeper isn't that important, but he made some huge saves. He's so nice and cool back there, it could have been 4-0 before we scored if it wasn't for him."
Gators senior captain Brandon McCaslin had the first high-quality shot in the game as he got in deep before putting a shot on the side of the net just 49 seconds in.
Port celebrates at the horn.
For the Rovers, Jarrett Esposito and Anthony Esposito both had good shots on goal in the first 16 minutes, then Zane Puhala got behind the defense for a very good chance, but he pushed it wide.
The Rovers started strong in the second half as Hunter Allenbaugh had a close shot stopped by Mealy, then Jarrett Esposito sailed one over the bar from 26 yards out.
With 33:19 left, Carter Adams banged a shot off the crossbar. Allenbaugh had a few more good chances, but nothing was going in for the Rovers.
Then, with 21:24 left, senior captain MacKenzie Elliott had a direct kick and he put it in a very good spot for Caden to head it just past Rovers keeper Austin Moore in the lower right corner to make it 1-0.
It was a huge goal for the Gators because they had so few chances and it had the opposite effect on the Rovers, who had so many chances.
Caden then put the game on ice for the Gators as he headed another pass in for a 2-0 lead with 10:51 left.
"Caden with two headers?" Clark asked almost incredulously. "Those type of plays aren't met for Caden, but what a great job, getting up there to knock them home."
Both teams move on to the state playoffs next week.
Port Allegany will take on Seton LaSalle, the third-place finisher from the WPIAL.
Brockway will play the WPIAL champion, either Cardinal Wuerl North Catholic or Sewickley Academy.