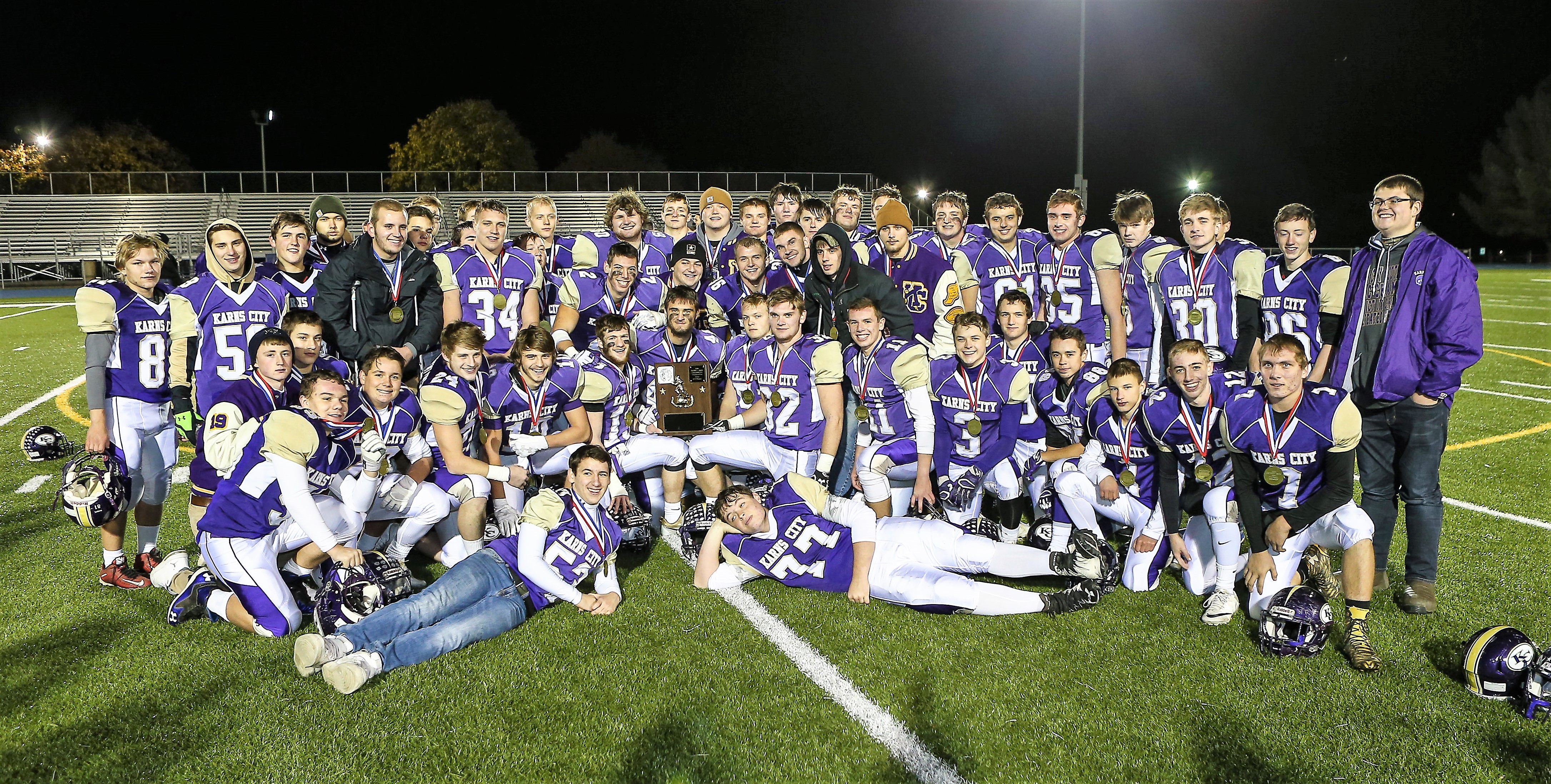 By Chris Rossetti
CLARION, Pa. – Kaiden Powers may be one of the smallest players on the field, but he was the biggest player for Karns City Thursday night scoring four touchdowns to lead the Gremlins to the District 8-9 Class 3A title with a 54-36 win over Perry at Clarion University's Memorial Stadium.
(Cover photo by Mike Schnelle. Check out more of Schnelle's work here)
Powers, who is all of 5-foot-6, 145 pounds, scored on a 21-yard run, on passes of 32 and 22 yards from Jacob King and on a 45-yard interception return. To boot – pun intended – he was 6 of 8 on extra points on the night.
The senior talked about his performance after the game
Karns City, which won a District championship for the fifth straight year and eighth time in 10 years (the other seven came in 2A before the classification expansion), put the game away practically before it started scoring 21 points before Perry ran its second offensive play.
Watch the Gremlins receive their championship trophy
The Gremlins took the opening kickoff and marched 62 yards seven plays scoring on a 3-yard run by Aaron Hutchinson 3:20 into the game.
On the ensuing kickoff, Perry fumbled the ball with Karns City's Jason Crowley, who had a big night on special teams, recovering at the Perry 29-yard line.
Four plays later, Powers scampered in from 19 yards out to put the Gremlins up 14-0 halfway through the first quarter.
Then, on Perry's first offensive snap of the game, the Commodores tried some trickery with running back James Goodwine taking the snap and pitching to quarterback Doug Johnson, who started out in a wide receiver position. Johnson then threw a pass deep down the near sideline that was picked off by the Gremlins Cullen Williams giving KC the ball at the Perry 46-yard line.
Eight plays later, Chandler Turner found paydirt with a 4-yard run giving the Gremlins a 21-0 lead. At that point, Karns City had 21 points and Perry had 10 seconds worth of possession time.
Karns City head coach Ed Conto talks about the victory.
Things finally started to stabilize for Perry on its next possession, as the Commodores picked up a couple of first downs before being forced to punt. The Perry defense then forced a punt of its own, and the Commodores offense drove 62 yards in 10 plays to get on the board on an 11-yard Goodwine touchdown run that cut the Karns City lead to 21-6 with 4:40 left in the half. The junior back, listed at 6-2, 230 pounds, had a strong night for Perry rushing for 149 yards and two touchdowns.
But if the Commodores thought they were going to make it a game, Karns City had other plans. The Gremlins scored three touchdowns in the final 3:40 of the first half to put the game away at halftime.
Turner caught a 45-yard pass from King a minute after the Goodwine touchdown to restore the 21-point lead.
Karns City's defense forced a three-and-out, and following a punt and a nice return by Williams, the Gremlins set up at the Perry 32-yard line with 2:21 to play.
This time it was Powers who King found from 32 yards out to make it 34-6 with 2:14 left in the half.
Hutchinson then picked off Johnson, who was 3 of 7 passing for 22 yards and three interceptions, setting the Gremlins up at the Perry 47-yard line with just over a minute left in the half.
With the help of a key 10-yard penalty on Perry, Karns City was looking at second-and-4 from the 22-yard line with under 20 seconds to play when King and Powers hooked up for a second touchdown pass that coupled with Powers' extra point ensured a running second-half clock with the 35-point PIAA Mercy Rule (41-6).
Three plays into the second half, Powers made it 48-6 when he picked off a Johnson pass at the Perry 45 and raced untouched to the end zone.
On its next drive, Perry switched things up with David Freeman taking over for Johnson at quarterback midway through the drive when Johnson was forced to leave for a moment with an injury. When Johnson returned, he was at wide receiver and on the receiving end of a Freeman 43-yard scoring pass that made it 48-12 with 2:48 left in the third quarter.
Perry then tried an onside kick, but the Commodores were offside and had to kick again. Crowley recovered the kick on a dead run at the Perry 48 and took it to the house to make it 54-12.
The Commodores didn't quit, as Goodwine got loose for a 60-yard scoring run that made it 54-18 with 31 seconds left in the quarter.
Karn City finally ran its first offensive play of the second half, and it's only offensive play of the third quarter, with 30 seconds left, a 6-yard run by backup Dalton Beham.
Thanks to some strong running by Beham, the Gremlins looked poised to score again when they moved to the Perry 2-yard line. But a 4-yard loss on first down was followed by a lost fumble on second down stopping the drive.
Perry then scored again on a 19-yard Freeman, who was 6 of 11 for 166 yards and three touchdowns, pass to Johnson, who caught three passes for 91 yards and two scores, with 56 seconds left making it 54-28.
Karns City then decided to run a play instead of taking a knee after it recovered the onside kick, and that turned out to not be wise when Steve O'Donnell couldn't hand the ball off cleanly with Perry recovering at the Karns City 34-yard line.
Freeman immediately went to the air again, this time connecting with Rasaun Taylor on a 34-yard scoring pass that closed out the scoring.
EXTRA POINTS
Perry outgained Karns City 379-347 including 269-29 in the second half when the Commodores ran 26 plays to Karns City's nine.
The Gremlins had great field position all night long with an average start position of its 46-yard line including five drives starting in Perry territory
Karns City moves into the PIAA playoffs where it will play the District 10 champion, either Sharon or Hickory, next week at a time and site to be determined
The title is the ninth at Karns City in the 17 years Conto has been head coach with the Gremlins making 13 title-game appearances in that span. It is the 12th District 9 title in school history (D9 started playing for district-wide championships in 1987.
Watch Karns City's players receive their championship medals.
KARNS CITY 54, PERRY 36
Score by Quarters
Perry 0 6 14 16 – 36
Karns City 21 20 13 0 – 54
SCORING SUMMARY
First Quarter
KC – Aaron Hutchinson 3 run (Kaiden Powers kick), 8:40
KC – Powers 21 run (Powers kick), 6:27
KC – Chandler Turner 4 run (Powers kick), 3:09
Second Quarter
P – James Goodwine 11 run (Isiah Younger kick failed), 4:40
KC – Turner 45 pass from Jacob King (Powers kick failed), 3:40
KC – Powers 32 pass from King (Powers kick), 2:14
KC – Powers 22 pass from King (Powers kick), 0:12
Third Quarter
KC – Powers 45 interceptions return (Powers kick), 10:17
P – Doug Johnson 43 pass from David Freeman (Goodwine run fails), 2:48
KC – James Crowley 48 kickoff return (Powers kick failed), 2:41
P – Goodwine 60 run (Rasaun Taylor pass from Freeman), 0:31
Fourth Quarter
P – Johnson 19 pass from Freeman (Goodwine pass from Freeman), 0:56
P – Taylor 34 pass from Freeman (Mario Davis run), 0:16
TEAM STATISTICS
Perry Stats Karns City
14 First Downs 14
32-191 Rushes-Yards 35-195
188 Passing Yards 152
9-18-3 Comp-Att-Int 6-10-0
50-379 Total Plays-Yards 45-347
1-1 Fumbles-Lost 2-2
10-79 Penalties-Yards 3-25
2-39.0 Punts-Avg. 1-43.0
INDIVIDUAL STATS
RUSHING – Perry: James Goodwine 22-149, Doug Johnson 5-21, David Freeman 5-21. Karns City: Kaiden Powers 4-56, Cullen Williams 6-53, Chandler Turner 5-32, Dalton Behamn 5-32, Aaron Hutchinson 3-17, Eric Dodd 2-10, Sam Barton 1-7, Josh Wimer 1-2, Jason Crowley 1-negative 4, Steve O'Donnell 1-negative 8, Jacob King 6-negative 12.
PASSING – Perry: Doug Johnson 3-for-7, 22 yards, 3 interceptions. David Freeman 6-for-11, 166 yards, 3 touchdowns. Karns City: Jacob King 6-for-10, 152 yards, 3 touchdowns.
RECEIVING – Perry: Doug Johnson 3-91, Rasaun Taylor 3-61, James Goodwine 1-26, Isiah Younger 1-7, Randy Williams 1-3. Karns CIty: Kaiden Powers 2-54, Chandler Turner 1-45, Jimmy Thompson 2-37, Brian Beabout 1-16.
INTERCEPTIONS – Karns City: Cullen Williams, Aaron Hutchinson, Kaiden Powers.