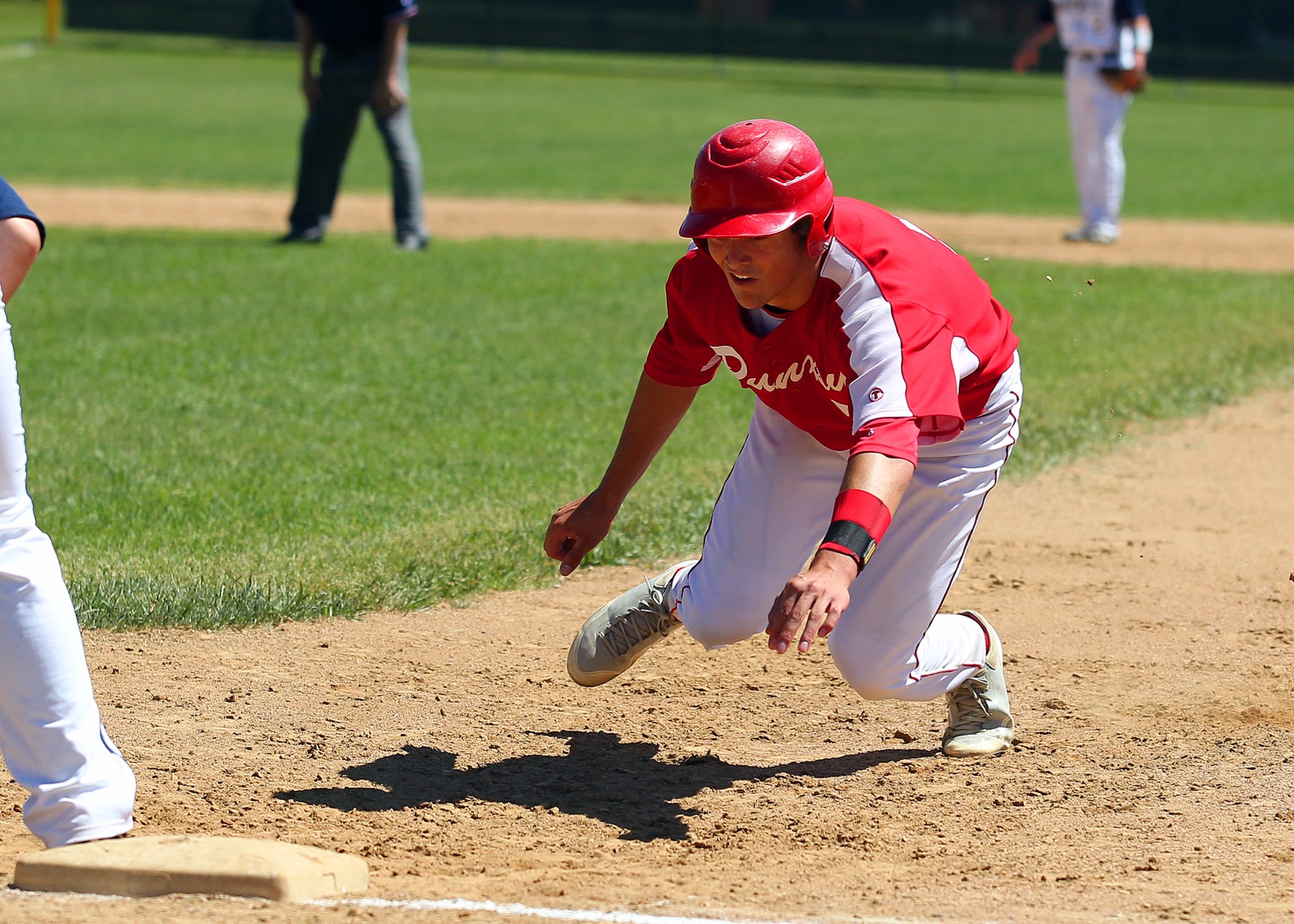 SCOTLAND, Pa. – Austin Schlenker drew a bases-loaded walk with one out in the bottom of the ninth inning scoring Ryan Smith, who had doubled leading off the inning, to give District 3 champion Hamburg a 4-3 win over District 9 champion Punxsutawney in the PIAA Class AAA baseball quarterfinals at Greene Township Field in Scotland.
Punxsutawney had forced extra innings with a Dylan Huey one-out single in the top of the seventh that scored John Matthews, who led off the inning with a triple before Joey DiPietro was hit by a pitch with one out.
But with the go-ahead run at second and just the one out, Peyton Graham and Lucas Ambler both flew out.
In extra innings, Punxsutawney threatened in the eighth when it loaded the bases without a hit thanks in part to back-to-back intentional walks to John Matthews and Lance Pennington after Braxton Giavedoni was hit by a pitch with one out, stole second and moved to third on a grounder by Lucas Burkett.
But DiPietro popped out to the third baseman to end the threat.
Hamburg, which hadn't had a hit against Punxsutawney reliever Brandon Matthews since a two-out double in the fifth, finally broke through against the Chuck reliever, who had set down eight in a row after a one-out walk in the sixth, in the ninth when Smith doubled to left leading off the inning.
Punxsutawney then intentionally walked Nick Kuhn, and Mike Procak hit a line drive to shortstop John Matthews, who tried to double Kuhn off first. But Matthews threw the ball away letting the runners each move up 90 feet and forcing the Chucks to intentionally walk Hunter Epting to load the bases.
That move backfired when Brandon Matthews issued the game-winning free pass to Schlenker on a 3-2 pitch after being ahead in the count 1-2.
Hamburg grabbed a 1-0 lead in the third off Punxsutawney starter Pennington, who threw 96 pitches in just four innings of work.
A pair of singles and a walk loaded the bases for Hamburg with one out before an error on leftfielder Jacob Weaver on a ball hit by Epting gave the Hawks (19-8) a 1-0 lead.
Punxsutawney (19-5) answered right back in the top of the fourth scoring twice to take a 2-1 lead on a two-run double by Ambler that scored Pennington and courtesy runner Dylan Bender.
The lead didn't last long, though, as Hamburg answered with two runs in the bottom of the inning on a double to left by Smith, who was 3-for-4 on the day with two doubles, and a single to right by Kuhn.
Hamburg will face Bellefonte, a 1-0 winner over Erie Cathedral Prep, in the semifinals Monday at a site and time to be determined.
HAMBURG 4, PUNXSUTAWNEY 3, 9 INNINGS
Score by Innings
Punxsutawney 000 200 100 – 3
Hamburg 001 200 001 – 4
Punxsutawney – 3
Player, Pos, AB, R, H, RBIs
Braxton Giavedoni 4010, Lucas Burkett 5000, John Matthews 4130, Lance Pennington 4120, Joey DiPietro 3000, Dylan Bender 0100, Dylan Huey 3011, Peyton Graham 4010, Lucas Ambler 5022, Brandon Matthews 4000. Totals 36-3-10-3.
Hamburg – 4
Player, Pos, AB, R, H, RBIs
Janson Youndt 4010, Lorey Evangelista 3100, Logan Adams 5120, Ryan Smith 4231, Reece Adam 0000, Nick Kuhn 3021, Mike Procrak 4000, Hunter Epting 3001, Austin Schlenker 4011, Derek Roberts 4000. Totals 34-4-9-4.
LOB – Punxsutawney 14. Hamburg 12. Errors – Punxsutawney 2. Hamburg 1. 2B – Ambler, Youndt, Smith (2). 3B – J. Matthews. SAC – Huey, Kuhn. SB – Giavedoni (2), J. Matthews, Epting, Schlenker
Pitching
Punxsutawney
Lance Pennington – 4.0 IP, 7 H, 3 R, 2 ER, 4 BB, 1 K, 1 HB
Brandon Matthews – 4.1 IP, 2 H, 1 R, 1 ER, 4 BB, 4 K
Hamburg
Nick Kuhn – 5 IP, 7 H, 2 R, 2 ER, 2 BB, 2 K, 1 HB
Ryan Smith – 4 IP, 3 H, 1 R, 1 ER, 2 BB, 0 K, 1 HB
Winning pitcher – Ryan Smith
Losing pitcher – Brandon Matthews